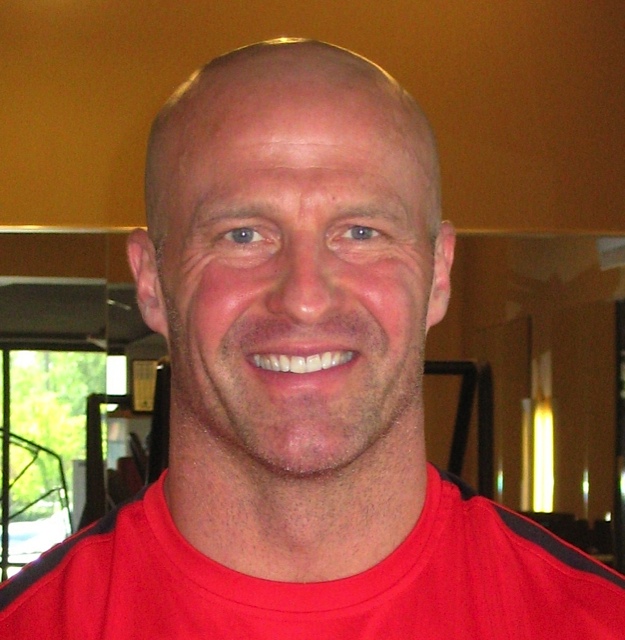 Person of the Week
Mike Jaudes
Owner, President, Trainer at Fitness Edge, A Personal Training Facility
I had a lot of people approaching me and asking for help with their exercise programs.  Then I started finding a path that was a perfect fit for me — business and helping people being physically active.  
1.  What led you to the mission of owning and operating a personal training facility?
I've always been a very physical person and have enjoyed helping people.  During my years in college, I had a lot of people approaching me and asking for help with their exercise programs.  I was competing in bodybuilding.  My focus in school was business and food science nutrition. People really encouraged me to do it.  Then I started finding a path that was a perfect blend for me – business and helping people being physically active.  It just came together and being in this business meant I didn't have to sit in a chair all day long.  Fortunately my business suit is a shirt and shorts!
I have a pretty big operation with forty-five employees.  We do about nine hundred to a thousand hours of personal training a week. We are working with a lot of people.  Even though it is a fun and relaxed environment, there are a lot of wheels moving this machine on a minute-by-minute, year-by-year basis.  We have a lot happening here and it's a lot of fun!
2.  What does this mission mean to you?
We are changing people's lives.  If we can make a high impact in two or three hours a week, and clients improve themselves, it makes their other one hundred and sixty-five or sixty-six hours — or the time when they are not here — much better.  They're happier.  They sleep better.  They have less stress.  They're stronger.  Their bones are better.  Their ligaments and muscles are better.  Their productivity is way higher.  They're less sick, they're less depressed — I can go on and on and on.
A lot of things are quoted as genetics, but they are really life style.  A lot of things can be highly reduced or eliminated all together according how you live.  So we really promote the lifestyle piece.
Time is an enormous issue for everyone – especially in today's world.  People are nervous.  They are busy.  They want to work out, but they just can't seem to fit it in.  They have too many things on their plate.  We've accomplished an amazing mission if a person has an appointment and they've gotten way more done than what they would have gotten done on their own in a basement gym or health club.  They walk out and go, "Wow.  What a difference that was — compared to me dabbling around with my membership in a local health club.   As far as the difference between what I did with you and what I did on my own – it's not even comparable."
3.  What was your best day owning and operating a personal training facility?
I would say once we hit a thousand hours.  I was like a proud papa.  The parking lot was completely full.  It was a huge day and week of business.  To hit that marker in one week made me pretty happy.  I was a very proud father on that day.  My trainers are all like my kids.  I say I have three kids at home and forty-five here.
4.  What was your worst day as owning and operating a personal training facility?
There are always day-to-day challenges.  I don't know if there was any one that I could say was my worst day.  I'd say running the business is a day-to-day challenge.  There's always something.  I know that anyone else who is a business owner would hear me say this and go, "Absolutely!"  You wake up and you're like, "Here we go.  I don't know what it is going to be, but there is going to be something!"
Training clients is awesome.  But behind the scenes, I'm going to deal with whatever might not be the best part.  Sometimes I envy my staff when they're on the floor and may train ten clients, give the best to them, close their book and go, "What do I do now?"  Where I, being the business owner, as the old saying goes, "having more power comes more responsibility", I have responsibility all the time.   My responsibility has grown to the point where it becomes a part of me and I never leave it.
5.  How did you survive your worst day?
I have to have self-management.  I have to manage myself no matter what is being thrown at me.  I compartmentalize it, put it away, and deal with it when I can as opposed to, for example working with a client, crying on their shoulder about it, wearing my feelings on my sleeve, or letting something else that is bothering me affect everyone else that is around me. So if I am walking around because something upset me and I have a pouty look on my face or a mad look on my face, that can really, really disrupt my business.  Everyone else out there will ask, "Is he mad at me?  What's the problem?"  They don't know.
You have to reset yourself, create a higher level of self-awareness, think about how you might appear to others, and think about how some situation is affecting you and how your reaction might affect them.  If you have the ability to reset and move on like this is a stage, you are in a play, you have a role in that play to play, then you can ask yourself if you can perform right now or not.  If you can't then you have to remove yourself and go deal with the problems you can't handle right now.
I think I can do this because I've had time in the game.  I think maturity and age play a role and I have had some beneficial mentors that have played a role.  They have helped me at times when something was affecting me.  I have had to apply those things.  So there is a little bit of both knowing what to do and having mentors to help me.