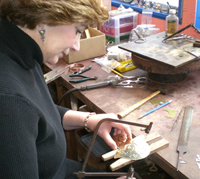 Person of the Week
Frann Addison
Judaica Artist
I was totally drawn in by the richness of the culture, the pieces, and the symbolism of Judaica.  The Hanukkah menorah was the very first piece I ever sold.  I thought, "Maybe I can touch other people in that way as well."
1.  What led you to the mission of being a Judaica artist?
When I was in graduate school, I got a master's degree in fine arts in metalsmithing.  There were two requirements for the degree.   One was to put up a show in the gallery and feature your work.  The other was to write a master's thesis.  The beginning of my second year of graduate school, I happened to read an article in a silversmithing journal.  A person in New York wrote the article and said, "There is really a need for contemporary design in Judaica, Jewish ceremonial pieces."  He went on to explain that so much of what had been produced didn't fit in with modern architecture and was just reproductions of ancient designs.  I thought that sounded interesting.
Judaism centers largely around the family and the home.  Family has always been very important to me.  That's what I love.  I love the ancient traditions that are carried out through these rituals at home.  I don't come from a strong religious background, but I
always had a strong Jewish identity.
I started doing some research and I was totally drawn in by the richness of the culture, the pieces, and the symbolism.  I learned about pieces that I had never heard of growing up.  I ended up writing my master's thesis on the history and evolution of Jewish ceremonial objects used in the home.  That's what I concentrate on today.   (Pictured at the right are Sabbath Candlesticks by Frann Addison.  They are made of pewter, glass, and silver plate where she re-purposed four salt and peppershakers, transforming them into the candlesticks.    On each of the bases she has pierced "Shabbat Shalom" which means "Sabbath Peace."  To see other illustrations of Frann Addison's work click on this link. )
Ever since I was a child, I loved collecting found objects and making things.  My mother was an artist.  She was a professional and did drawing, painting, and sculpture.  We had a studio in our house and she taught classes.  She was always very encouraging to me.
With my metals I started combining found objects and antique elements.  I loved seeing the potential in things.  I saw them in a way that other people might not.  I enjoyed transforming these components into unique pieces.
It gives me tremendous pleasure to know that my Judaica creations are going to be lovingly used by individuals or families as they perform ancient rituals that link the past with the present.  Tradition, spirit family – those are things that are very important to me.  I hope that comes across in the pieces that I create.
2.  What does this mission mean to you?
Being a Judaica artist is a very spiritual thing.  I feel a real link to my heritage and to pieces that I create.  The type objects I create have been used for centuries – more than a couple of a thousand years.  I feel it is a link to the past – a very emotional tie to ancestors.  I'm hoping that my pieces will become family heirlooms that will be passed down from generation to generation.  I hope they will be treasured pieces for families and I hope they will be cherished for many years to come.
3.  What was your best day as a Judaica artist?
My pieces touch people in a special way.  People want to purchase the pieces.  This makes both the pieces and creating them even more special.
The very first piece I sold was an oil burning Hanukkah menorah that I made.  The customer who bought it told me that her grandfather had passed away and had left her some money.  She had decided that she would look for a very special Hanukkah menorah to honor her grandfather's memory.  She had looked for years to find one.  Then she found mine.
That Hanukkah menorah was the very first piece I ever sold. 
Hearing her story really touched me.  I thought, "Maybe I can touch other people in that way as well."  That was in 1980 and we have stayed in touch.  (The picture at the right is a Wedding/Anniversary Cup.  It is made of pewter and the stem is a glass part from a broken crystal chandelier.  One the based of the cup is pierced in Hebrew, "Ani l'dodi v'dodi li."  This translates, "I am my beloved's, and my beloved is mine."  These words are believed to have been written by King Solomon in 900 B.C. and part of his "Song of Songs" serving for centuries as a romantic declaration of love between husband and wife.)
4.  What was your worst day as a Judaica artist?
My worst day would not be for lack of inspiration.  I have so many ideas and just not enough time to do create them all.
My worst day would have nothing to do with anything spiritual.  It would be a technical problem that I haven't been able to solve – a design that I want to produce.   It is just frustrating that I can't quite bring something together the way I want.  The ideas are always there, but sometimes technically I'm more ambitious with an idea than I'm able to do at the time.  The piece takes longer.  Not knowing immediately how to do it can be frustrating.
5.  How did you survive your worst day?
I take a break.  I leave my studio.  I take a walk.  I spend time with my dog.  I get a little bit of space from the situation and then come back to it.  Then I can work through it.  It definitely helps to remove myself from the piece and then come back to it later.
I had taken a twelve-year hiatus from doing my art professionally.  I started my Judaica in about 1980.  I did it for about ten years.  Then we moved and I didn't have a studio space.  I needed a break.  I did the full time mom thing.  I volunteered in the schools.
In the past eight years, I've gotten back to my art.  Having that ten-year break was really a good thing for me artistically.  By being away for a while, I've brought so much newness to my work.  I had grown in a certain way during that time period I took off.  I was able to bring a whole new perspective, new passion, and new ideas to my work.   Sometimes having a break and stepping back is a good thing.
Sometimes take a break.  Do something totally unrelated.  Then come back to it.  You'll see things in a different way and things will be a lot clearer.