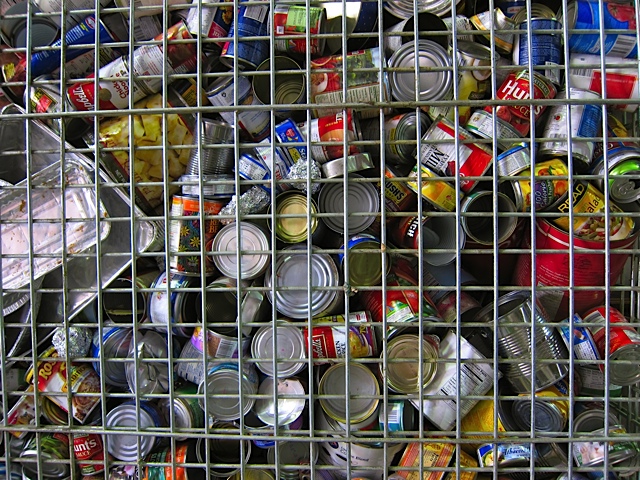 Lesson of the Week
Organized: I have a cycle for success
The city of Ellsworth, Maine has a mission to turn trash into treasure. Citizens throw cans into a bin, and within six weeks the aluminum can be melted down, reformed, filled, and put back on the shelf.  Your mission will require a cycle for success.
Peter Walsh, peterwalshdesign.com, explains this cycle of success. "You can't make your best choices in a messy, disorganized space."  He suggests creating a workplace where there is a sequence of events:
1.  Create a vision for that space
2.  Keep the things that move you towards that vision.
3.  Get rid of the things that do not move you towards that vision.
Rachel O'Neill of littledressesforafrica.org had a mission to send hope and dresses to children in Africa.  Her cycle for success was to buy pillowcases, stitch them into dresses, and send them to Africa.  The cycle widened to include other dressmakers.  The cycle grew to include a website and 501(c) 3 business incorporation.  Iterations of the cycle have made her mission a success.  From one vision, over five hundred thousand dresses have been distributed in thirty-one countries.  Mission accomplished:  sent hope, sent dresses.
First begin your cycle of success with a vision. Second, create a space that moves you towards that vision.  Third, get rid of the things that do not move you towards that vision.  Your vision is your mission.
Quote
"The sculptor will chip off all unnecessary material to set free the angel.... The greatest thing a man can do in this world is to make the most possible out of the stuff that has been given him.... A good system shortens the road to the goal.
- Orison Swett Marden M.D., American Writer
Activity
Materials:  A piece of paper and writing instrument.  You can use notebook paper or be more creative and use poster board and colored markers.
Time:  Ten minutes per person to write and ten minutes per person to discuss
Instructions:
1.  Choose a mission you would like to get organized.  Write that mission at the top of a piece of paper.  (The mission can be as complex as starting a corporation or as simple as de-cluttering a room.)
2.  Make a list of five visions you have for this mission.  (The vision can be as complex as, "The legal paperwork for a 501(c) 3 Non Profit Corporation is completed and filed" or as simple as "One drawer of my office is organized and only has in it the things that I use on a weekly basis".)
3.  Prioritize the five visions in order of importance:  1 being the most important to 5 being the least.  Write the number of importance next to each vision.
4.  Choose the vision that you have prioritized as first or number 1 – the most important to get organized.
5.  Draw a large circle on the other side of the paper or poster board.  Write the number 1 priority vision in the middle of the circle.  On the outside of the circle, start going around the circle and list all the steps that it would take to organize this vision to completion.  List every minute detail in order.  Put a square check-off box by each step.  This circle of responsibilities is the cycle or success for this vision.
6.   At the bottom of the page, write the date you plan to finish the tasks on the circle.
7.   Discuss your cycle or circle of responsibilities with the other participants or call a friend or family member.  Discuss how you will accomplish this cycle and when the tasks will be completed.  Ask for suggestions and support.
8.   Put this paper or poster up in a place that you can easily see.  Accomplish each step on the vision cycle circle.  As you complete a task, check off the box that you have drawn by each step.
9.   Vision accomplished.  Mission accomplished or on its way to being accomplished.
Note:  You can have an accountability group regarding completion of this cycle.  Do the activity with others and then meet periodically to hold each other responsible to being organized.
Example:  A woman was left alone with her four young children.  She decided on a dual mission:  1. Being a mother and 2. Becoming an attorney.  She listed the steps necessary to complete her mission.  Each vision was accomplished.  As a single parent, she raised four little children to adulthood, got a law degree in criminal justice, and became a well-paid defense attorney.  Hats off to being organized and accomplishing your mission.
Affirmation
I am organized so I can ..... We'd like to hear your story about being organized. Share your story below