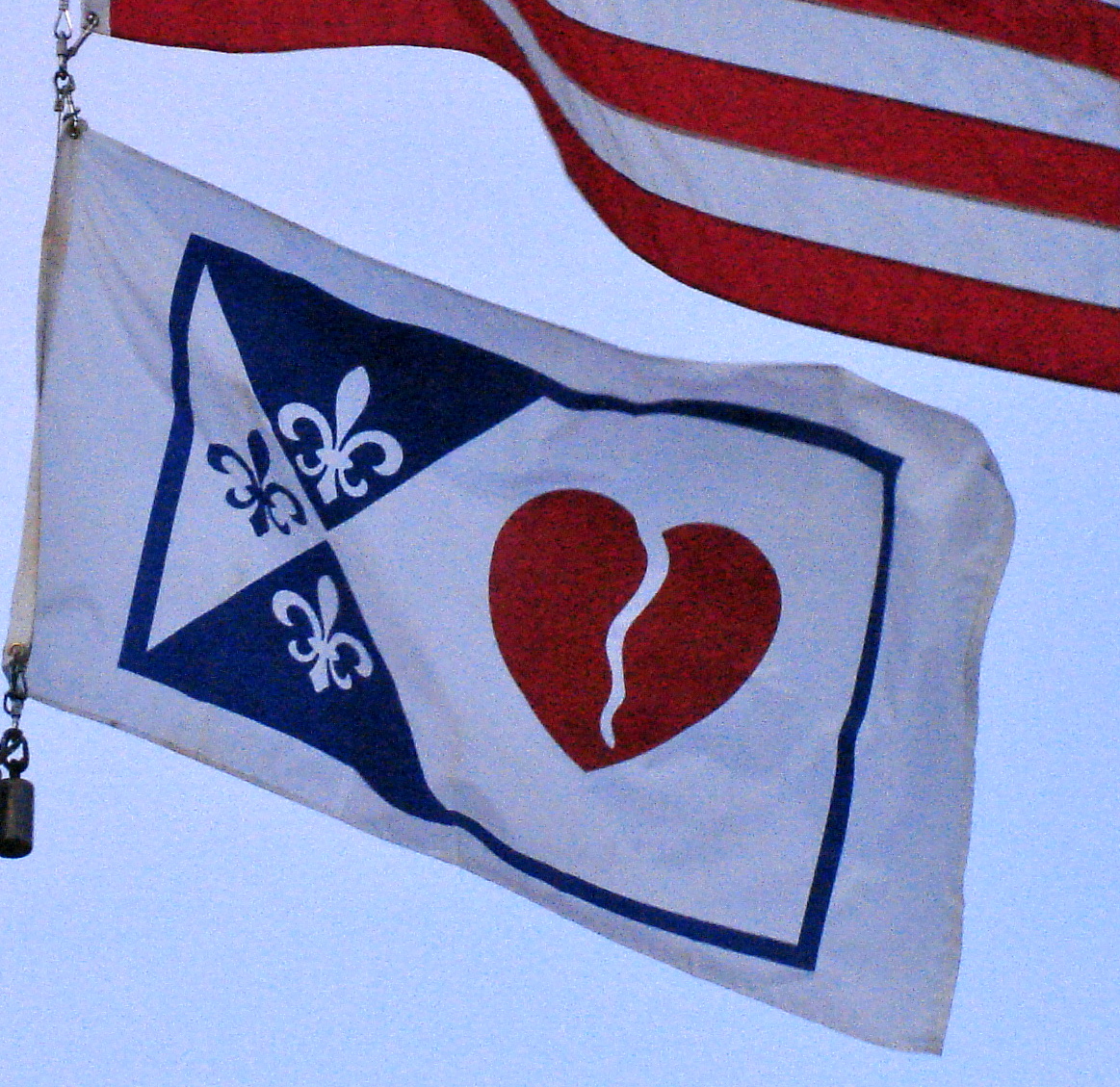 Lesson of the Week
Grieving well: I can hold loss
Legend had it that a grief stricken maiden jumped into the Creve Coeur Lake and drowned herself, on purpose.  Her legacy became a broken heart pictured on the Creve Coeur, Missouri city flag. There is an alternative to being broken by adversity:  grieving well, holding loss, and amidst it all doing something salutary for yourself and others. 
James Orbinski M.D. epitomizes the ability to grieve well and hold loss.  As a humanitarian for Doctors Without Borders, he is all too familiar with misfortune.  Once while treating a woman mutilated by warriors, he became physically ill thinking about how she had been systematically tortured.  He didn't want to leave her side.  The courageous woman reached out to him and treated him with compassion.  She told him, "My friend, find your courage."  He found no escape except to continue healing.  After she was stabilized, the woman motioned for him to help others.  The picture is of two courageous people holding loss and doing good.  He was following what a priest had told him, "There is no escape James, there is only what you do." (http://ttbook.org/book/james-orbinski-his-time-doctors-without-borders)
Grieving well and holding loss can be the work of a lifetime. Anne Morrow Lindbergh's child was murdered. She wrote, "Grief can't be shared. Everyone carries it alone. His own burden in his own way."  She went on to write a seminal story of her grief, Gifts from the Sea.  She found grieving well meant living well – carrying the burden of grief like one carries a shell from the sea shore and waits for the message it gives – that of life and death.
Summer of 1970, Max Dunaway, poet, healer, told a young woman, "If you think your heart is going to break, rather let it overflow".  Max explained that the assumed outcome is that losses break the heart.  However, grieving well means the loss will be carried, held, embraced, incorporated, evidenced, remembered, and cherished like a fine aged wine after the plump ripened grape has long been distilled.  During grief, the heart can pour out love and be relieved, not broken.  Grief is held like the screaming newborn: it nurses, calms down, grows up, and moves out to nourish others.
Rudolph Giuliani was asked to name one of his worst experiences in New York City politics.  He talked about averting a strike.  He went on to add how inspiring it was to watch everyone work together towards a positive end.  That was before the bombing of the world trade center in 2001.  No matter what the level of trauma, adversity, problem, or reason for grief, the best outcome response is the same – living to grieve well, holding the loss, and amidst it all, doing something salutary for yourself and others.
Quote
"If you think your heart is going to break, let it rather overflow.
- Max Dunaway, Poet, Healer
Activity
Materials: Paper and a pen or pencil.  No other materials are required.  However, if the activity is done in a group, there can be a box full of "dress up" items such as scarves, clothes, a bed sheet, hats, blanket, shawl, backpack, or any other item that might suffice as a costume such as a rattle/shaker or Halloween mask.
Time:  Ten minutes to prepare and ten minutes per person to perform and discuss their performance.
Instruction:
1.  Write down several experiences you would like to work on for this lesson on grief and loss.  The experience can be related to anything from a little annoyance to a deep difficult grief or loss.
2.  Choose one item from the list.  This will be the topic of your dance.
3.  First think of a dance that would demonstrate this grief or loss.  Second think of a dance that would help this grief or loss – the dance of healing.  Write down a description of both dances.
4.  If you have a box of "dress up" items, go to the box and pick out the items that would help you with your dance.
5.  Dance the dance of grief or loss.  Wait a moment.  Dance the dance that would help the grief or loss – the dance of healing.
6.  Write down what you learned from doing this activity.
7.  Discuss what you learned from dancing your grief or loss.   If you are not doing this activity in a group, call a friend or family member and tell them about what you learned.
Example:  A woman was grieving having too much to do.  She danced a frenetic dance as if she were out of control – stamping, twirling, and shaking.  She threw the sheet around herself and acted as if she was trying to escape from inside. She fell to the floor and shook. That was the end of the first dance.  In the healing dance, she quietly sat on the floor and under the sheet.  She started to hum and sway.  She slowly stood up, pulled the sheet off, and continued to sway and quietly hum.  As the sheet slid onto the floor, she stretched her hands to the ceiling.  That was the end of the second dance.
 After doing the two dances, she explained that she realized by doing the dance, she was trying to do too much and her grief had become overwhelming.  The healing dance helped her envision she needed to delegate some of the work to someone else.  She has since released herself from some of her responsibilities. 
Affirmation
I am grieving well, so I can ...... We'd like to hear your story about grieving well and being able to hold loss. Write your story below.