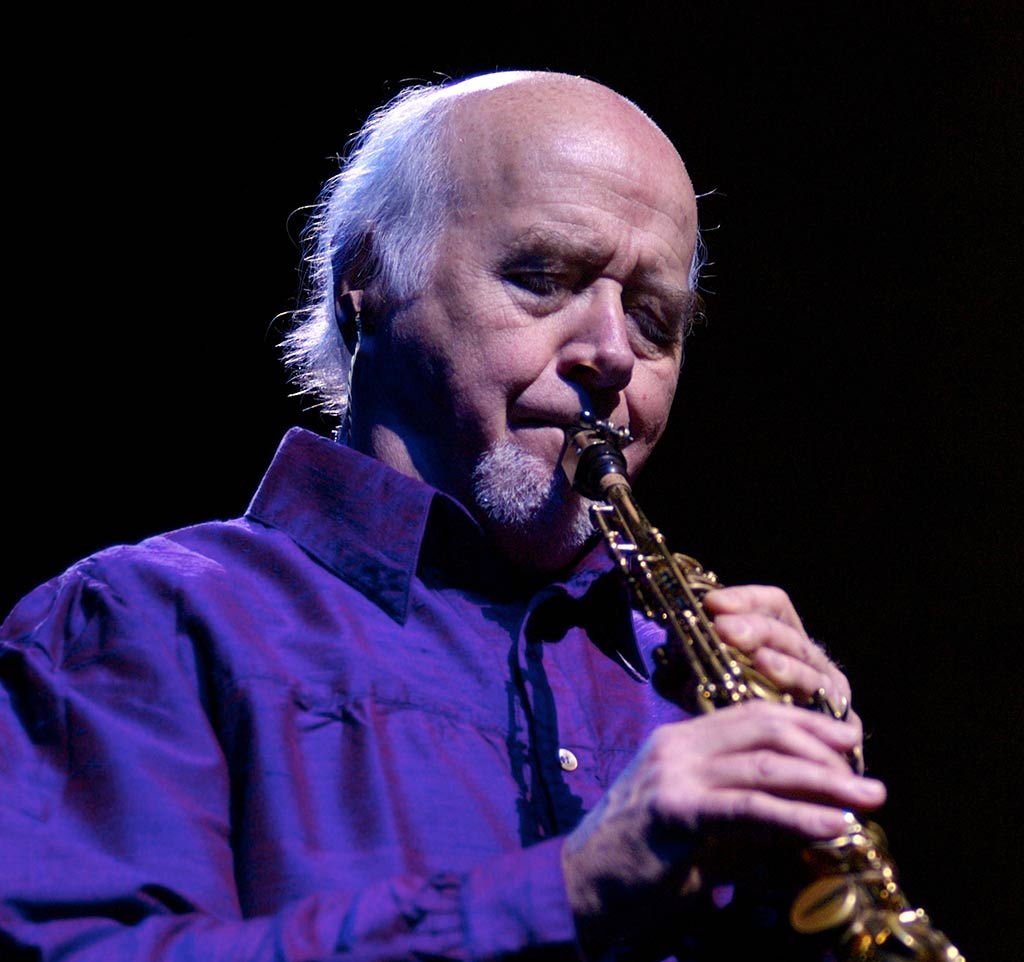 Person of the Week
Paul Winter
Musician, Soprano Saxophonist, Pioneer of world music celebrating the earth and community of life
Humans would love to relate to each other and connect with each other. We can easily lose sight of this when we get concerned about the differences we have with other people. Music is one thing that reminds you of what we share in common. Each time we play, I feel once again that there is great hope.
1. What led you to the mission of being a musician?
I was simply allured to music as a kid. There was a lot of music in my family and community.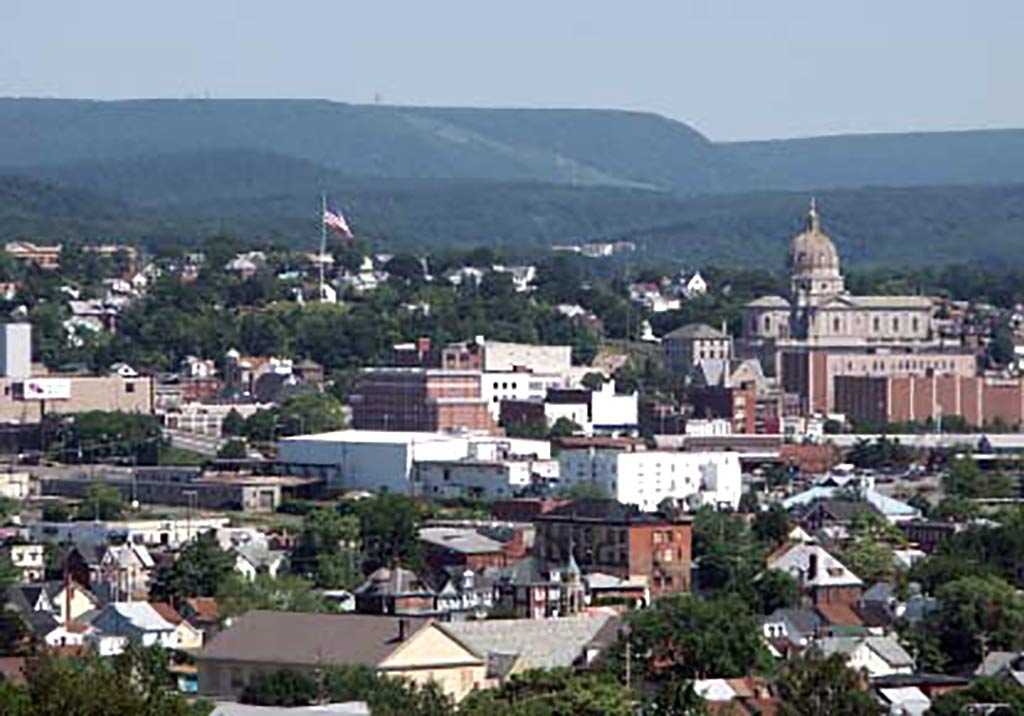 I grew up in a small city in Pennsylvania called Altoona.  It is a railroad town and at that time in the 1940's most small cities and towns in the United States had their own local music – bands and orchestras of all kind. It was before mass media, so everybody had to create their own culture locally. I think this was a very wonderful thing. I was fascinated with clarinet and saxophone. I loved bands – especially the big bands of that time. My dream was to have a band at some time.
I began by having private piano lessons when I was six, clarinet when I was seven, and I started saxophone with my clarinet teacher when I was nine. I was studying privately all those years and all through my school years. I was playing in the various school bands and orchestras. We organized our own dance and jazz bands. It was something that I loved, but at that time it was just a part of the whole picture. It was not something that I or anyone else thought would be appropriate for my life's work. We had no models for having a career in music… that we knew of.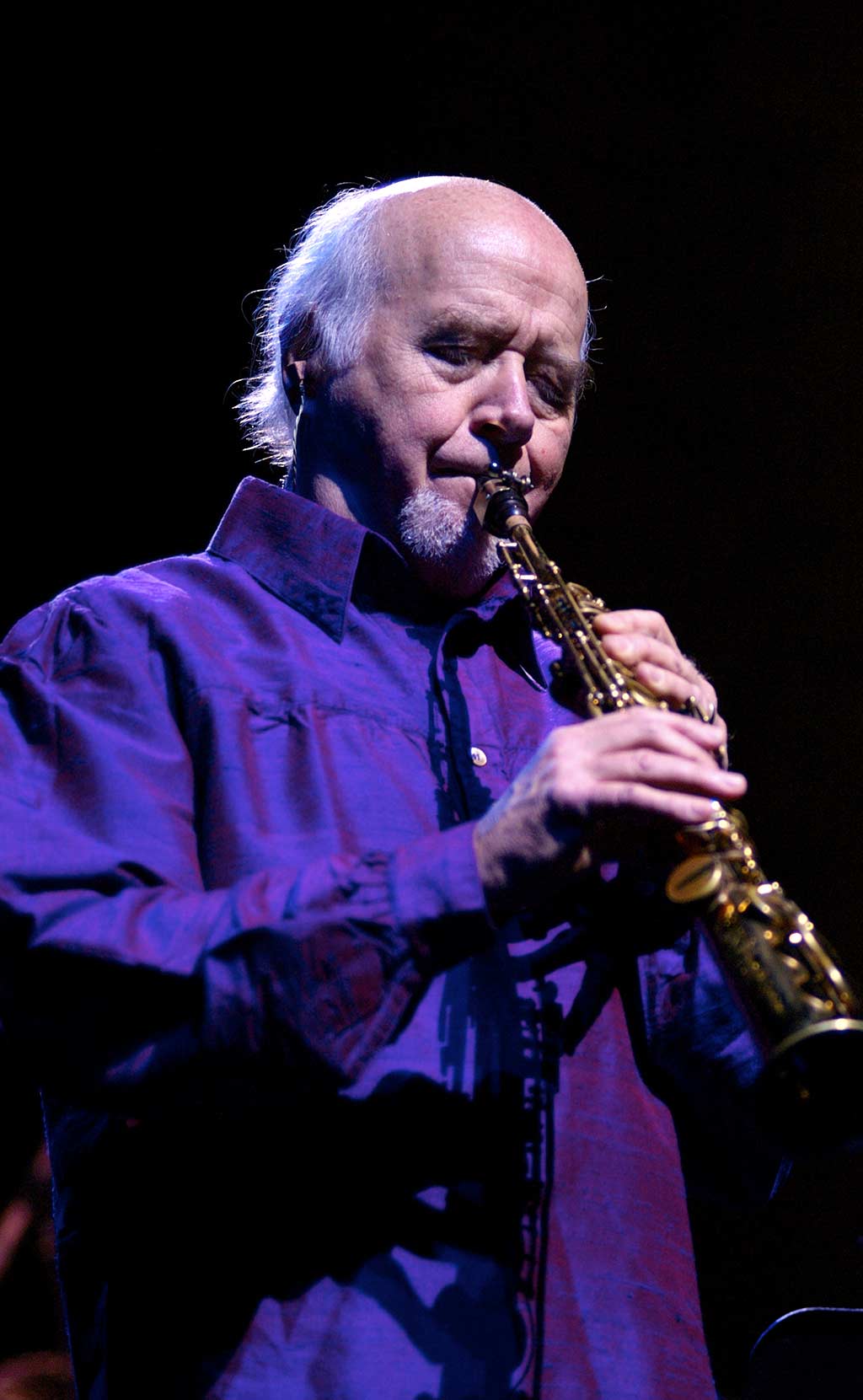 I went to college to explore a broader world. I still kept playing the saxophone at my school, Northwestern University in Chicago.  I was playing music all the time but was not in music school. By that time I had learned to play well enough that I didn't feel like I needed to go to music school. I didn't want to study the kinds of things they studied in music school. But, I didn't know what else I wanted to do. I graduated from Northwestern University with a general arts education. Music was still my passion.
In those days we didn't have the license to do what we loved. That was not a model that was put forth then. This was before Joseph Campbell who encourages us to follow our bliss. I had never heard of that before this time!  The premise was you should do something important. You should do something worthwhile. This is true today, but music was not included in one of those things. It was not a life path that anybody considered. (Note: Joseph Campbell wrote, "Follow your bliss and the universe will open doors for you where there were only walls.")
I had notions of what I wanted to do – like going to law school. I had applied to law school and was accepted during my senior year of college.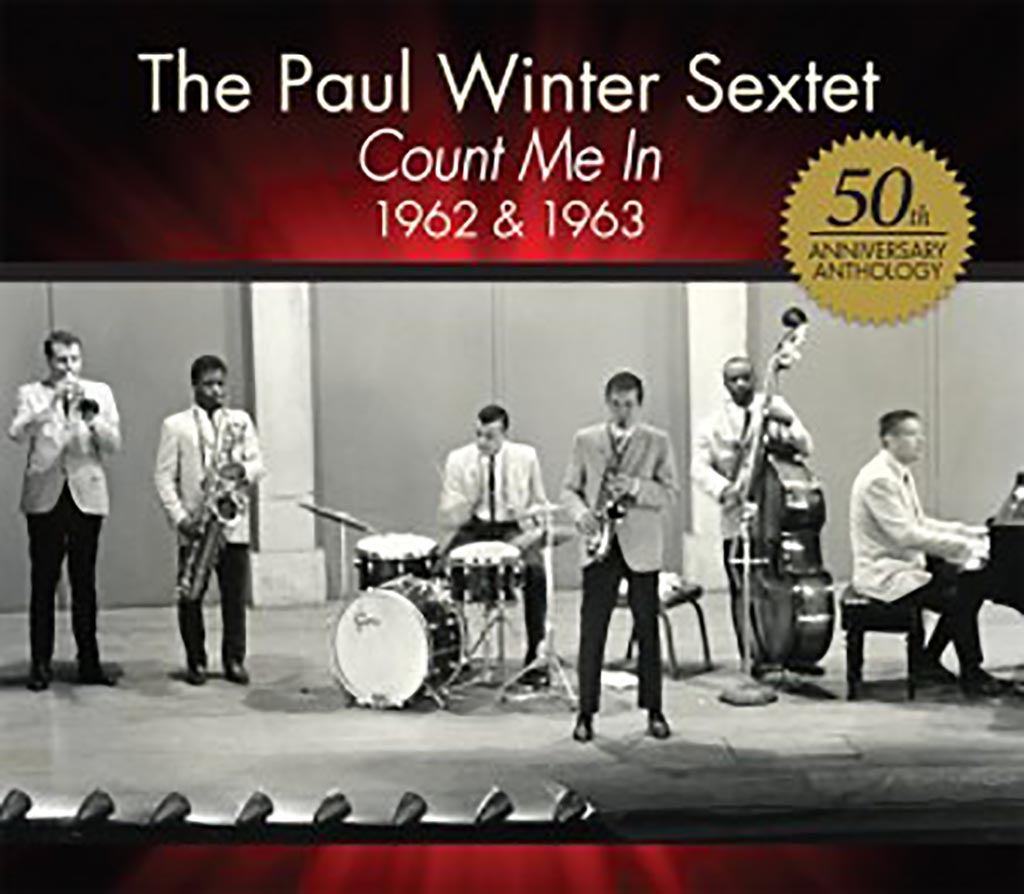 I had a lucky break. I had a jazz sextet that I had organized in my senior at Northwestern. We entered a college jazz festival competition that was held at Georgetown University in Washington D.C. It was held that May, the month before I graduated from college. We won the festival. The chief prize was a recording contract with Columbia Records. That was beyond our wildest dreams. We had never thought about that. There were no young musicians making their own records.
I thought, "Maybe I'll take a year off before I go to law school and try this music thing." During that summer I stayed in Chicago and my band mates and I were trying to find a way to get some work. Even though we had won the festival, there were very few jazz groups getting work. We did have to promise that later in the year we would make this jazz record for Columbia.
We got the idea to approach the state department and see if they would consider sending us on a good will tour. They had already sent out famous jazz groups in the 1950's. They sent Benny Goodman  to Russia and Louis Armstrong to Africa.  (Note: Dizzy Gillespie was asked to tour the world in 1956.)
This was 1961. Our group was perfectly integrated – three blacks and three whites. It was in the beginning of the Kennedy administration. The Peace Corps  had been started and we thought our touring might really resonate with the values they were exploring and putting forth. It was a time when civil rights were a major issue.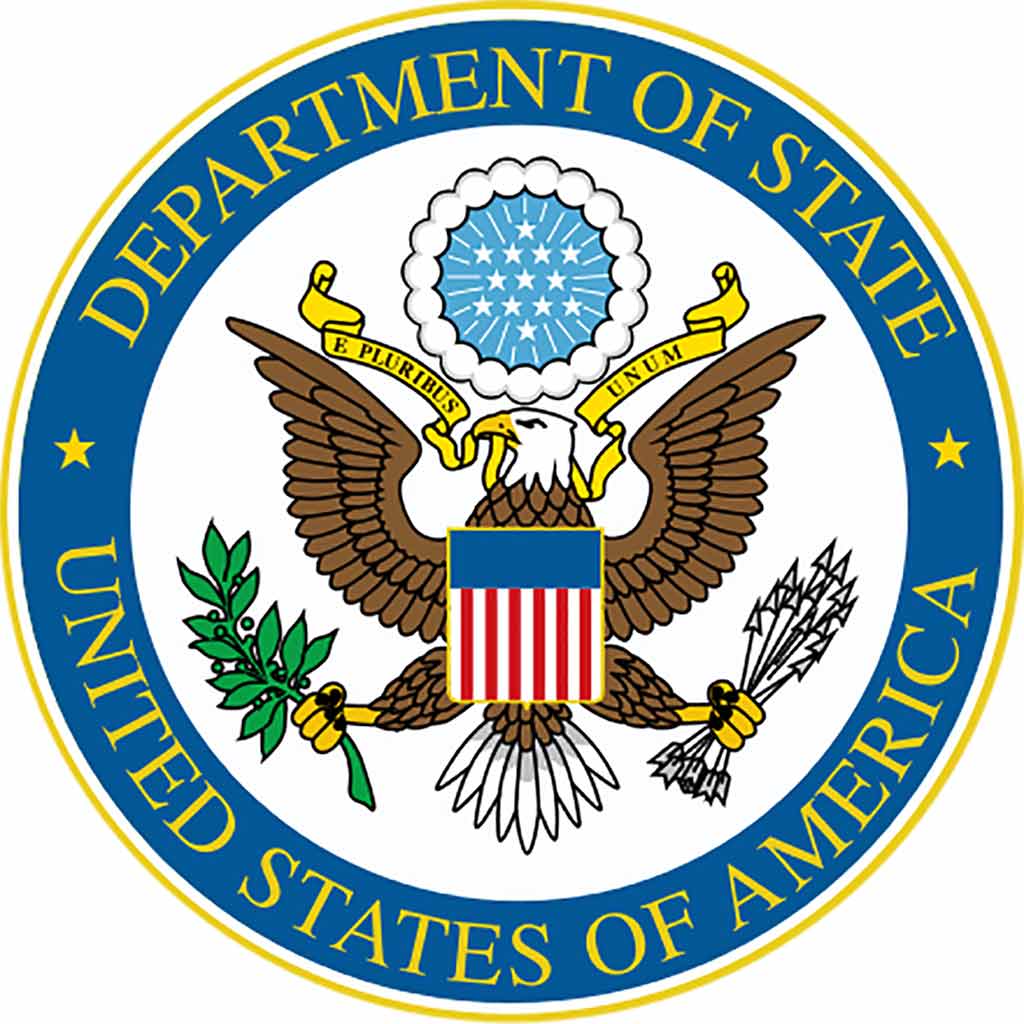 We wrote to the State Department and put forth a whole plan. The idea was to send the top college group in the nation to universities in other countries. We would not only do concerts, but seminars and workshops with the students. We would have a lot of offstage activities that the famous groups would rarely do.
We had a couple of Northwestern University professors draw up an itinerary of the Far East and Iron Curtain countries. This is where I wanted to go because I knew there were a lot of jazz fans behind the Iron Curtain.
We sent the letter in August. The State Department wrote us back a formal letter and said, "Send in an audition tape." They had different committees in the genres of the arts that would review them. We borrowed some money to go into a studio for the first time. We spent $70 to record six songs. We sent a tape. We got a letter back in October and they said they were going to send us to Latin America for six months. This was a total "pulled out of the heavens" experience.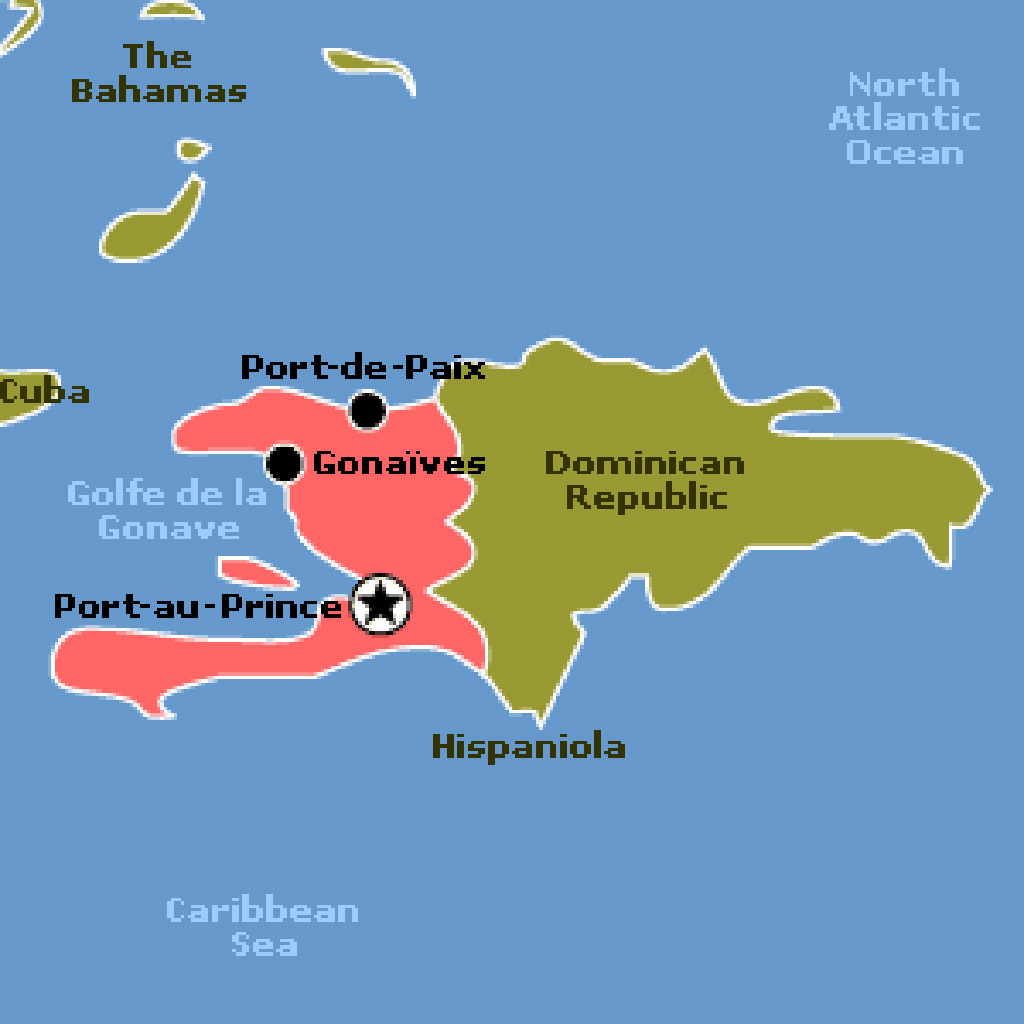 In January of 1962 we left for Haiti. We began a tour of twenty-three countries in Latin America. We played over a hundred and sixty concerts in sixty-one cities. It actually changed our lives. It was so fantastic. We were very well received.
We came back to the United States in July of 1962. We had no work and no prospects. Nobody here had heard about the success we had in Latin America – even though there was an article in Time Magazine about it. Of course, there were very few jazz clubs. We were unknown.
One group that had heard about it was the White House. I had written a letter halfway through our tour in Peru. I wrote to J. F. Kennedy, the President of the United States.  I wanted to say that we were doing this tour and that it was very gratifying and successful. I told him it was a good idea for them to send out student groups on these cultural exchange trips.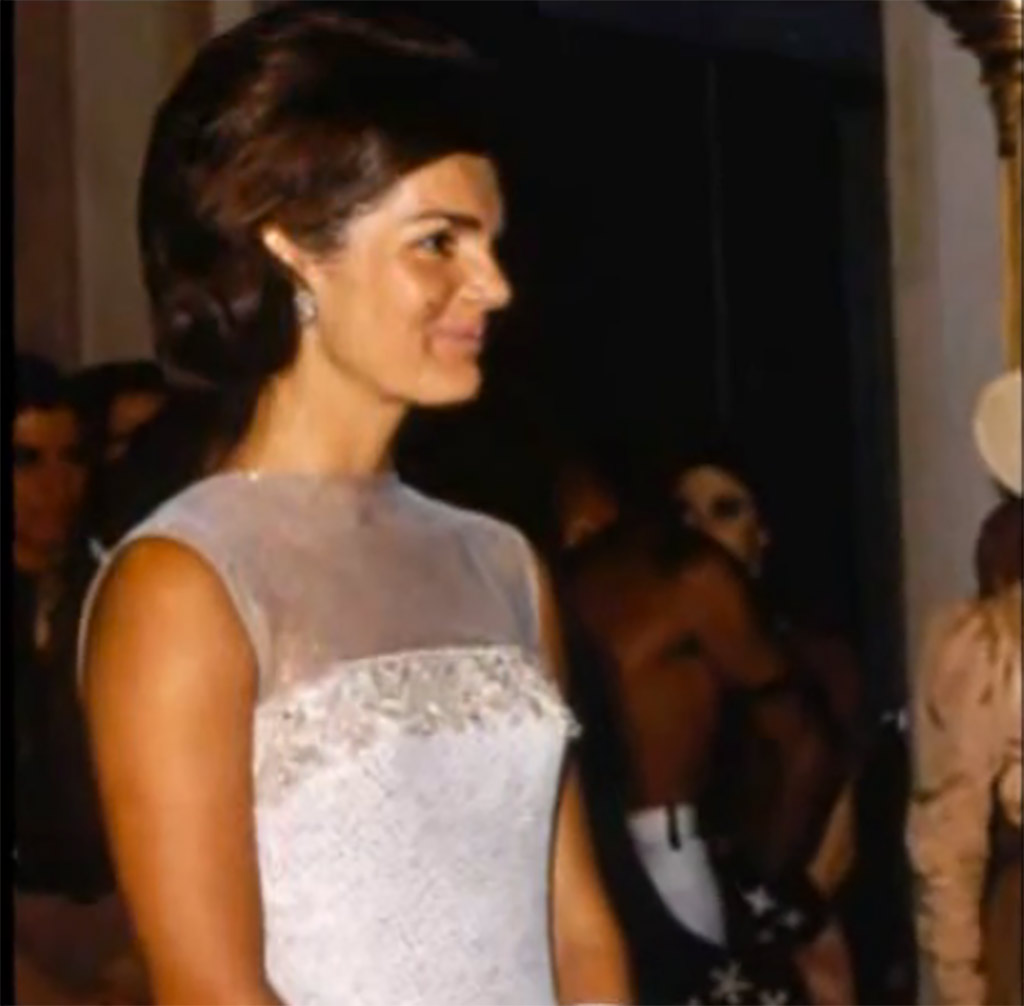 Three weeks after we got home, we got a letter from Jackie Kennedy inviting us to play at the White House. She had a series that she had started and called it Concerts For Young People By Young People.  It was a program for young people in the East Room of the White House. We were to perform on November 19, 1962. A couple of weeks before that, a reporter hearing about the upcoming event, did some research and realized that this kind of concert had never been done at the White House before. Ours was the first. The publicity we got was amazing. There were front-page articles in just about every newspaper in the country. The next morning there were pictures of a smiling Jackie Kennedy and inscriptions like, "Jackie Digs Jazz." (Click here to see a video that accompanies the special exhibit, "Jacqueline Kennedy Entertains. This video also tells more about the series of concerts for young people.)
That launched us. We were able to get engagements and my journey since then has been multifaceted. We moved beyond the jazz realm after a couple of years. We started exploring more of the different musical traditions of the world.
(Note: The name of our record company is Living Music and the name of my ensemble is the Paul Winter Consort.  I founded the Paul Winter Consort in the late 1960's, Living Music Records in 1980, and Music for the Earth a nonprofit in 1990.)
2. What does this mission mean to you?
It means that I have the good fortune to experience fulfillment or gratification.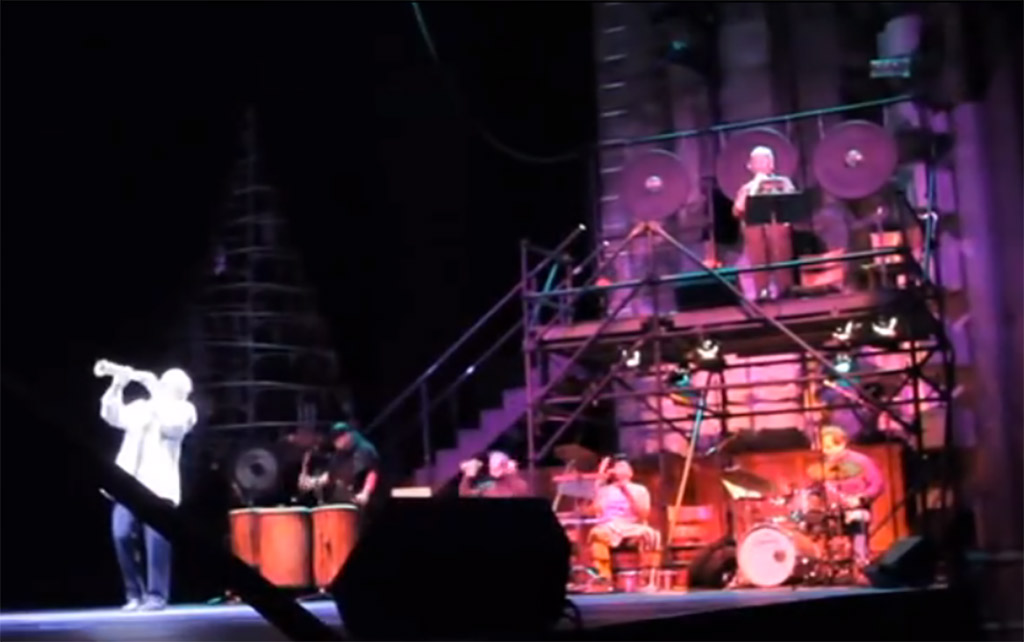 It's a great joy to share music with others and in a sense I have a never-ending sequence of celebrations – which is what our concerts are all about. To me it is the most fulfilling life path that I could imagine.
We got to play in New York at Lincoln Center in an outdoor band shell in a tribute concert for Pete Seeger.  That was quite wonderful. There were about forty different groups and soloists that performed during the afternoon. At the end we all came on stage and played and sang, "We Shall Overcome." There were about four thousand people singing it with us. It was a historic moment. Fifty years ago, that song was being sung a great deal. It was a very heart warming tribute to Pete. It brought me absolutely home to the now. (Click here to see a video of this performance.)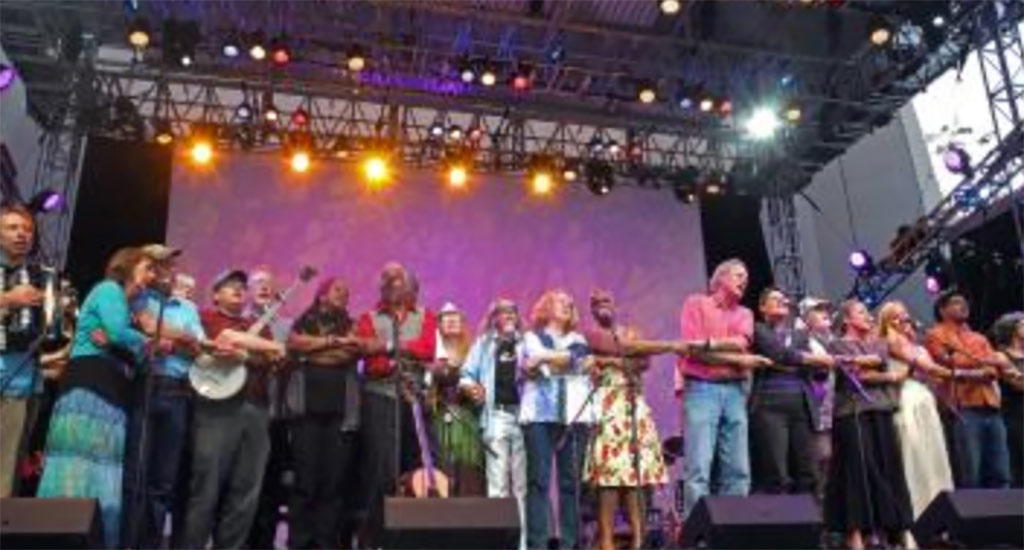 I felt immediately connected to everybody.  I realized this is one of the mandates that I have – a responsibility to share my optimism that I get to renew with people. It is very easy to get cynical and to get discouraged. You read the news and see that things happening in the world. It is very easy to "kind of" lose hope. Humans would love to relate to each other and connect with each other. We can easily lose sight of these when we get concerned about the differences we have with other people. Music is one thing that reminds you of what we share in common. There are universals that we share. Each time we play, I feel once again that there is great hope.
3. What was your best day as a musician?
I've been blessed with too many to really be able to answer this question. The event at Lincoln Center was my best, most recent day. I had the privilege of playing in this historic event. The uniqueness of what we do was honored there. We were an instrumental group amongst several hundred singers. I got to play a wolf piece based on the howl of a wolf.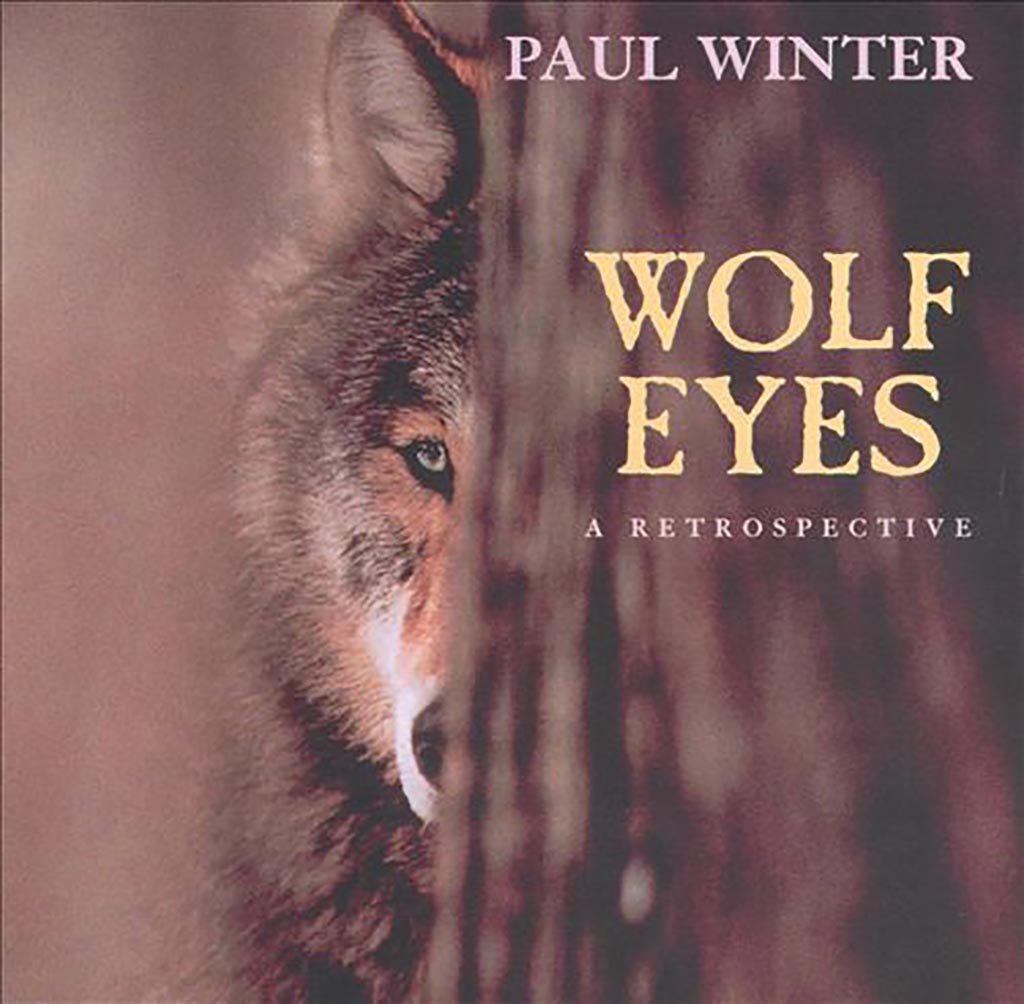 It is called, "Wolf Eyes." (To purchase Wolf Eyes, click here.)The theme that we developed within the piece are the actual notes that came from a wolf howl. We credit the wolf as the co-composer. It is a very contemplative piece. It's not intense or highly rhythmic. Before we play the piece, I talk about what the wolf howl means to them. The wolf howl reaffirms their "togetherness" as a pack. It's not meant to be scary or anything. This is a lesson that we might learn from them. At the end of the piece, I invited the whole audience to join us in a "howl"elujah chorus for Pete Seeger and Leonard Peltier, the Native American man who has been unjustly in prison for over thirty-nine years.
4. What was your worst day as a musician?
It could have been the day my manager broke his leg in the Grand Canyon.  I've done many musical expeditions to wilderness areas. I wanted to explore ways we could make music there.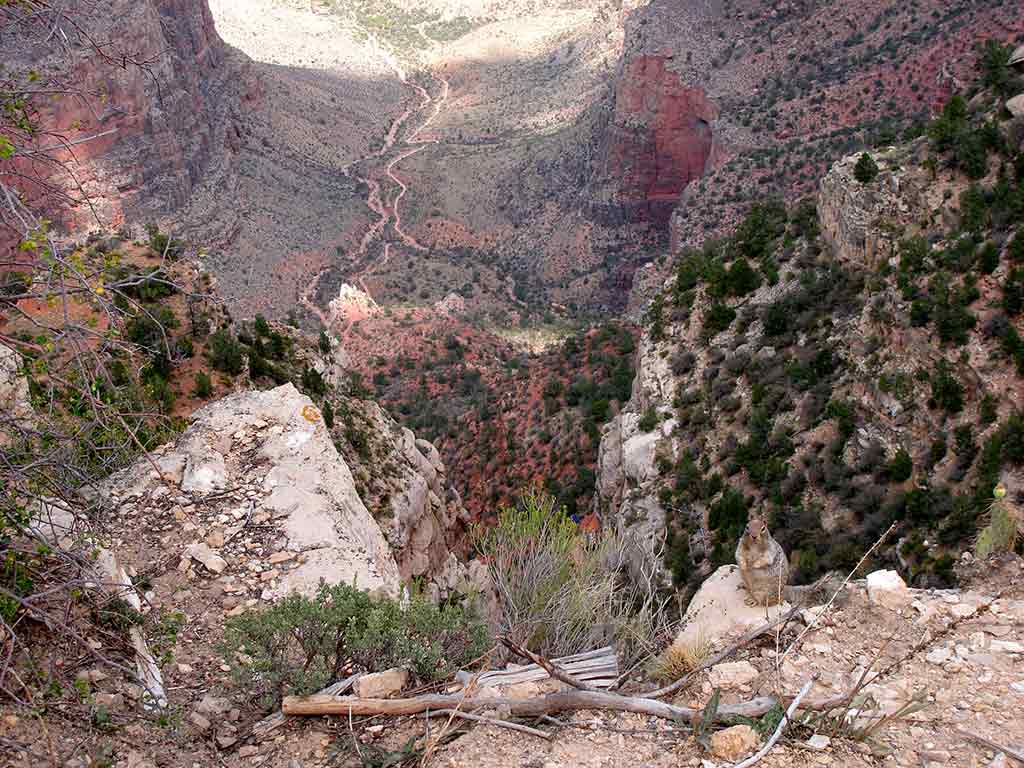 The Canyon was a place we made pilgrimages a number of times in the 1980's. On one trip, my manager slid off the cliff and broke his leg in four places. He had to get airlifted out by helicopter. It was so close that they tried to get the helicopter in the side canyon. This happened mid morning. He was going into shock by mid afternoon. The helicopter pilot kept trying to get down, but the winds aloft were too strong. Finally at about 5:30 pm, they made a last try. When the pilot came into this high canyon, he was trimming the trees with his rotor blade. He was barely able to get in and finally got him out. That was the worst day, but he survived.
5. How did you survive your worst day?
I certainly felt the tremendous support of all the people who were with us. We were very lucky. There was a rescue helicopter in that area of the Canyon vicinity.
There is a momentum to following a path that you deeply believe in and is the deepest dream you have. I don't reflect on that enough — how extremely fortunate I am to have been able to follow that path. The gift of being able to follow my deepest dream and my commitment carries me through a great deal.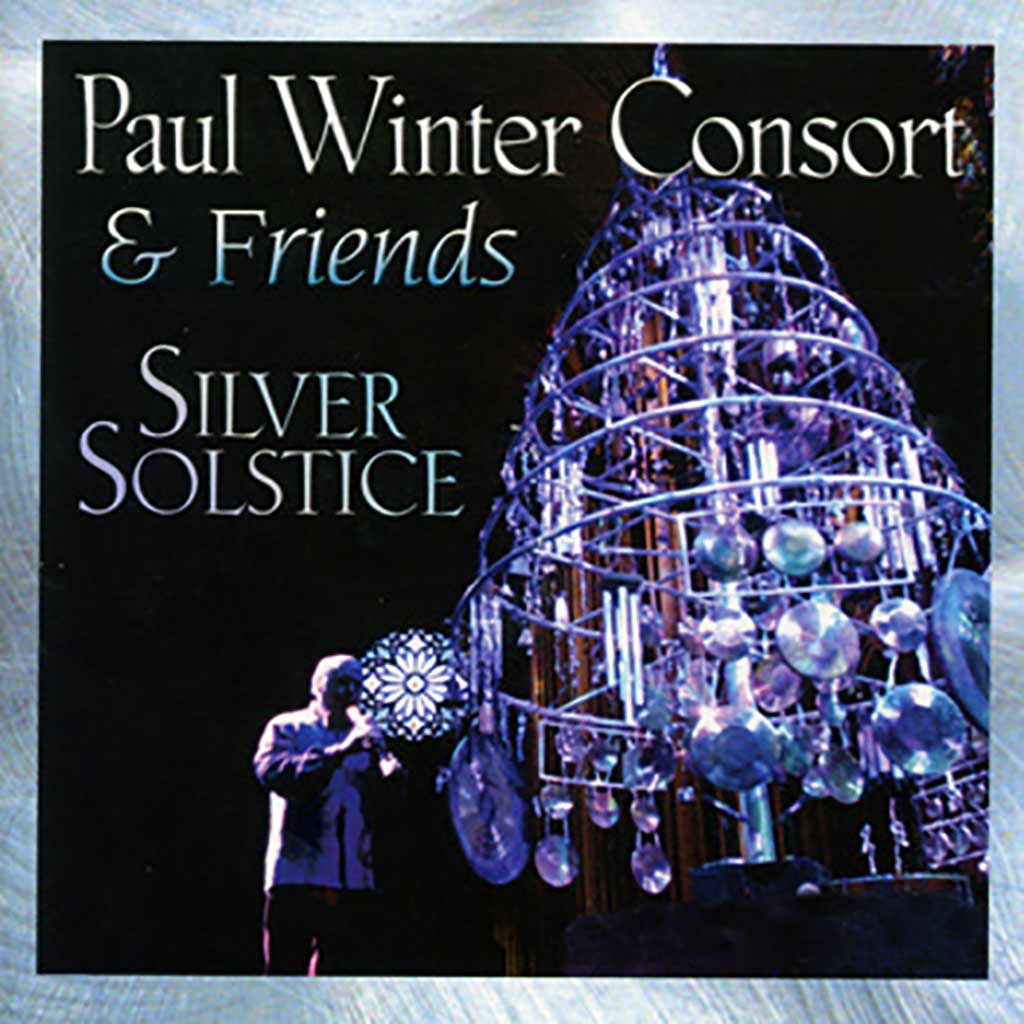 It is very similar but not as profound as the reality of being a parent with children. What keeps parents going when there are crises involving their families? For instance are refugees throughout the world. There are people in places like Gaza or Afghanistan. There are horrible things happening all over. You have your family and your children to be concerned about. What is that propulsion that has kept our species going for thousands of years?
I think often about the mothers. Mothers have that twenty-four seven devotion of taking care of the children while the fathers are out working and doing what they have to do. I marvel at this as a person who came to parenthood late in life. I was fifty-two when I got married and fifty-six when my first child was born. I am especially in awe of mothers. What my wife is doing is wonderful. My own mother is wonderful.
6. What advice do you have for someone who would like to pursue a mission in the field of music?
The great thing about music is the actual playing, the physical vibrations of playing music.  
Composing music is fine, but I'm speaking of the actual playing. The actual vibratory experience of making sounds and sharing that with other people is so renewing and nourishing that I often like to suggest that people look to the music itself for some of the answers. If your spirit is awakened and alive, you can deal with a lot of realities and problem solving. If your spirit is discouraged, then those things can be pretty daunting. What our parents want for us is that we will be able to stand on our own two feet. They want our journey to be fulfilling — whether you are a lawyer or doctor or wildlife researcher in some distant country, or musician, or social activist, or whatever.
There are so many stories of people who are on a traditional path and were encouraged to stay on that path. Then they have had the good luck to fall in love with something else and have had the courage to explore that new path in some degree. It doesn't mean you have to turn your back on your family. You can still explore and find out if this is where you belong. In the case of music, I think we have an added benefit. If things get tough, we can turn to the music.
Over the years I have had plenty of opportunities to experience these kinds of challenges. All through my twenties and some of the thirties I turned to books to find the answers – it was all about books. I used to get all kinds of books on psychology and read and read and read and make notes. Then I found out that spirit is not necessarily found in books. Certainly you can get inspiration, but spirit comes alive most universally in nature and in shared experiences with other people and through expression. Giving out is the fulfilling thing – not taking in.
I do these programs in "Adventures In Sound Play". These are programs around the country and they are about getting anybody to get into the process of making sound. It is not about making music to become a musician. It's not a master class. It is about exploring our innate capacity for expression through sound in consort with others.
It's not about soloing or being able to play in a virtuosic way. It's simply about making the simplest sounds in consort with a few other people and awakening the spontaneity that we all have as kids. It's still there even though it got squelched when we started to go to first grade and sit in square rooms all day. This program is something that I do for people of all ages. For me it is very encouraging.
(Note: Want to learn more about Paul Winter? You can go to the PaulWinter.com website to find out more his work, his albums, and about the Adventures in SoundPlay workshops. Click here to go to the website.)