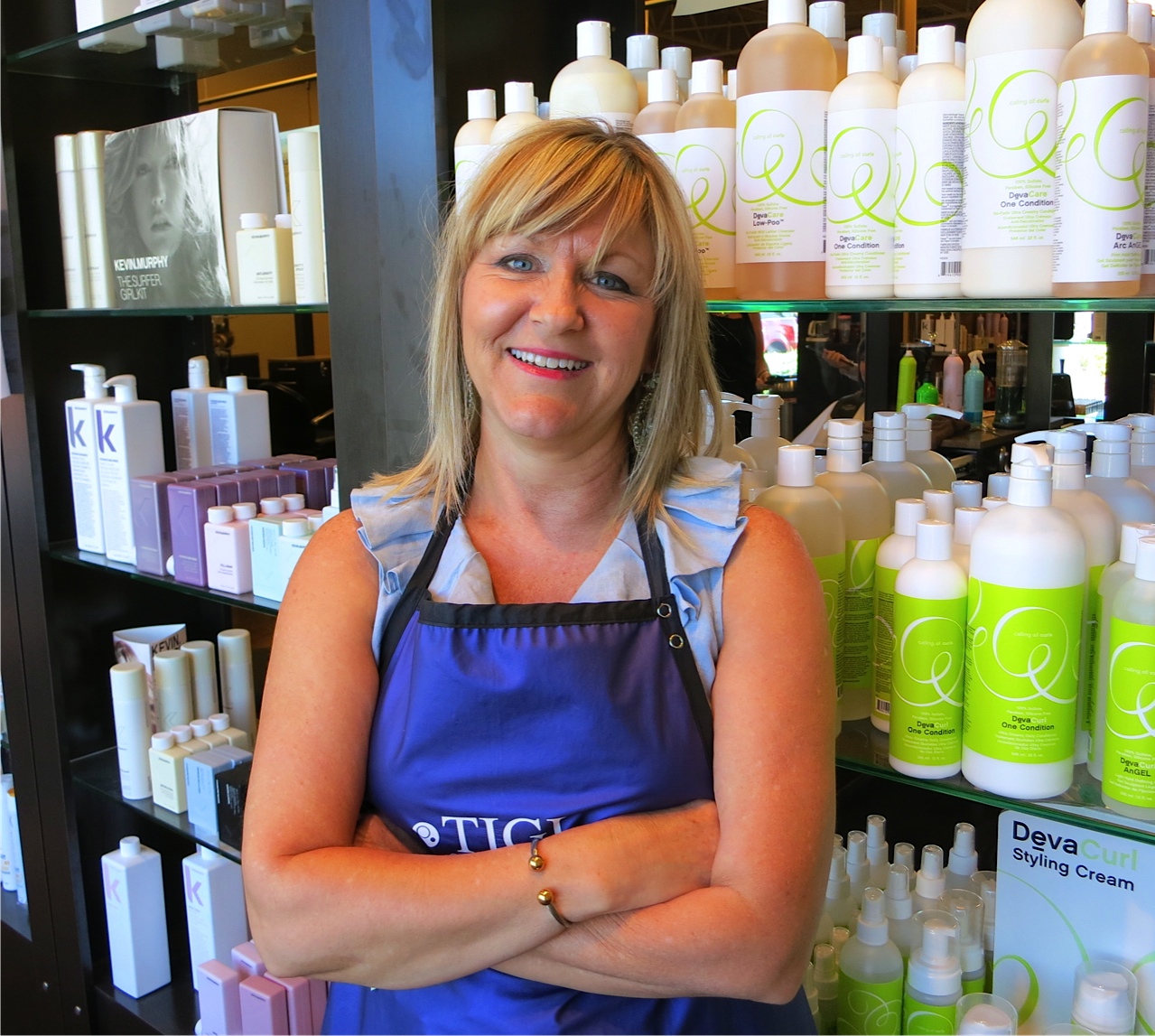 Person of the Week
Pat Stewart
Hair Stylist
I love cutting hair.  It's fun – especially because I love art!  I create art and when my art grows out, my clients come back.   Think about it:  Where can you go where somebody listens to you one on one?  The successful hairdresser is the one who wants to please the person, listen to what they need, and have a solution. 
1.  What led you to the mission of being a hair stylist?
Initially I wanted to be an artist.  I wanted to go to art school.  I told my mom, and she said, "How about a hair dresser?"  I thought, "Maybe I should be a hairdresser first, and then I'll go to art school."  I went to hairdressing school and I started popping out some good artistic work on the head!  I realized that's where my calling was.  It's artistic creation in hair.  So, here I am thirty plus years later as an artistic hairdresser.  I just really want to make people feel good.
2.  What does this mission mean to you?
As a hairdresser, ultimately, I want someone to feel good when they leave, feel pampered, and feel like they have had the ultimate experience in treating themselves.
Oftentimes people look to hairdressers as just giving them a good hairstyle.  But people sit in our chair and they tell us more than they would tell anyone else.  They are relaxed and they feel comfortable with us because we are listening.  It's all about their life.  If you can bring them your own experiences or help them find the right thing to do, oftentimes, they'll walk away and say, "Yah, I can do that."  In a sense, a hairdresser can be like a psychologist or psychiatrist.  The client can actually vent or talk about how they are really feeling.
It's also about the emotional touch.  Hairdressers are the people you give permission to touch you.  You may not really want someone else to touch you – like your doctor.  But you want that personal touch from a stylist.  They relax you, they make you feel comfortable, and you do end up talking about your real feelings.
I can make a huge difference just listening.  My clients are able to relax, especially if they believe that I am doing the best for them.  What I am ultimately trying to do is to make them feel and look better.
In this business, especially if you're considering having a family, the flexibility of being able to work and actually have time for your children is such a blessing.  I was able to support my family and spend time with my children.  That's really important for a career.  You are able to own your own business without going into debt.
3.  What was your best day as a hair stylist?
So many times I have left work and thought how I've made someone look good.  They might walk away feeling like they could do anything.  So I've had some great, great days. I met one person and it was so much fun.  She said she was quirky and weird, but I thought she was awesome!  She loved what I did and I loved what I did to her, so that was an awesome day.
I think there can be many days where you've known you've made a profound difference in somebody's life — even though it's only changing what somebody looks like.  I might say, "Hey, let's do this or that."  And they say, "Yah, let's do it!"  They believe in me.  When I've done a cut and the outcome was over and beyond what I thought possible – that's an awesome day!
4.  What was your worst day as a hair stylist?
Some of my worsts days are when I've gotten pumped up at a hair show and I've come back ready to do some new hair do.  I had a new client and did a new hair do, but they didn't feel the same way I felt.  They left pretty upset.  I was determined to do a new hairstyle on them because I had just learned a new awesome trick.  My problem was I didn't listen.  That's one thing in this business.  You listen more than you talk.  Listening gets you a lot further than telling somebody what they need to do.
Ultimately when someone sits in your chair, you have to ask, "So what are you thinking?"  I ask, "What is your expectation?  What do you want to do?  Are you interested in doing electric rollers or a hairdryer?  Or are you not willing to do anything?"  That's the key.  When someone's not willing to do anything, you've got to really work with that natural style and cut so when they don't do anything they still look and feel good.  So ultimately, the information that you receive from them is, "What style are they looking towards?  What are they willing to do with what they want? What kind of guidance can I give them after that?"
Think about it:  Where can you go where somebody listens to you one on one?  The successful hairdresser is the one who wants to please the person, listen to what they need, and have a solution.
5.  How did you survive your worst day?
I used to take it home with me.  I used to really despair over it because that's not who I am.  I want to make everybody happy.  I've gone a little bit too short on people.  I know maybe in a couple of weeks it's going to be much better.  But I've done the best I could.
How do I make it through those days that I've disappointed somebody?  I just pray about it.  If somebody is really unhappy, I tell them, "If you have questions, please give me a call."  If something needs to change, you know I am there.  I am willing to do anything that I need to do to make it right.
As a hairdresser, you really do have to have an artistic eye.  That is vital to being successful.  You have to be in the frame of mind of service. They don't want a Debby Downer.
Many people now want to be entertained. But there are stylist that aren't entertaining, and clients who don't want to talk during the cut.  I've had success because I've been entertaining, I love people, I love relationships, I love art, and I love serving.  From my perspective, the most successful hairdresser has all those qualities.
It is a fun business.  I love what I do.  I focus on my clients and so now I have a hundred best friends.  I even find myself even thinking about hair when I'm at a party.  It's terrible!  I'll look at someone's hair and I want to take a comb and clip and fix it!  It is fun – especially because I love art and when my art grows out, my clients come back!