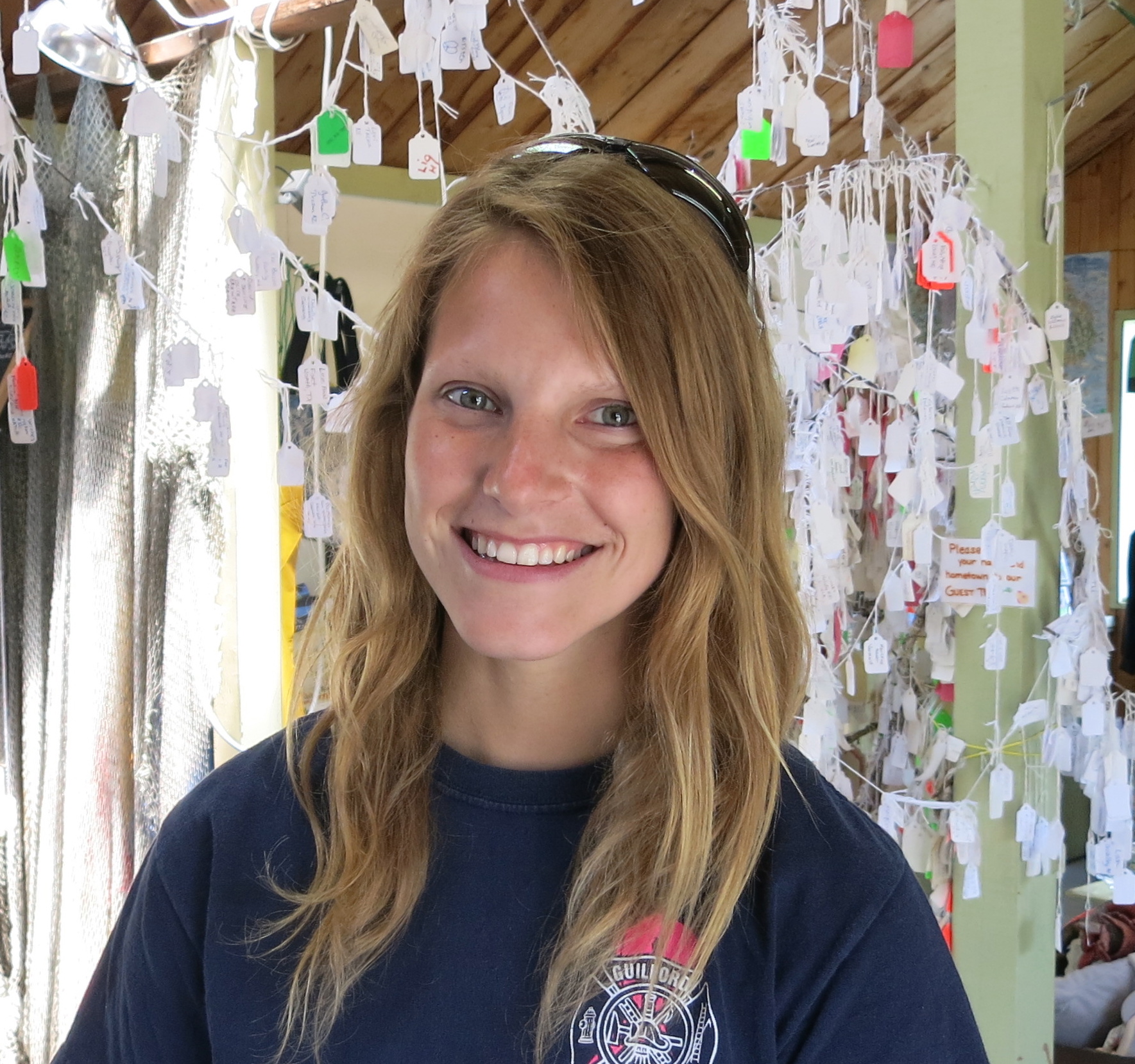 Person of the Week
Paige Blaker
Lumberjill
You might have a bad moment, but you aren't going to have a bad day.  It is something you can be proud of when you accomplish it.
1.  What led you to the mission of being a lumberjill?
I started learning about lumberjack competition as a college student at Unity College.  Some of my best friends started doing it.  They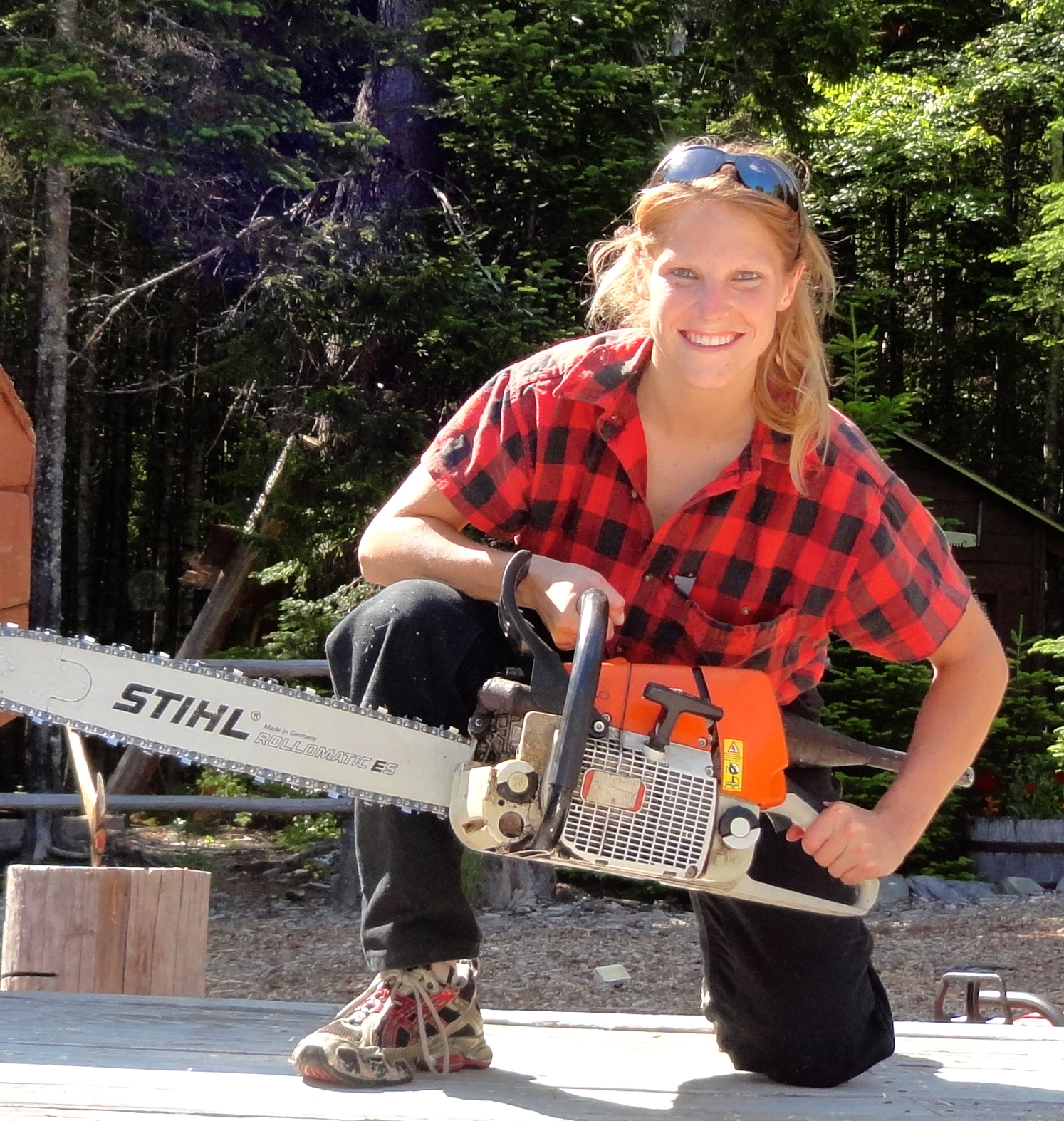 tried to get me to go with them, but being from Nebraska I had never heard of this before.  I was a little "iffy"!  I wasn't sure about going to the practices.  Since I was already playing soccer and hockey for the school, I really didn't think I had time for being a lumberjill.  I was president of the hockey club.  I was doing other clubs.
Finally my junior year, they finally convinced me to try it.  I went and just fell in love with being a lumberjill.  In college you don't call us lumberjills, you call it the woodsmen team.  At Unity College it is called the Unity College Woodsmen team and it includes both men's and women's divisions.  
My friends got me to join the Unity College Woodsmen team my junior year.  We travelled and competed in places like Maine, Canada, Vermont, New Hampshire, and around New England.  I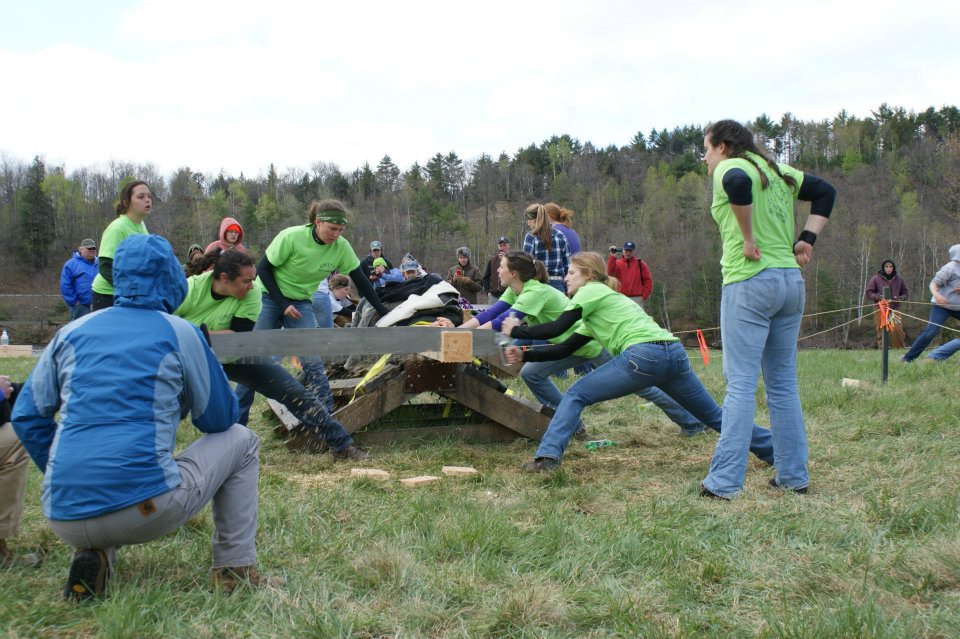 didn't do every event, but competed in certain ones.  For instance there are events that you compete with one of your teammates.  One is called the standing block chop.  You chop through a vertical standing log.  There is team cross-cut sawing event.  Then there are other competitions such as fire building, splitting, and pole climbing.  One of my favorites is the pack board race.  You run with a heavy backpack and then you pass it off to the next person.  It's almost like a track relay except we run through the woods and carry a heavy backpack.  (Click here to see a comprehensive list of lumberjack sports general rules and events.)  (Click here to see an example of a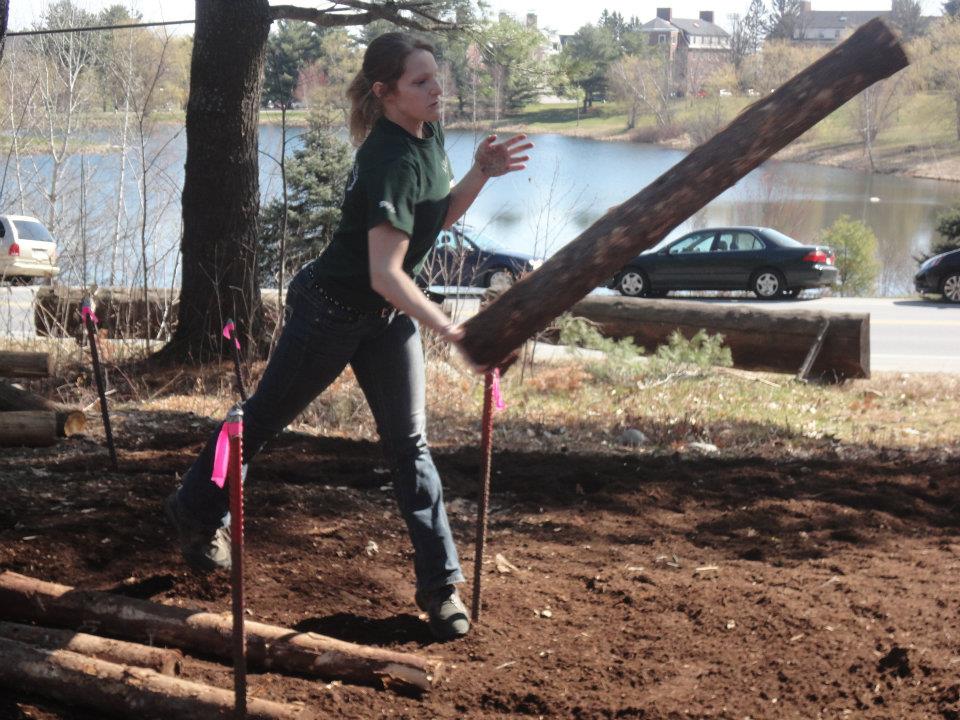 fire building and kettle boil event.)
There's an event called a pulp race relay or pulp toss.  Three people will be ten or fifteen feet away and you have four pieces of small trees.  You have to throw them and make them land between the two pins and get to a score of forty-eight.  (Click here to see an example of a pulp toss relay.)
(Click here to see information on the Lumberjack World Championships.)
You can compete in college and then after college there are many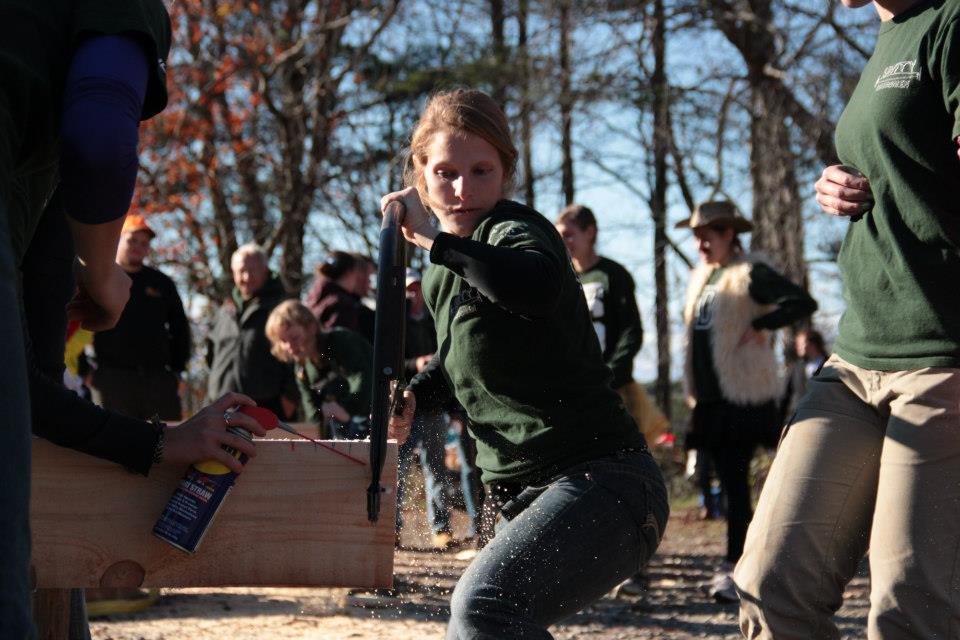 other places to compete.  After college I was able to get a job at the Great Maine Lumberjack Show in Trenton, Maine.  That's where they call us lumberjills.  We do compete, but it is a show and we are all friends.  We have fun together!  It's really a great evening show for family and kids. You can come and see it live during the summer months.  (To see a video of the Great Maine Lumberjack Show, click here.)
(Umission also honors Paige as a 2011-2012 Award Winner YSCC Player of the Week in women's soccer.)
2.  What does this mission mean to you?
It is a lot of fun for me!  It is something that relaxes me.  It is also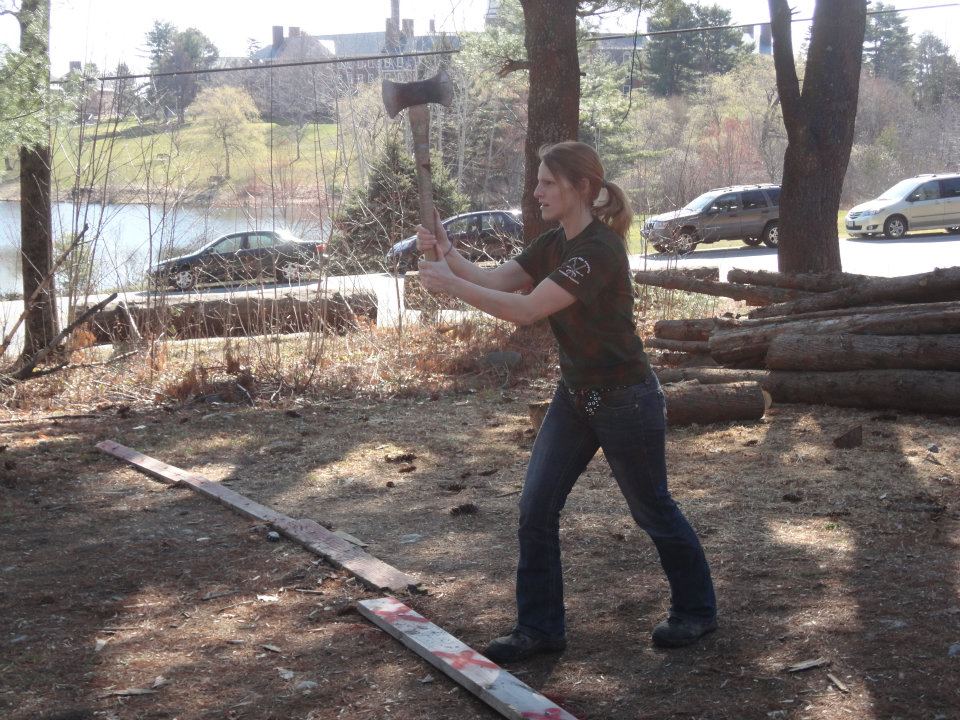 something that I feel very strong and independent at doing.  It takes athleticism to be able to do this.  It is something that you can be proud of when you accomplish it.
(Umission also notes that Paige Blaker was awarded Academic All-American for the year 2012-13.  Click here to learn more.)
3.  What was your best day as a lumberjill?
This was the first time me and my doubles partner actually won standing block.  We got first place.  That was really exciting.  I had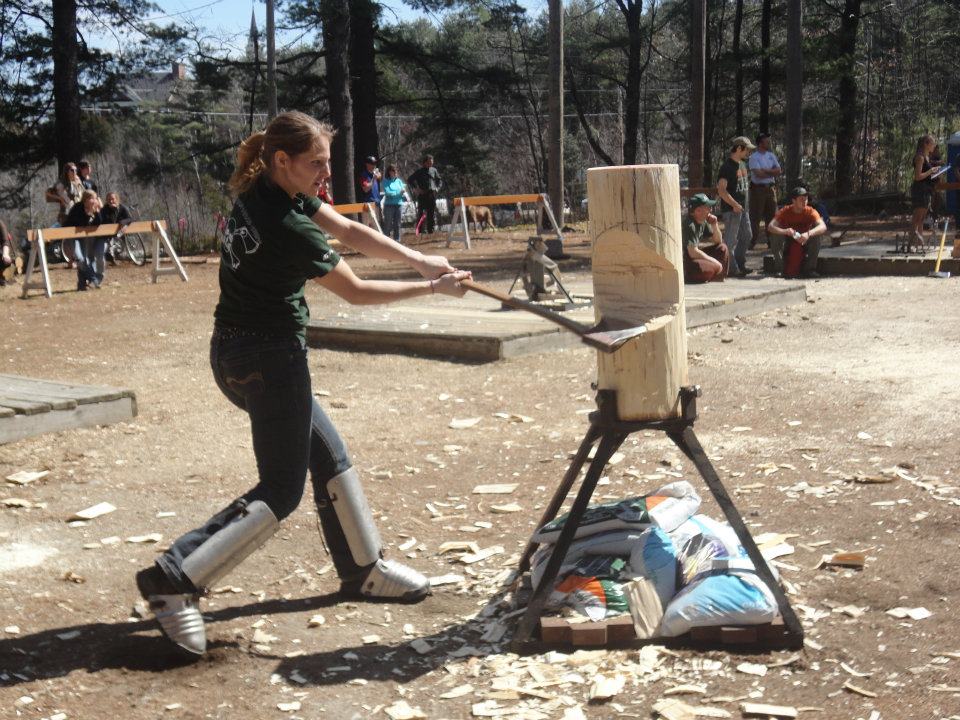 been working and working on getting faster and being able to chop through wood.  Finally I was able to accomplish that and beat other teams. There is a square piece of wood and sometimes it is round.  You stand the piece of wood up — straight on a stand.  Then you stand up and swing sideways to chop the block in half.  It's my favorite event.  You chop with an ax.  I feel good at it and feel powerful.  It is something that I can be good at.  When you do have a bad day, you can come in and set up the wood and just hit it as hard as you can!  Then you feel better!  I like it! J  (Here is a video of a standing block competition.)
4.  What was your worst day as a lumberjill?
It was the first time I ever competed.  One of the girls dropped off the team.  She was the one who was doing all the hard events.  So my team was saying, "Hey, Paige.  You've "gotta" do her events."  They said, "Oh, this girl just quit.  You're going to do it.  You have to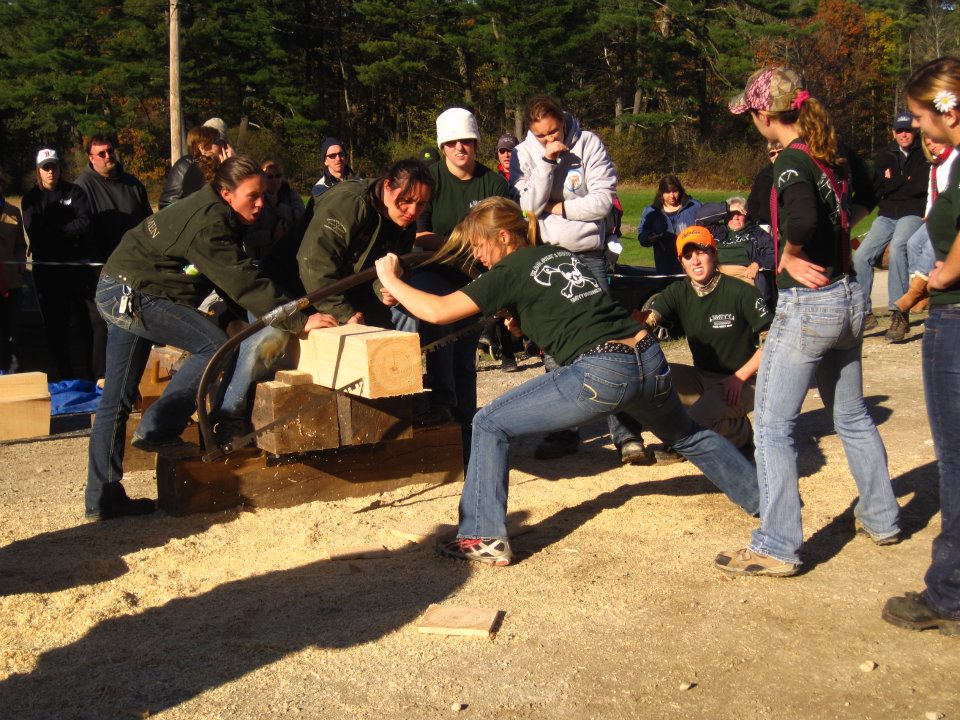 take her place."  They wanted me to do one event where you take a great big saw and you have to saw a big piece of wood all by yourself.  It's called single buck.  I had only done it once — ever — before.  They had me practice once and then they made me compete in the single buck. (Click here to see a single buck competition.)
I did my first standing block chop and the single buck for the first time that day.  It was so cold and I was the first one to go on single buck.  I didn't event know how to do it.  I can't event describe how awful it was!  I said, "Oh gosh, I was SO BAD!"  But the team knew I had never done this before and they said, "You'll get better at it, you know!  Don't look back at the past, look to the future." It was an awful experience for me.
5.  How did you survive your worst day?
The good thing about the competitions and being a lumberjill at the shows is that it's not just one event.  It's a lot of events.  Even if you had a bad chop with a partner, there are still other competitions all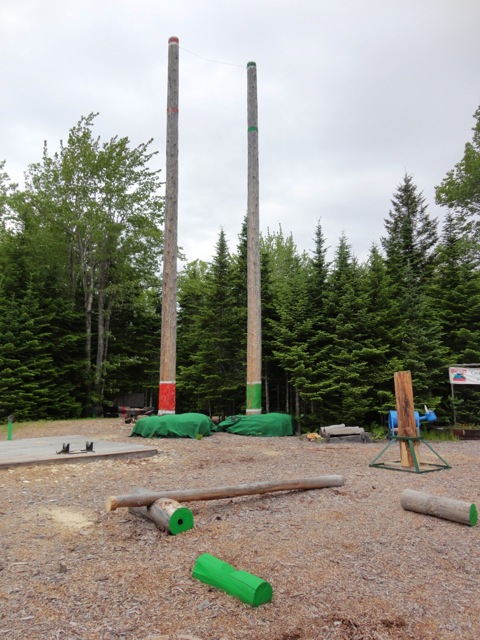 day.  You get to log roll as a team, run a pack board race, and many other events.  Really, as long as you are putting your heart out there, you can achieve your goals.  There is a strong team out there to prove yourself to and the team has to prove themselves back to you.  Everyone has to do their share – even if you have a bad moment.  You might have a bad moment, but you aren't going to have a bad day.  I like to be strong and optimistic.
A big portion of me is that I have been on a lot of teams throughout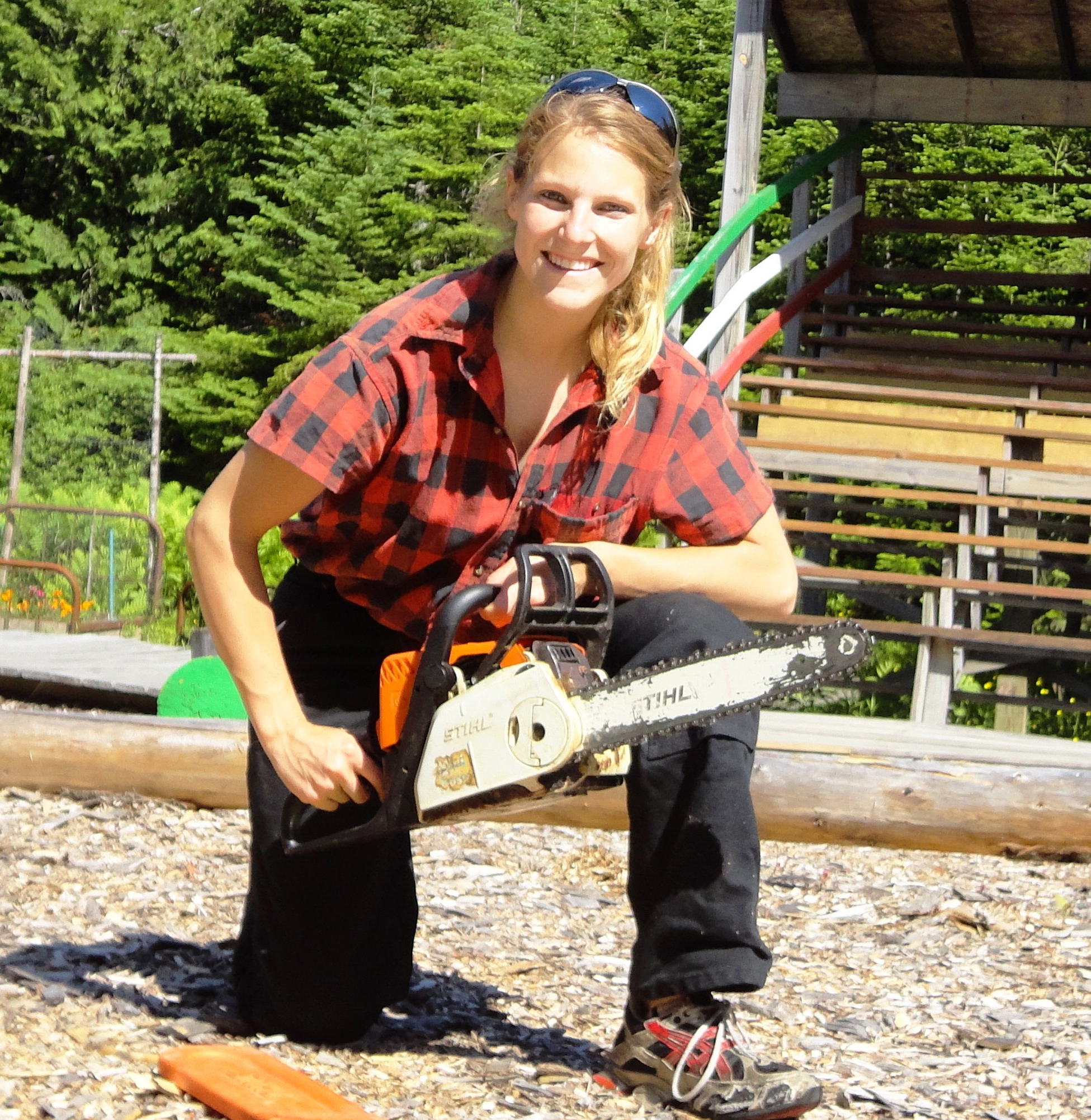 my life.  I was the captain of my college soccer team.  You come to realize that people look up to you and depend on you.  So if you let one bad moment affect you, it is going to affect them as well.  That's what helps me not let myself get down when I have a bad moment.
All the axes and the saws may look scary, but the sport is exhilarating and I'm so grateful I was able to join the woodsmen team and become a lumberjill.  Don't be afraid to try.