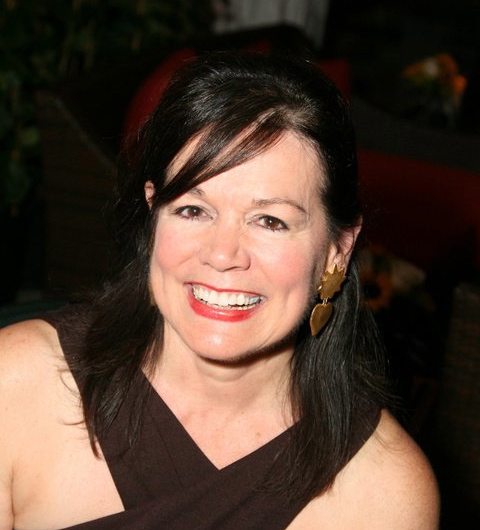 Person of the Week
Nancy Scanlon
Television Personality
I loved going out and interviewing people.  Now I would like to help other women find things that feed their souls.  My hope is to do this with a sense of humor and in alight-hearted way.   
1.  What led you to the mission of being a television personality?
My television career started when I studied theater in college.  My background in theater led to getting a Master's Degree in theater and communications.  The way I got to be cohost on a television show was meeting Harry Fender on a show broadcast from the Chase Park Plaza Hotel in St. Louis, Missouri.  I was promoting The Odd Couple, a play that was playing at the Barn Dinner Theater.  Also going on was a morning television show called The Morning Affair.  I was asked to be a guest and was interviewed as a local actress for the show.  I did so well with the initial interview, they asked me to cohost The Morning Affair which aired weekdays from 9:30 am to Noon.
This was great fun, but a lot of work. After the show ended, we had lunch, then crowded into a tiny office off the Park-Plaza lobby to produce the next day's show.    We had three phones, and the producer, and intern and I would all talk at once, each booking guests for subsequent shows.  We finished at 6 pm and had to be back on set at 7:30 am the next morning to get in makeup and go over notes before the 9:30 am broadcast.  So here we were producing and hosting five days a week.  I did segue and interviews.  I did segments on things like make-up and a weekly Weight Watchers segment.
After I married, I went back to work anchoring the nightly news, News Watch.  I was the first female anchor in St. Louis.  I was the head of the whole public service department and did a talk show at night interviewing people.  As Public Affairs Director, I had to do ascertainments.  The needs of the St. Louis community had to be broadcast, so I had to interview mayors, public supervisors, or leaders and learn the ten top needs of the St. Louis community.  This meant learning about crime, education, or the economy.  I would do the interviews, write my own news stories, and anchor the nightly news.
Shortly after that I started Weekend in St. Louis, which was a magazine format or forerunner of shows like Inside Edition.  We let the St. Louis community know what was going on and what people could do on the weekends.  We went all over St. Louis talking about restaurants, cultural events, concerts, and any unusual events coming to town for the weekend.   People still come up to me and remember things they saw on the show.  We had to do the studio shot explaining the segment and then the taping at the venue.  Each show had three different places that we visited.  I did both the introductions and the location visits.  I didn't have a cohost and would talk to the camera or the person on location.   The show won a St. Louis Emmy Award.
My background in theater made it possible to do the television work.  I had studied speech.  My enunciation was good.  When the camera came on, I loved being on, as it came so naturally to me. I had done everything to prepare, could adlib, and knew my subject.  I loved going out and interviewing people and enjoyed the social aspect.  Editing the material was the most difficult thing to do, but fortunately, I had talented editors to assist me.   I was better at my writing, acting, and social skills.  It was fun going out, talking to people, getting their ideas, and having the whole camera crew back me up.
2.  What does this mission mean to you?
It is important to me today because even when I was imparting information, I learned from life experience.  Now I would like to help other women find things that feed their souls.  I'm developing a talk show that will help women utilize their skills that have been lying dormant.  I'm starting a website called, "womanoverboard.com" where people can tap into the website, email, give ideas for new shows, and be interactive with other women who have their same interests.
The idea is to connect women who might be feeling the same way.  For instance, some women have had children and the children are all grown up.  They might feel useless, bored, and swept over.  They are stagnant and need a jump-start.  I am amazed at how many women feel the same way and don't see an outlet for the things they want to do.  They might be working in a job that isn't giving them the soul satisfaction that they need.  My hope is to do this with a sense of humor and in alight-hearted way.
The subject matter is endless.  For instance, some subjects might be how the family dynamics change when you have in-laws.  How does your relationship with your husband change when your children are out of the nest?  How can you prevent family "fires" from starting, rather then spend all your time putting out the fires?  How do you set goals and achieve them?  How do you find balance and keep from going overboard.  This is what Womanoverboard.com will be about.  It will be a place where women can go to find they are not alone, they can laugh and see they are not crazy, and they can get a lifeline when they are sinking.
Sometimes misery does love company and it works!  When a person knows she is drowning in an abyss, the first way to get out of it is to know she is not alone.  A woman can go to the website and see how someone cares for her.  This will be a place where she can re-cultivate her talents and help others.  She might even find a whole new career at any age.
3.  What was your best day as a television personality?
On a really good day, I can remember finishing the Morning Affair show and feeling total satisfaction.  Having a really good interview made me feel satisfied.  The cues went well, I was prepared, and I knew my subject.  The interview would flow well and the people would be so appreciative with the opportunity to be on the air.  I was interviewing C. Everett Koop, the Surgeon General of the United States.  I was interviewing him about smoking and at the same time my mother was dying of lung cancer.  She died a few months after that.  The significance of what he was saying — having it right in my face with my mother — made this an interview that I will never forget.
4.  What was your worst day as a television personality?
The hardest person I ever had to interview was my own husband.  He was cool, calm, and collected, but I kept bursting out laughing.  I couldn't interview him.  He was like a pro.  I was supposed to be the pro, but I couldn't get the words out.  It was painful.  I don't even remember what the interview was about.  It was awkward.  We had take after take.  I wasn't able to get a good take and so we had about twenty takes because I kept laughing.
Also, I had to learn how to write copy for the programs.  I would always write too much.  I would have to do a report about something like how the fish were biting at Lake of the Ozarks, and the first time I started writing the copy, I didn't  know where to start. Writing for television is much different than writing for a blog or book.  I asked someone in the news room for some help, and a reporter sat down and wrote it well, and quickly.  He taught me how to write – to get a point across in a few sentences.  I hadn't learned this in school.  I thought I was a good writer, but I learned that this is a totally different animal – writing for television.  I had a Masters degree and had written a dissertation, so I thought I knew how to write copy.  But I didn't, and had to learn how to do it for television.
After a ten-year hiatus, I went back to do a show. I had done all my research, the producer lined all the guests up for me, and the cameras were ready.  However, my daughter got sick.  My baby was clinging to me,  and I couldn't stand being torn away from her, so I cancelled the day's shoot, and eventually opted out of the whole show.  I had four little ones ages six to two.  I didn't want to leave them even for a moment.  I decided to take a hiatus until my oldest learned to drive.
5.  How did you survive your worst day?
It was very hard for me to leave my children when they were sick.  I felt guilty and sad leaving them with even the most competent babysitter.  Given the choice between your children and your job – even it if means getting fired, I think you have to find an employer that is understanding and gives you flexible hours.  Children are only going to be little for so long.  When I had a child who was home sick, that's all I had on my mind.  As an employee, I wasn't going to be very productive if I was upset.  In reading my Paris Match recently (my favorite French language publication that not only gives me all the world news, but the latest Hollywood gossip), Naomi Watts spoke of her personal pain of trying to film a scene for a movie when her mind was on her children. She said it is awful and she would lose her concentration and could not be productive.  Hopefully employers are becoming more understanding about things like this.  In your sick day package there should be sick days for children.  How can you plan for sick children? Employers must be more flexible. We must keep the communication lines open for employers and employees to be able to work a compromise. I know if I have an understanding and empathetic boss, I will give a hundred and ten percent when possible.
Womanoverboard.com will give women encouragement, and offer solutions to such problems.  If you feel that juggling children and a career have made you so stressful you feel that you are going overboard to try to compensate, hold on.  There is a way that you can keep your head above water until you reach dry ground.