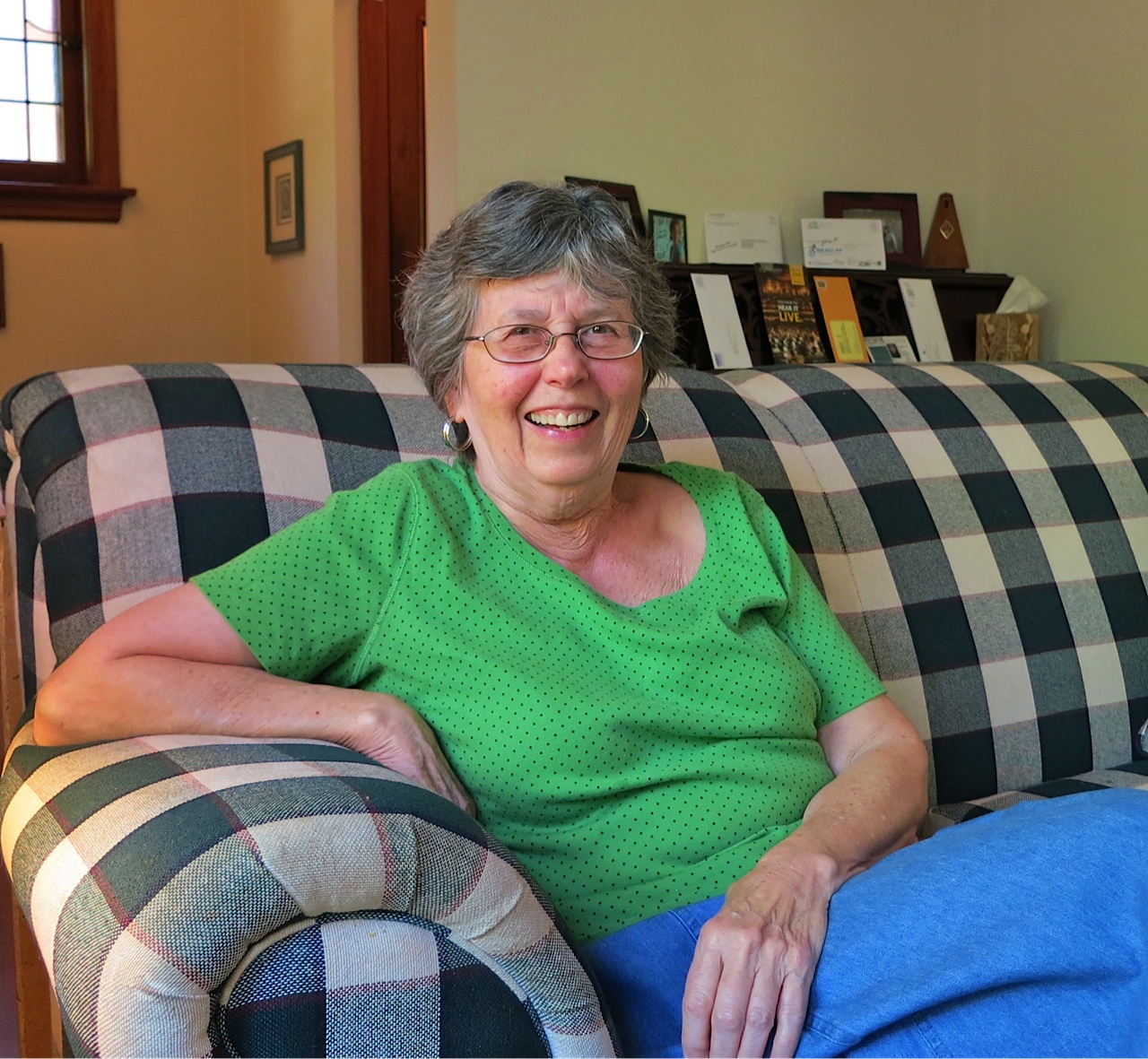 Person of the Week
Nancy Miller
Performing Arts Teacher
It was as if the universe conspired to give me what I was best suited to do…I would say that it is not as hard to be resilient as you might think. 
 1. What led you to the mission of being a performing arts teacher?
It was very gradual and started in childhood.  My father played piano and violin.  He would sit down and play the piano and I would be fascinated.  I would sit on the piano bench and doodle around playing my own tunes.  That was one cog in the wheel.
We did a lot of moving around because my father was in the army.  When I was in third grad, I took piano lessons.  The teacher had a piano, but she gave me a cardboard keyboard to practice on.  We didn't have a piano.  Back in the forties this was common.  It was during the war, so things were scarce.  My mother was a poet and both of my parents were artists – painters.  I saw my father painting more than my mother.  She put aside her painting to raise six children.  I was the oldest.  Both of them saw things with a certain aesthetic.  That was another cog in the wheel.
Every year I can remember, my parents would produce a Christmas card that was silk-screened.  My father was usually the artist.  My mother wrote poems for the card.  All of us children would help make them.  My father would screen the cards and hand them to us.   Sometimes there were sixteen stencils and colors for only one card.  When my father was off in the war, my mother did them.  She had the skill.  That was another cog in the wheel.
My mother made a lot of our clothes.  She would go to the Salvation Army and get clothing.  Once she got a man's coat and made a coat and leggings out of it for one of my siblings.  When I was quite young, she taught me to sew.  When the time came for prom, I didn't go out and buy a dress.  I made one.  That might no be recognized as an artistic endeavor, but it fit as one.  Later, when I was doing costumes for theater productions I could use this gift.  This experience also helped when I had to make set designs.  This was another cog in the wheel.
When I was in high school, I was taking piano lessons and performed in piano contests.  I was in the Methodist church and sang in the choir.  We had a wonderful youth group and district-wide chorus. Music was obviously important. When I was in school, I was in the band, sang in the chorus, and accompanied for most assemblies on the piano.
I needed money to go to college so I got a job playing the piano for a dance school.  That was my first serious exposure to ballet.  The wife was a ballerina and the husband a tap dancer.  He was no ordinary tap dancer.  He used music from Stan Kenton's Orchestra.   The husband's tap choreography changed Gene Krupa's drum rhythms into the rhythms of the feet of the dancer.  I was in on all of those tap and ballet lessons, listening to what the teachers said and absorbing all that talent.  I was fascinated and not even conscious that I was being educated.  I begged them to let me join the adult ballet class. They were willing to have one class without a pianist and so I started taking dance lessons.
I didn't know I what I would do when I grew up, I just followed my interests.  Then I went off to Ohio Wesleyan University for college. By then, I knew I was going to be a school music teacher.  Throughout my four years in under graduate school, I took only dance for physical education.  I even started teaching dance because of all I had seen while playing the piano at the dance studio.  I discovered that I was good at choreography so, while I continued my degree in music, it was clear that dance was what I wanted to do.  Because there was no dance major offered, I minored in theater.  In fact I got very active in theater.  I was a director as well as an actor, stage manager, prop and costume mistress.  All of the time I was swimming in the arts.
I went to the University of Wisconsin for graduate work.  This is where "dance as education" was founded, offered not just as a performing art, but also as a field of education.  It took three years to finish the program in dance because I had to take both the graduate and undergraduate classes to catch up with the dance curriculum.  The music classes that I had to take were from Joe Hawes, a great improviser at the piano.  He would say, "Nancy, put your hand down, I know you know it."  Louise Klopper and Mary Fee were my dance teachers.  Louise had studied with Mary Wigman in Germany,  one of the bright lights  in the world of modern dance.
There I was in graduate school getting a major in dance, doing choreography, getting married, having three children, and teaching in the university dance department.  I graduated with a master's degree and started teaching.
2.  What does this mission mean to you?
By teaching teachers, I was awakening students to what it meant to have children's lives in their hands and how to help children find their best self.  That is much different than teaching dance or music or theater.  This mission meant that I was able to use all of my experiences of my life to do what I was best suited to do. I did not know that my earlier experiences in theater, art, and dance were all necessary for me to become the teacher I was to become.  But every place that I had lived, every circumstance led me to becoming a teacher.  I didn't have to go out and look for jobs; they came to me.  It was like the universe conspired to give me what I was best suited to do.  It has always been so rewarding.
3.  What was your best day as a performing arts teacher?
At one school, my first year was challenging.  Every year of the previous seven they had had a different music teacher. The year before, they had had a children's play and the teacher did much of the performing.  I worked differently.  I decided that I would do a play using the children's abilities.  They did the songs, scenery, dialogue, and dances.  We did things like having the kids run through the audience.  My best day was standing at the back of the theater and watching the kids do this performance.  I had to play the piano, but stood a part of the time and watched the kids.  At that moment, I was thrilled and just knew that this is what I was supposed to be doing.
By then I was probably forty-five years old.  Since university days, I had always been teaching, but never using all of my skills at one time.  This was the first time all of my skills came together.  I was happy because the kids were so happy.  In all the performances we gave for the next 20 years I would ask everyone what special things they could do – anything.  Then we would figure out a way to get them into the program. For instance, one child stuttered.  His lines were crafted so the stuttering didn't matter.  He turned out to be one of the favorite characters.  He felt so proud and we were able to take what he was able to do and make it possible for him to do well.  If someone could do a back flip, we made a dance with a back flip.  If someone could play the violin, we put in a violin.
4.  What was your worst day as a performing arts teacher?
I was working on a school play.  I thought my coworker and I were working well together.  The weekend before the play, she got really sick.  That weekend we had planned on finishing the costume making.  She couldn't come and said, "I'm just too sick."  I said, "Don't worry about it.  I can do it by myself."   I made the costumes for the Brazilian Indian characters, including feather headdresses and necklaces.  I thought I was helping her.  I phoned her to say, "They are all done.  I had a wonderful time."  I was happy.  I didn't feel put upon.  The principal called me the next day and told me that the coworker was very upset, that she felt unappreciated and was crying.  It was terrible because I had no idea that anything that I had done or said could have been taken as not acknowledging her.  It seemed to come out of nowhere.  All I could do was talk to her and apologize and tell her I was sorry that she felt so bad.  The show went on.  We had to do it.  Our perception of the whole event was so different.  I thought I was helping.  She thought I was hurting.
5.  How did you survive your worst day?
I survived by recognizing that a lot of people were depending on me.  That week we had a technical rehearsal, dress rehearsal, school and evening performances.  I had a lot of responsibilities that week.  I did all I could to mend the relationship with this coworker.  We had a job to do and the children, faculty, and parents were counting on the performance.  We had to go on.
I didn't worry about it and it didn't get me off track, however.   This was a familiar role for me.  Growing up, I had a lot of responsibilities at home and so I was put in a position of having to be mature at an early age.  I had cooking responsibilities, money responsibilities, and taking care of my younger brothers and sisters.  I don't remember a time when I wasn't functioning like another adult.  If I had a birthday party, I had to throw it for myself.  I lived, accepting this is how life was.  I didn't fight back or complain.  I chose the role of being resilient.
I would say that it is not as hard to be resilient as you might think.  There are three important ideas which help:  one, bad things sometimes happen for a reason and you can learn from it;  two, your attitude has a huge effect on how challenging the experience really is and three: make the most of the moment because it won't come this way again.