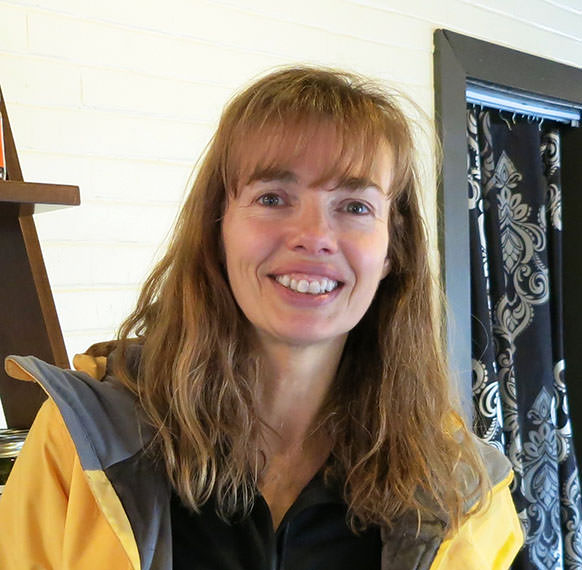 Person of the Week
Mitzi MacDonald
Singer, Songwriter, Recording Artist, and Entertainer (including Celtic music with Keltic Reign)
I became a singer and songwriter because I needed to. I was terribly shy on stage.  I was a stutterer.  I put myself in the most fearful place, so I could overcome and face and deal with those things I needed to do to be OK.  By putting myself in that fearful place, I've shared my gift and inspired through that gift.
1.  What led you to the mission of being a singer, songwriter, and entertainer?
I became a singer and songwriter because I needed to.  It's been my way of processing and dealing with and appreciating life.  It just comes out of me.  It took me decades to be able to do this.  I was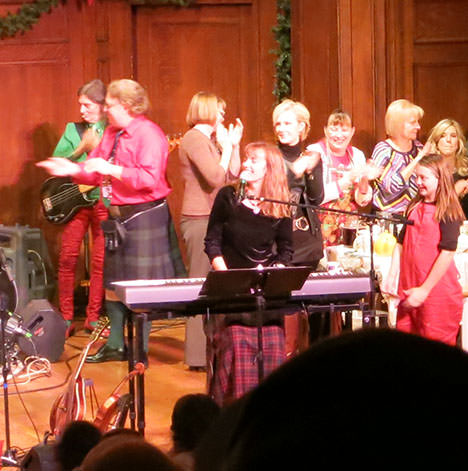 terribly shy on stage.  I was a stutterer.  All I did was admire people who were themselves and could share and talk to an audience.  This was amazing to me.  Now I've recorded five albums of original music.  A lot of it is healing music – very personal music.  (See Mitzi's website to get a full listing of her songs and CD's.) 
Years ago I had a financial backer trying to get me a recording deal.  They didn't know what to do with me.  The main complaint was that my work was too personal.  The beauty of how that turned around is as I went through challenges in my life and wrote these personal songs.  I came to find that they could mean a lot to somebody else who was also going through something like that.
Here I Am is especially personal because I wrote that after I lost my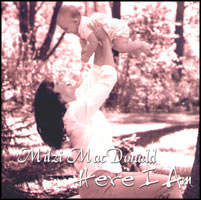 mom to cancer.  It was a succession of events.  First I lost my mother.  Then I started to limp, I found out I was pregnant, and I had a tumor in my femur (giant cell tumor of the bone).  I was questioning the health of my unborn baby, Ashby, "Was she going to be OK?"  I was questioning the health of me, "Was I going to be OK?"
The songs came from this place in my heart.  In the first trimester, I had had a boatload of drugs.  I didn't think Ashby would survive and I had already lost three pregnancies where the fetus just died.   I was afraid.  The beauty of this story is that Ashby ended up being born on my mother's birthday.  Not only did she survive, but she thrived and was born healthy and gifted.
As a child I studied piano.  Then I quit.  Then I studied piano again.  Then I met musicians around where I lived in Cape Breton, Nova Scotia.  There are a lot of Scots there, French, and some Irish.  It is considered a very musical island.  Coal and steel used to be the main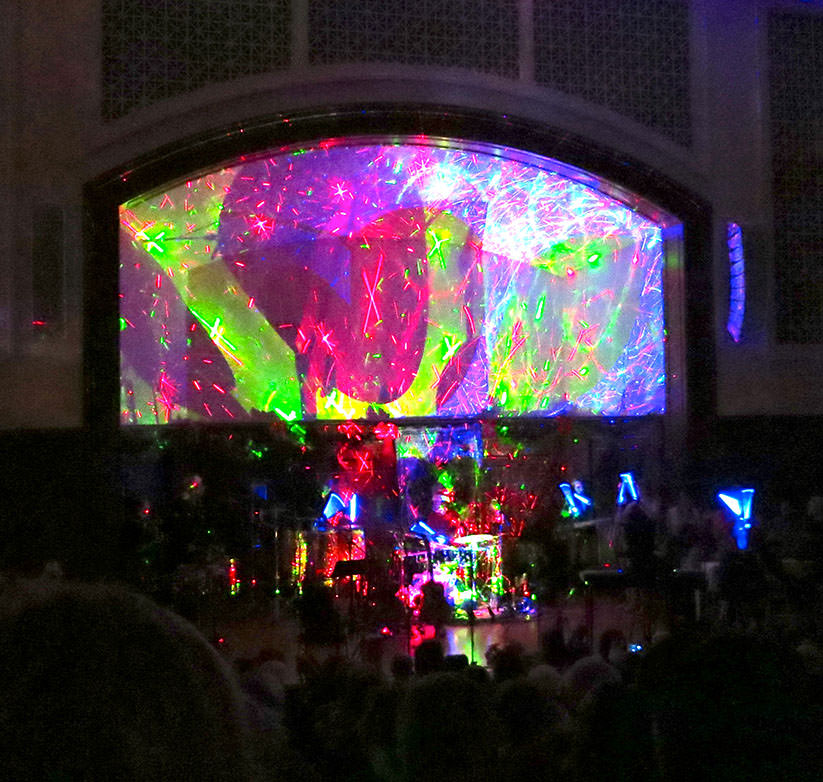 industries of Cape Breton.  Now music and tourism is Cape Breton's niche.
In October Cape Breton has the Celtic Colors Fall Festival.  It is the biggest Celtic music festival in the world.   The colors are gorgeous and the music is island wide.  There's not a church, auditorium, or library that isn't involved in it.  There is entertainment everywhere.  It teaches you that Celtic music is not just Irish Scottish music.  Celts were in Spain and all kinds of countries that have been touched by the Celts and their music.  You get to see the connection to it all.
When the Scots came over to Nova Scotia in the 1700's, they were given free land.  This is what happened in my family.  They liked Cape Breton because of the highlands.  It reminded them of Scotland.  If you go to Cape Breton, all the names are like the areas of the highlands of Scotland.  They came with their Scottish dance – which they call Cape Breton step dance, but it's not really Cape Breton step dance.  It is Scottish step dance.
Over in Scotland, people were so influenced by England.  The Queen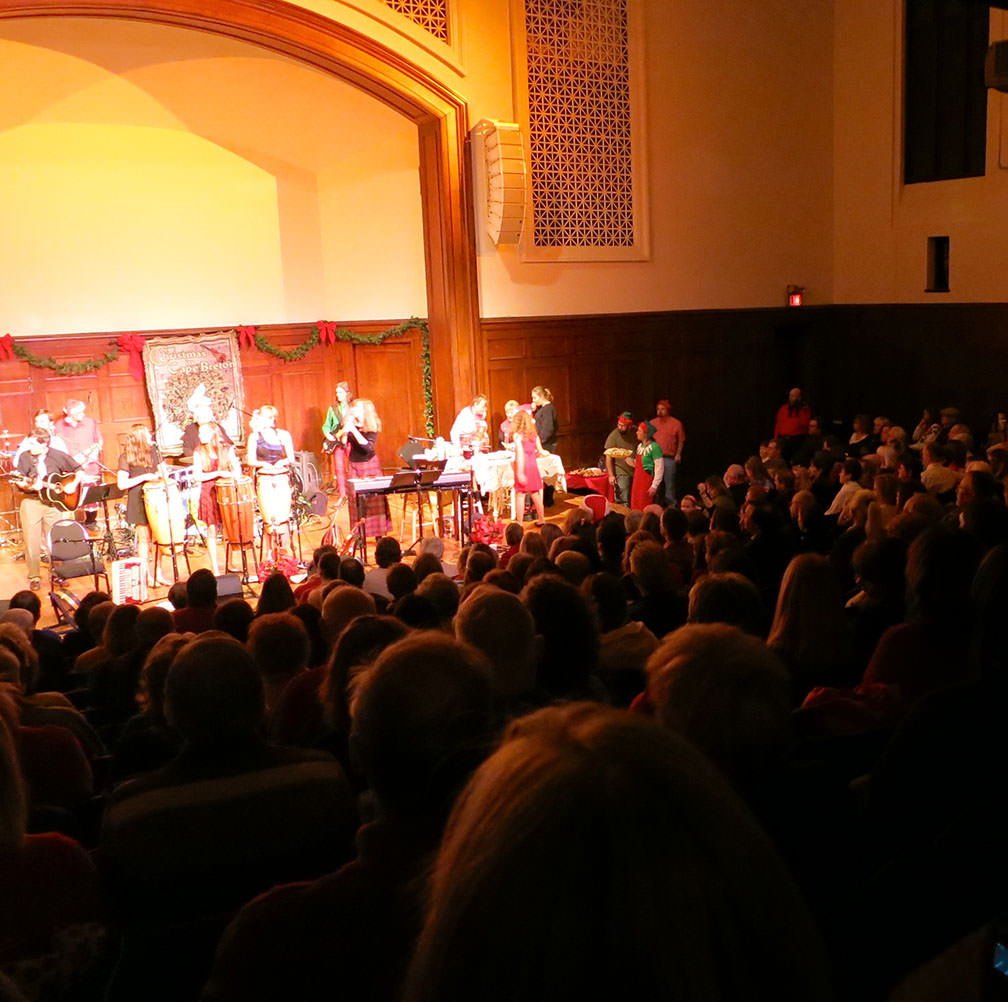 of England loved highland dance.  There was a lot of battle between England and Scotland, but as the years went on, the Scottish highland dance really got the blessing from England.  The Queen thought it was beautiful.  She thought the step dance was more of a peasant type dance, so it wasn't taught in the schools.  Only highland dance was.  So, people came to think of highland dance as Scottish step dance.  So you go to Cape Breton where all these Scots came and they are still doing that original step dance.  Step dance is the dance that goes with the fiddle music.  They call it Cape Breton step dance, but it is actually Scottish step dance.
There is a fiddle style in Cape Breton and they call it Cape Breton fiddle style.  Historians believe it is the original way they used to play the fiddle in Scotland.  In Scotland, they were so influenced by outside players.  There was Wales, England, Ireland, and Spain.  These people were travelling around more and it would give more of a watered down effect.
Then you go to Cape Breton and you hear this music that is very distinct and hasn't changed.  They would still do the milling frolic.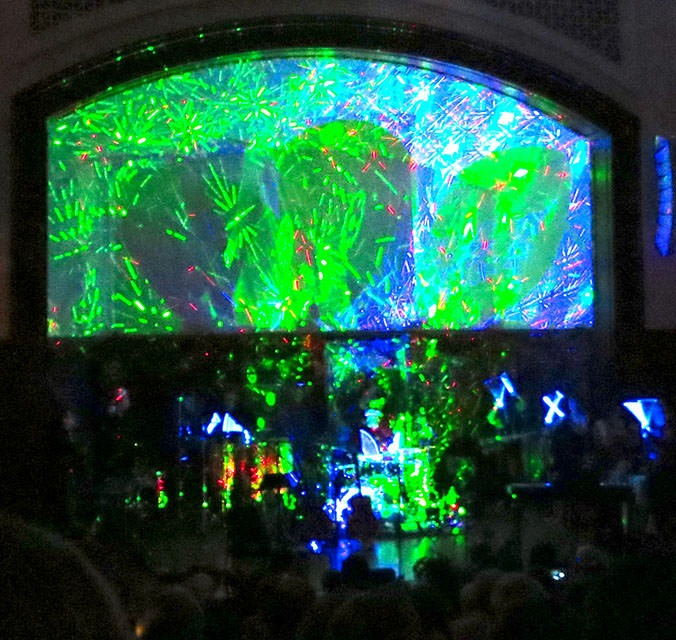 You take the wool and put water on it.  You are sitting at a long wooden table and men and women would sit for hours passing the wool between their hands and pass it down to the next person.  All the songs go to a steady slow beat.  (Click here to see a Cape Breton milling frolic performance.) 
I played the piano and wasn't in a musical family or in one of these musical Scottish pockets in Cape Breton.  But my mother loved music and we would go and hear this stuff.  I asked if I could start playing the piano when I was six – because a daughter of a friend of ours had come to the house to play my mother's organ.  I don't know why she had the organ.  Mom didn't play the organ.  But the little girl came over and sat down to play my mother's organ.  She played from book one, The Waltz of the Christmas Toys.  When I heard that, that
was it.  I said, "I have to learn how to play that."  The Waltz of the Christmas Toys is what got me into music.
My mom was not a musician, however, she and my grandmother loved to sing.  My mother used to write songs.  She would make up songs.  They were silly or funny or would change the words to a song.
My dad was a politician.  He was killed in a plane crash when I was four years old.  He was flying to a meeting in Prince Edward Island.  My mom started working on a campaign for John Buchanan.  She took the words to a song and changed all the words to it.  She made it a rally song for John Buchanan.  It was a great song and everybody was singing it.  So, I need to credit her with the songwriting concept.  She was so funny.  She would go in the bathroom and come out with a song.  It would be something she would just make up.
2.  What does this mission mean to you?
I would have to say that it means I have a way to inspire someone else.  I can share something.
3.  What was your best day as a songwriter, and entertainer?
I'm thrilled my kids have the gift of music.  I don't know what they will do with it, but they can all sing, sing harmony, play guitar, and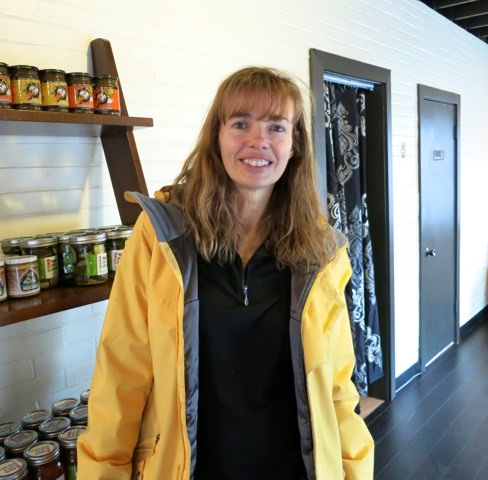 play piano.  I play one instrument and they all play half a dozen.  They are way more musical than I am.  They were taught to read music and they were taught to play by ear.
My favorite thing is hearing all their voices together.  I've always heard about families that sing together – like sisters – and the family harmonies blend so well.  I've thought about the Rankins in Canada.    I am a huge fan of the Rankins.  (Click here to hear the Rankin family sing.   Click on this text to learn more about he Rankin family.)
My best day ever, we weren't even at a job yet.  We were in the living room practicing.  The kids were getting to understand harmony.   We

finally worked out a song.  I heard them for the first time and it was so beautiful.  There is Andrew, Holly (the fiddler), and Ashby (piano, piano accordion, Irish tin whistle, and bodhran — the Irish drum).  (Click here to hear an example of a bodhran.)  My children are not really interested in being singers like me, but the harmony that comes of them is phenomenal.   I'll sing and they will talk amongst themselves – like kids arguing over cookies, "That one's mine.  You're singing my note.  That's my note!"
4.  What was your worst day as a songwriter, and entertainer?
My worst day would be a bad performance.  I have had them.  I have no desire to remember bad things – so they are gone.  But what could go wrong is forgetting the words.  One situation comes to mind.  No.  Two situations come to mind.  One is the dreaded:
everyone is listening and it is a good opportunity to be with everyone and share something special.  But then you screw up the words.  It is so devastating to me.  Then to have people come up after the song and say, "That was so beautiful!"  But I am thinking, "You have no idea."
The other one is when I sang at a funeral.  I did fine, but I didn't sing one of my songs.   I've done it the other way – sang my songs at a funeral.  But then I get emotional and it is awful.  I can't do it.  I am such an emotional person.  I'll call a song a one box of Kleenex song or a two box of Kleenex song.
There are things that don't go together:  oil and water — and crying and singing.  It puts your voice right out of tune.  It is horrendous.  Crying hits me right in the vocal chords.  My throat complete locks up and I go completely out of tune.  My voice cracks.  It's got to be painful for the listener and it is painful for me.  I am so embarrassed.  That is probably my worst day.  Crying during a song – no good.
5.  How did you survive your worst day?
In the pity party following a bad performance, I would say to myself, "That's it.  I should just stop doing this.  That's the answer.  I just won't share these songs any more."  What keeps me from changing my mind is about two hours later when I realize I have no choice.  Music is meant to be shared.
I didn't recognize resilience within myself for a long time.  My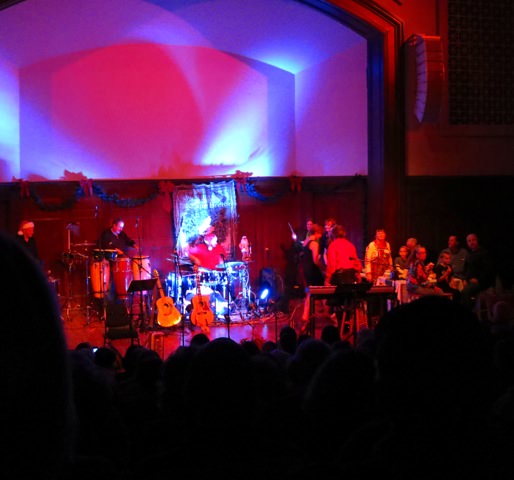 biggest fear for a long time as a teenager was people.  I was terribly afraid of people.  If I had been interviewed then, I would have said my most fearful situation would be standing in the middle of a stage.  It took me years to look back on that and to realize that.  I did that to myself.  I put myself in the most fearful place, so I could overcome and face and deal with those things I needed to do to be OK.
By putting myself in that fearful place, I've shared my gift and inspired through that gift.  I have a deep appreciation for that because I couldn't share before that.  But I thought that I have to convey those good thought and ideas – like Christmas in the kitchen.  Christmas in the kitchen was just a thought, an idea for good.  It was actually a dream.  I dreamt it.  Then I did it.  We performed with Keltic Reign and raised $5,174 for the Annie Malone Children and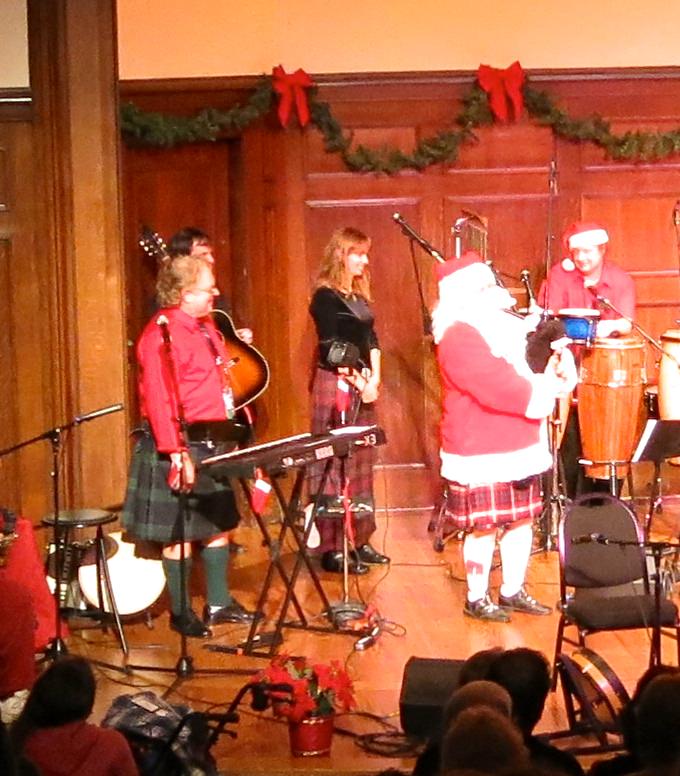 Family Services Center.  (See article about the Christmas in the Kitchen.  There are also CD's available.) Our kitchen table was on the stage – my actual kitchen table.
You know how you dream you are on the stage and don't have your pants on – or something like that?  I thought it was one of those dreams.  But I woke up and thought, "Oh my gosh.  I dream quite a bit of being on stage and something going wrong."  But this time I woke up and thought, "Oh my gosh.  That was a bizarre dream.  My kitchen table was on stage."
But then I started thinking about it.  That was a kitchen party.  I'm going to have a kitchen party on stage.  In the dream, people were drinking tea, eating cookies, and hanging out with the band.  We were all on stage.  I thought, "What a great idea."  I knew this could work.  I told Keltic Reign, "I know this could work."  They asked, "How do you know?"  I told them, "Because I saw it in a dream."