Person of the Week
Michael "Mac" MacDonald
Reflexologist
There are no really bad days.  It's like weeds in your garden.  It's just a plant you haven't found any use for yet.  A bad day is just a day you haven't found any use for yet.
1.  What led you to the mission of being a reflexologist?
I first learned about reflexology when I was a kid at summer camp.  It was a great way to meet girls!  It was 1967 and it was the summer of love. About fifteen years ago, I had a shoulder accident at the job I had at the time and had to change jobs.  My wife Jane said to me, "Mac, what are you going to do the rest of your life?  You have an opportunity here."   I thought long and hard and I decided that I would tie flies, go fishing, and rub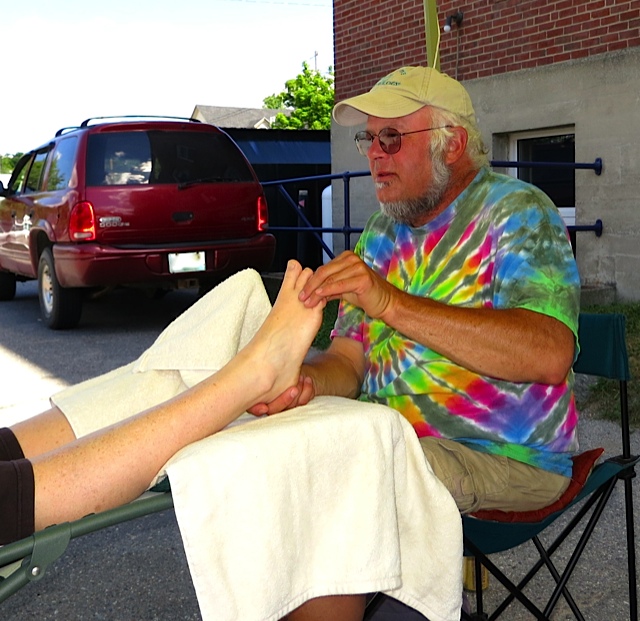 people's feet.  I had the how – because I learned years ago how to rub people's feet, but I needed the why.  I found a school in Maine.  It was three thousand dollars to go to school.  I didn't have the money, so I wrote a letter and sent it to everybody I knew and a few folks I didn't.  Basically it said that if you give me money today, I'd gladly pay you back in foot rubs when I'm finished.  So, I raised all the money for school, plus getting there, plus having a place to stay, and food to eat, and all that stuff.  So I went to school, graduated, started my business.  I've been in business for twelve years.  I only make house calls.  I do not have an office.  Your home is my office and you can't take it off your taxes!  Humor is the way to go.
2.  What does this mission mean to you?
That's a hard question.  It means my livelihood, to me.  You know, people say I should do stand up, well I tell them I just sit down.  They have to stay afoot with the times you know.  I put my best foot forward.  I never admit defeat.  That's true.
3.  What was your best day as a reflexologist?
The best day is a day I have clients.  Right now it's pretty busy.  Because it's summer time and everybody's happy.  It's the only thing I do year round, so every day's a good day.  Any day that I'm here is a good day.  The fact that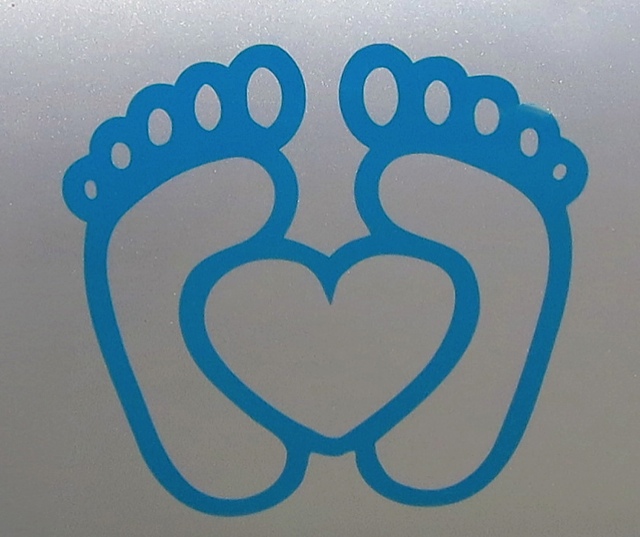 people have feet and they want to take the time to reduce their body stress and improve their circulation is fine with me.  It helps their body maintain homeostasis – to be well with itself.  All the nerves don't end in the food.  They don't end.  Nerves are loops.  When you have pins and needles in your feet, you know when your foot falls asleep, that's the nerve endings trying to reattach.  I don't know if that's true or not, but I read it somewhere.
I'm not a workaholic.  Like yesterday, I had a really nice foot party with four folks.  It was out on the west side of Mount Desert Island (Maine).  It was in a real pretty place.  We were right on a deck and we were outside.  It was beautiful.  When I got there, the people weren't even there.  They were out hiking or something, so I got to hang out for a while.
4.  What was your worst day as a reflexologist?
No clients!  That's a no brainer.  No actually, a day with no clients is not my worst day.  Because it just means there'll be more clients another day.  Well, if people don't show up, or if folks call an hour before their appointment and cancel, that's not a good day.  I like people to give me at least twenty-four hours so I can stick somebody else in there and get somebody else.
I've only refused to work on two people in twelve years.  One was because their toenails curled around their toes and the other person's house was too dirty.  It's those other times in the year that makes it a little difficult.
5.  How did you survive your worst day?
Just knowing that there is another day coming.  There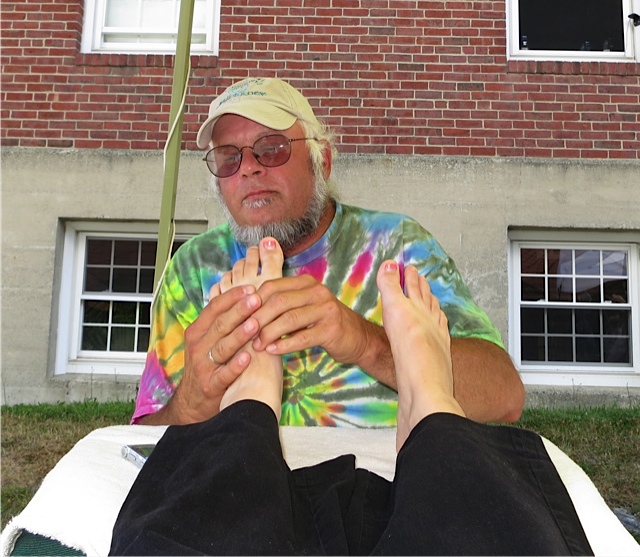 are no really bad days.  It's like weeds in your garden.  It's just a plant you haven't found any use for yet.  A bad day is just a day you haven't found any use for yet.  So, if there's no clients on a day, I go fishing.  It's not the end of the world.  Or I could work in the garden or stay home – it's not a bad thing to have a day off.
I learned to be this way from life.  Those life long lessons of life.  The school of hard knocks.  You have to have a positive outlook or you're not going to make it.  That's the way it is in the world these days.  You have to be happy.  If you're not happy, what's the point?  You know?  Like old Ben and Jerry says, "If it's not fun, why do it?"  (Ben and Jerry the ice cream people.)
My former wife Jane, who's passed away now, named and invented Cherry Garcia ice cream.  We used to get ice cream for life.  She did, and I married her!  We were married for eighteen years.  Jane's only been gone two years this November.  She died at home, though, where she wanted to die. When we were married, we were married on the full moon, so every full moon we had a honeymoon date.  So we had thirteen honeymoon dates a year.
Jane had been sick for quite some time.  We knew that she was going to die, but we didn't know when.  We had our anniversary, which was November 10th.  And then on the twentieth was the full moon so I worked that morning and brought home apple pie, Coca Cola, and Kozy Shack Tapioca Pudding – because those were her favorites.  She had made chicken soup because we had a chicken the night before.  And we sat around and watched a Hallmark movie and then we watched the Maine Black Bears and they won – yes!  And then Jane said she was going to do a breathing treatment and went upstairs for a while.
I heard the machine shut off and I went downstairs.  I said, "So Jane, how do you feel?"  She says, "Oh I feel great."  Then she stood up and said, "Oh my God, you've got to take me to the hospital."  So I ran out to the car and I didn't have the car keys, so I ran back into the house, found the car keys, backed the car out, got the dog in the car, went in the house.  Jane was sort of ready to go.  She went out the door, down the stairs and dropped dead at the bottom of the stairs.  From the time she asked to go to the hospital to the time that she died was ten minutes.  She was looking at the moon when she died.  Yep.
So started my other life.  The life I lead now – or I live now.  I'm not leaving it anywhere.  I'm living it.