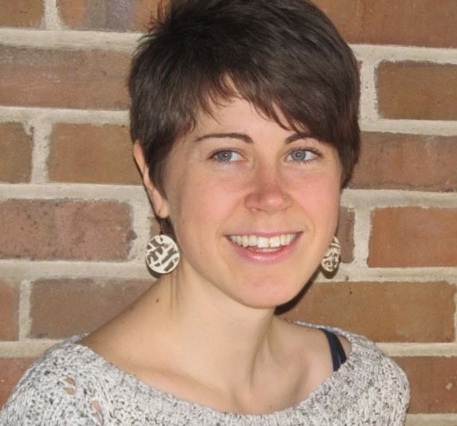 Person of the Week
Lark Rodman
Long Term Volunteer, Sadhana Forest, India
The idea of finding a job with long-term security and enough money to support me — didn't seem inspiring in and of itself.  Volunteering at Sadhana Forest would be about creating a future for other people – rather than a future just for myself.
1.  What led you to the mission of being a long term volunteer for Sadhana Forest?
Volunteering at Sadhana Forest would be about creating a future for other people – rather than a future just for myself.  This idea is what took me to India and Sadhana Forest.  (See the website that explains Sadhana Forest where Lark volunteers.)
I had been working for Google doing computer work.  This was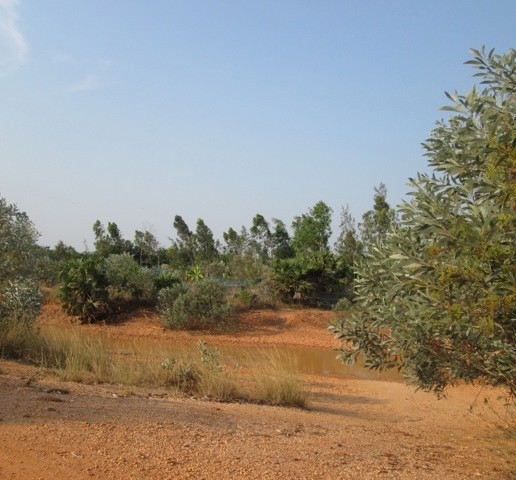 a flexible job because I could work from my home.  However, this work was also isolating.  As my contract was coming to an end, I started looking for the next right place to work.  The idea of finding a job with long-term security and enough money to support me — didn't seem inspiring in and of itself.
Then I remembered a person who had taken a trip to India.  She told me about this place where she had briefly volunteered.   She thought I would really enjoy this volunteer work.  I thought this might be the perfect time to start something totally new and different.
I had travelled quite a bit, but it had been mostly for my own benefit – the enjoyment of just traveling.  I thought it would be really neat if I could go somewhere I could be of service and go to an area of need.  I focused more on giving rather than setting myself up for a stable future.
2.  What does this mission mean to you?
When I went over there I was really searching for something – myself.  There is a quote that is attributed to an indigenous Australian Aboriginal woman, Lilla Watson.  She said, "If you have come here to help me, you are wasting our time.  But if you have come because your liberation is bound up with mine, then let us work together."  That was a force for me because when we think of foreign aid and volunteering, there is always a little bit of judgment involved with the thinking, "Oh these people need help!" (See Lilla's story by clicking here.)
I think often the indigenous communities feel this – especially
when a lot of Westerners are coming in to volunteer.  There can often be a division of service that says, "Indigenous people don't have the knowledge or skills to succeed, so we foreigners are going to help you."  But for me volunteering was about something that I needed.  I needed to be of service and work together for something that could benefit not only the community where I was living, but the environment as a whole.
At Sadhana Forest in India, we are replanting a tropical dry evergreen forest — a forest type that is almost entirely extinct.  Only about one percent of this type forest remains.  The forest is unique to this area.  What I do is help an entire eco system.
Rather than trying to solve all my little problems, I am able to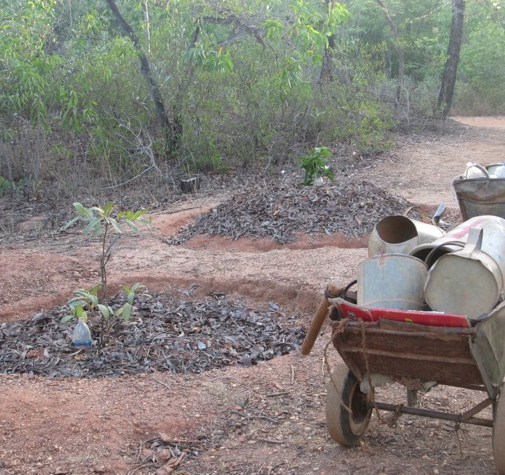 do physical labor and invest myself in this organization.  The volunteers are offered the opportunity get out of self.   So you can see this experience means a lot to me and it isn't about just one thing.
I've had the opportunity to work with an organization that utilizes the help of over a thousand volunteers a year.  I'm able to help manage short term volunteers, be a forest planting trees, do tree care, train volunteers, do water management, do conservation, develop a wick irrigation technology, help keep a community running such as a sustainable 5000 watts solar system that supplies electricity to the main building, rotate/clean solar panels, cook in the kitchen (for sometimes up to one hundred people and on open fires), take care of a dry composting toilet system, do administrative work, and help fund raise for more opportunities to plant forests in places such as Kenya.
I had studied sustainable development in college.  I was very interested in how different environmental projects fit with local entities around the world.   I had drifted away from that after college, but always thought this is where I ultimately wanted to focus.
I wanted to see if I could practice what I preached.  Could I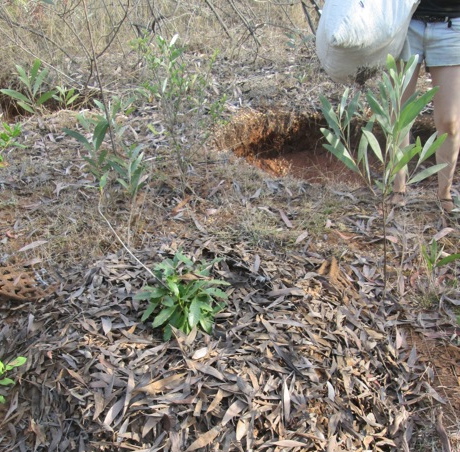 really live a sustainable life style?  That is one of those things that Sadhana Forest promoted. They asked the question, "Why are we reforesting with our hands, while we are deforesting with our mouths – given what we eat and our lifestyles?"  They were practicing not only a sustainable environment for the local community but living in a way that was not degrading the environment.
This was an opportunity for me to say, "OK, I'm going to commit myself to living in this way – a sustainable lifestyle that does not degrade the environment."  I was going to live in alternative construction housing of open-air shacks, and use a 5000-watt solar powered system that provides electricity to the main area and drinking water pump.  There is no electricity in the living quarters.  We use dry composting toilets so that all waste is used for compost to help sustain the forest.  We also hand pump a lot of water.  We take bucket showers.  All of our cooking is over an open fire.  Sometimes we cook for over a hundred people.
3.  What was your best day as a long term volunteer?
The situation in that area is very extreme.  There is a dichotomy where everyday you witness things that are so amazing and so uplifting.  However, this is in contrast with a scene that is really tough.  For instance, when you leave the forest and go into the local communities, you are often faced with scenes that you would never experience in other places in the world.  There are often bodies in the street and you don't know whether somebody is passed out drunk or a dead. Even though there are often dead bodies and everyone seems to pass by them, people can't afford to get distressed because life is constantly hard.
The fact that you are seeing things like that every day is very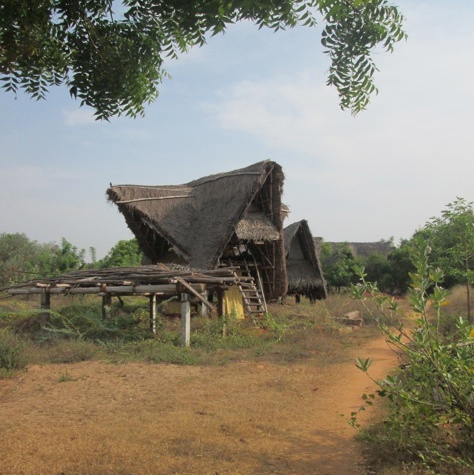 hard.  This makes the uplifting part of my day more heart felt.  What makes everything more meaningful are little things like an exchange with someone in the street or buying tea somewhere and having a conversation with the chai wallah, the guy who sells tea.  Everywhere I see elements of generosity.
The best days are often the ones when local children come and I can see in their eyes the positive impact we are having.  On Friday, Saturday, and Sunday local groups of school children are invited to come out and witness what we are doing by planting trees.  When I see how much fun it is for them to just let go and initiate their own activities and develop a sense of independence and appreciation for the environment in which they live, I see the shift between focus on survival and the realization that survival depends on so much more than what is going on in their insular family lives.
4.  What was your worst day as a long term volunteer?
One of the more challenging periods is going out in the streets and seeing bodies.  One of the government jobs is collecting these bodies that are not claimed.  Another sight is seeing children who don't have anything.  They are cold and have no blankets.  They sleep curled up with these bodies to stay warm.  To see this is really challenging.
One of the worst days in the forest was when someone sneaked onto the property and stole a lot of technological equipment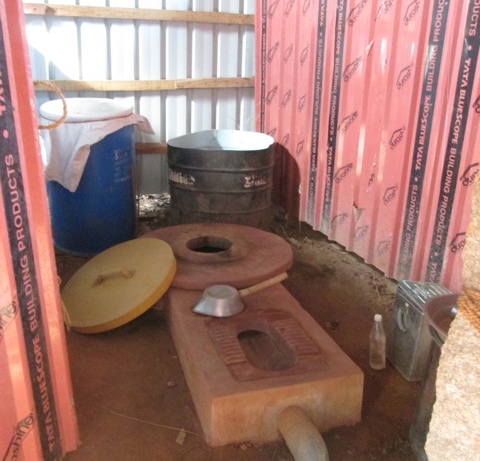 both from the organization and the volunteers.  It wasn't so much the loss of the valuable equipment, but the feeling of vulnerability.  Our sense of home and privacy had been violated.
This happened several times.  Sometimes it even happened when people would leave their stuff for only a minute.  They would come back and something would be gone.  They were being watched and the feeling of a secure home was gone.  It brought home the idea that we didn't want to have – that when a group of Westerners come to a new environment, the poorer, local community sees that difference.
The volunteers weren't rich, but the appearance was that they were.  The challenge was thinking we wanted to help with the forest, but were we really just creating a disparity between the haves and the have-nots?  This was stressing us at several different levels.  This was probably the most challenging aspect of volunteering.
5.  How did you survive your worst day?
We came together and talked this as a community.  There seemed to be so much energy focused on these incidents or the one person who was coming in and stealing.  But then we thought about the larger scope of this community and the larger community that we were in.  We could not forget all the other people who were being incredibly supportive and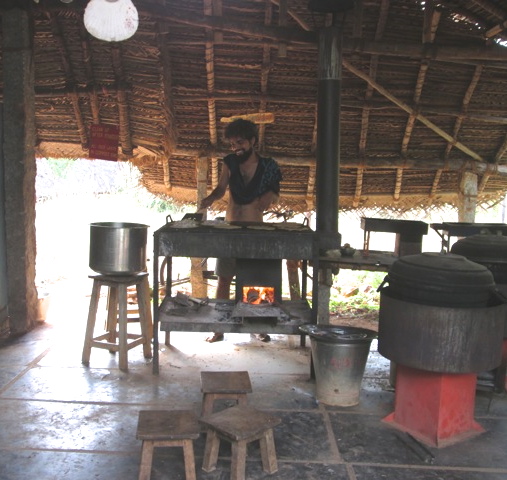 appreciative of what we were doing.  These people were coming to help.  This helped put things into perspective – that the stealing was an isolated incident that happened occasionally.  Even if it hadn't been an isolated incident, there was such a context for so much more good going on that just the stealing.
We can take what seems to be the bad and blow it out of proportion.  What is most important is to focus on the little every day things that are positive – those things that are making a positive impact – like the visiting children or the feedback we get on how the work has changed people's lives.
For me, personally, the way I got through these times was by unseeing that sense of being a victim and holding this thought as well for the larger community.  This was very helpful to me.  It motivates you to want to solve the problem through love rather than retribution or justice.