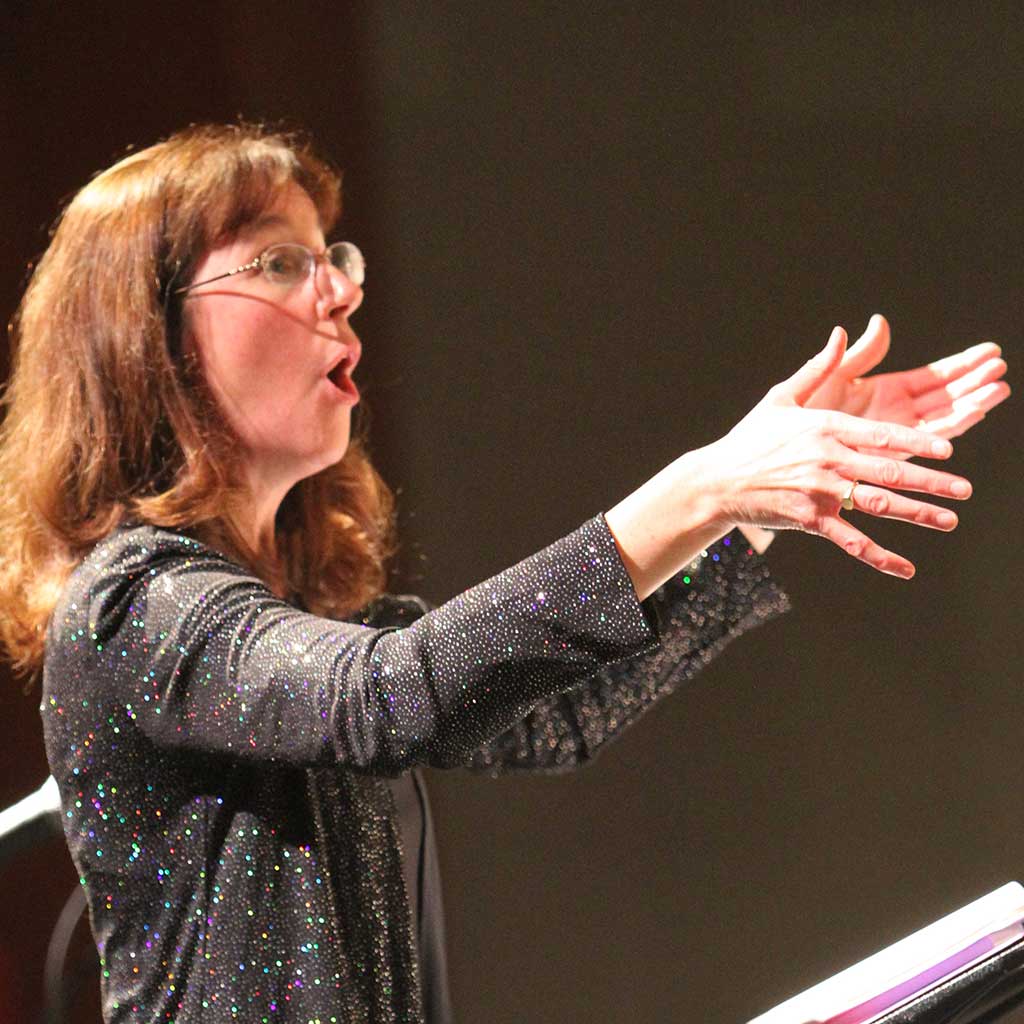 Person of the Week
Kimberly Murphy
Choral Director
Being the choral director is a chance to not only share my love of music with my students but also for us to create music that we share together as a gift to the community.
1.  What led you to the mission of being a choral director?
My majors in college were flute and voice. Later my majors were music education and music therapy.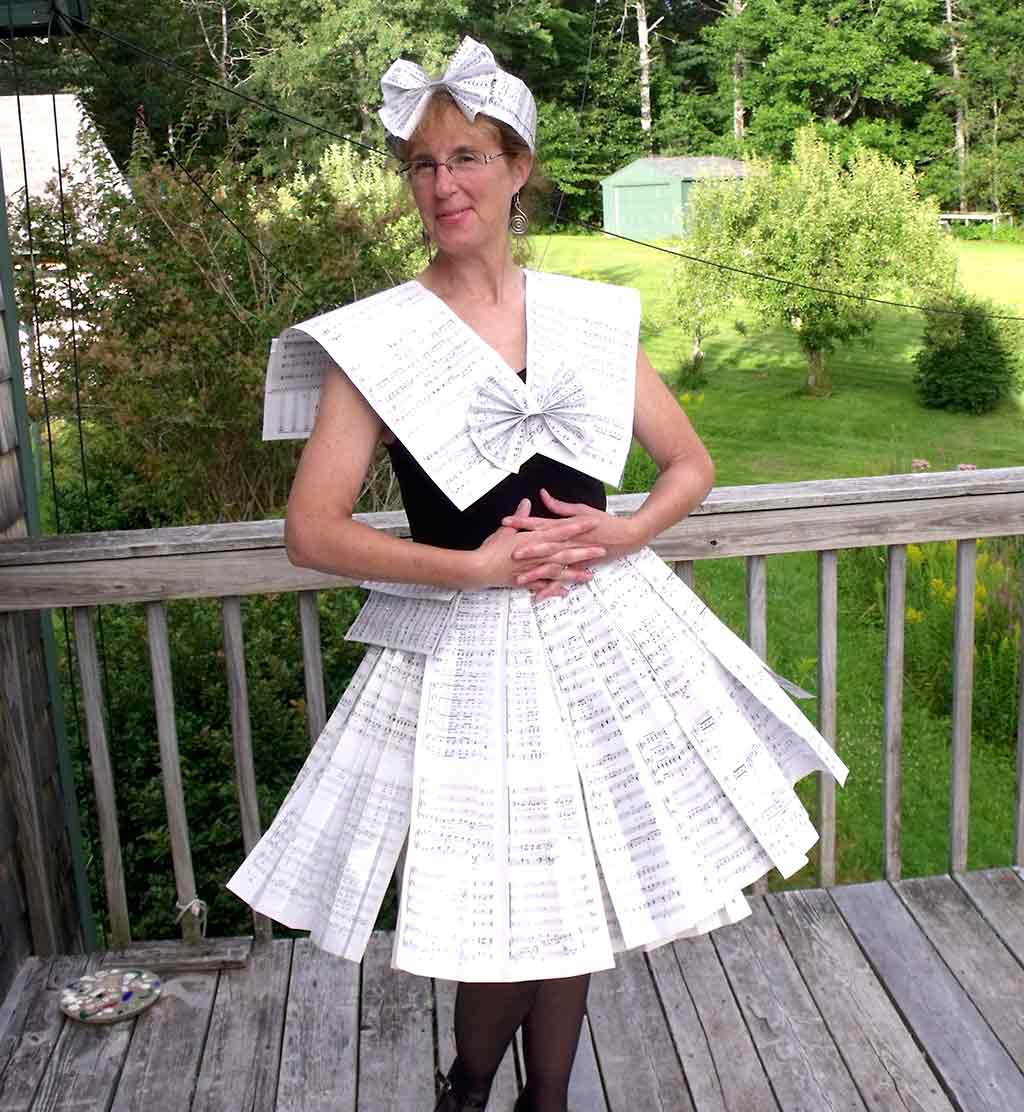 I actually worked as a music therapist before moving to the state of Maine. When I moved to Maine, there were no music therapy jobs so I ended up going back into music education. (The picture is a self-portrait combining Mrs. Murphy's love of music, making costumes and her sense of humor. Pictures by Marti Stone.)
I was working with grades five through twelve general music, choral and high school band. As I was working I ended up refining what I was doing. Even though I was flute player at first, I started to focus more on vocal music. I made a career change and took a sabbatical year off. I changed jobs to work at Camden Hills Regional High School.  Instead of doing everything in high school music, at Camden Hills I've been able to focus on vocal music. That has allowed me to hone in on those specific skills.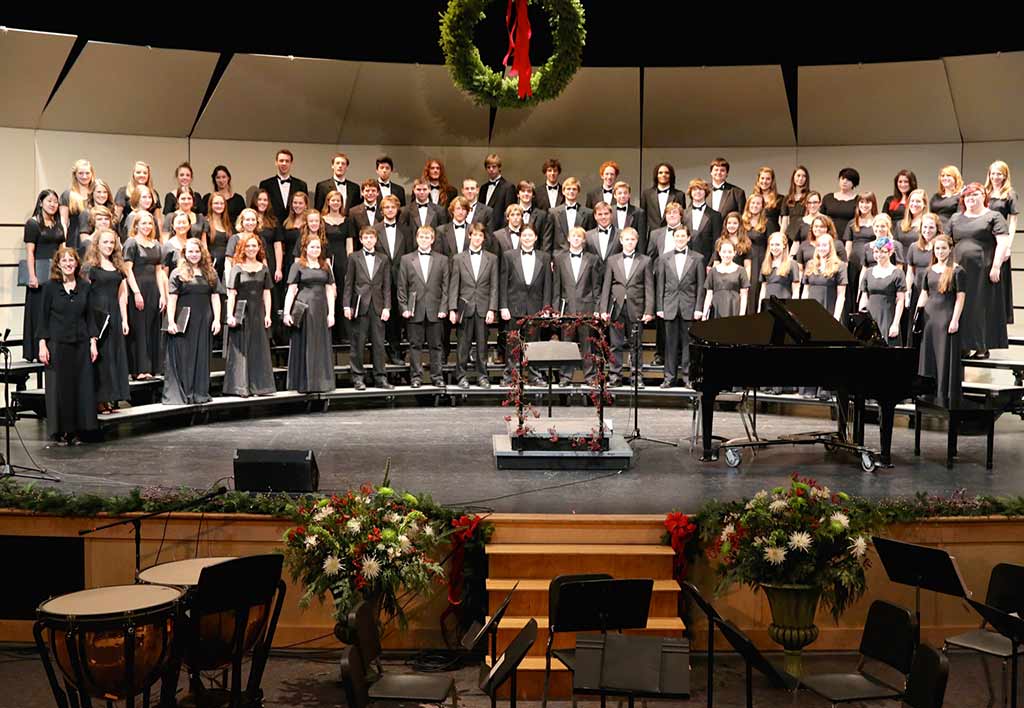 What drew me to this job was also the chance to direct musical theater. That's a passion of mine. Even though it's sometimes considered a hobby, it's a big part of my job here. In the fall musical theater takes over my life. It is fun. I love it. I do love it. It's called a "stipend" because it is after hours. But it really takes over all of our lives for those couple of months at the beginning of the school year.
I do love my work as a choral director. If you had said to me when I was in high school I would be teaching high school music, I would have said, "No. Never ever." I knew I wanted to do something with music and people, but I wasn't quite sure how my path was going to develop. I just tried to keep all of my options open as I studied and went through college and my first couple of jobs.
I've been at Camden Hills Regional for eighteen years. I've been in the state of Maine since 1988. So I've been a music educator since 1988. (To learn more about Mrs. Murphy, click here.  She is the recipient of the MMEA District III 2007 Teacher of the Year Award as well as a high school teacher who has led her students to winning top awards.)
2.  What does this mission mean to you?
Being the choral director is a chance to not only share my love of music with my students but also for us to create music that we share together as a gift to the community.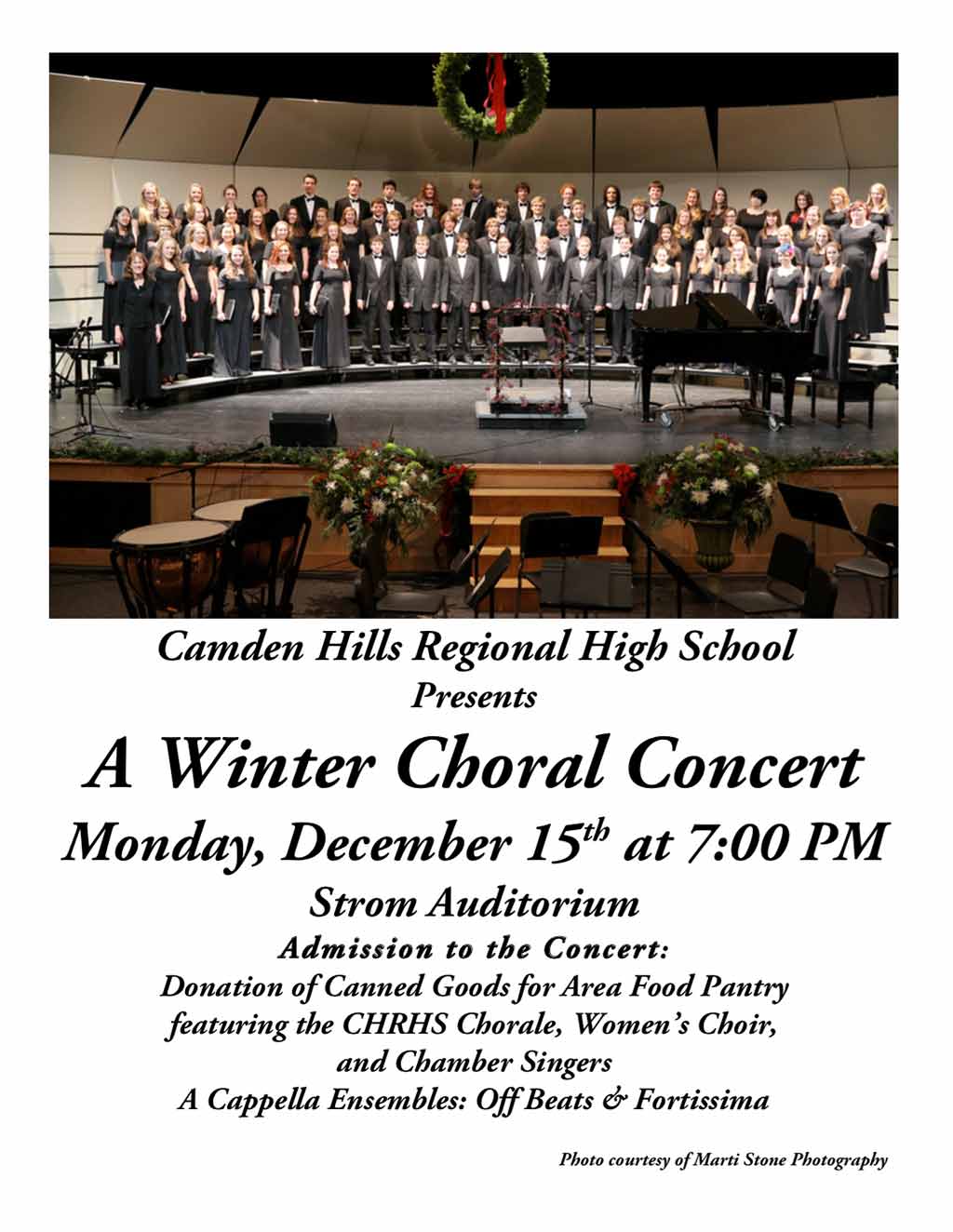 I have three choirs, Chorale, Chamber Singers and Women's Choir. I think the fact that I am able to work with performance ensembles and help students become better singers and better overall musicians, is exciting. I am able to make a lifelong impact on them. When I talk to students later on in their years, what they remember are things like their music ensembles or their performances.
We do honors festivals. District III is an honor festival. All state is an honor festival. It's really exciting to be able to help find these experiences for students, help them audition for them, and get them ready for those kinds of life changing events. I feel like music makes a lot of impact on all of us. I know that I learn a lot from my students. It is very special being a music teacher. We get to share music with each other and then with the community. It is a unique kind of teaching position.
We did Rodgers and Hammerstein's Cinderella, and we raised money for the Make A Wish Foundation. We wanted to sell wands so that we could have audience participation. When I was writing the director's note, I realized when the fairy godmother was on the stage, she sings, "Move a mountain, light the sky." That's when we were going to have the wands come out. The next line in the song is, "Make a wish come true." I thought, "Make A Wish. Make A Wish Foundation." This is a big foundation in our community.
We reached out to the foundation and we decided to donate the proceeds from the wand sales to Make A Wish Foundation.   So I was overwhelmed and it was so exciting to see that come together. That was a very special moment. (To hear the song "Move A Mountain", click here.)
We ordered these blinky, flashy wands. At the performances of Cinderella we offered them for a donation to the Make A Wish Foundation. That Sunday matinée there were going to be all these little princesses coming to see the performance of Cinderella. We were running out of wands. Sunday morning, I was going through Wal-Mart and looking for any type of material that I could make wands out of because I knew we wouldn't have enough of the blinky flashy ones for the numbers that would be coming to the show. I thought, "I can't stand to have crying princesses without their wands."
I saw the glowing stars that you have kids put on their ceilings. There were glow sticks because Halloween had just finished. I bought out Wal-Mart's supply of their glow sticks and plastic stars. I grabbed a glue gun and started making all of these wands. We were selling them for a dollar each. We wanted to make sure everyone had a wand. We laughed and so much fun with that and it was really fun. We raised $2800 for Make A Wish Foundation.
3.  What was your best day being a choral director?
The best day is when I can find a voice hidden inside a student that they didn't know they had. I think that is my favorite. Often it is through the musical that we uncover these amazing voices.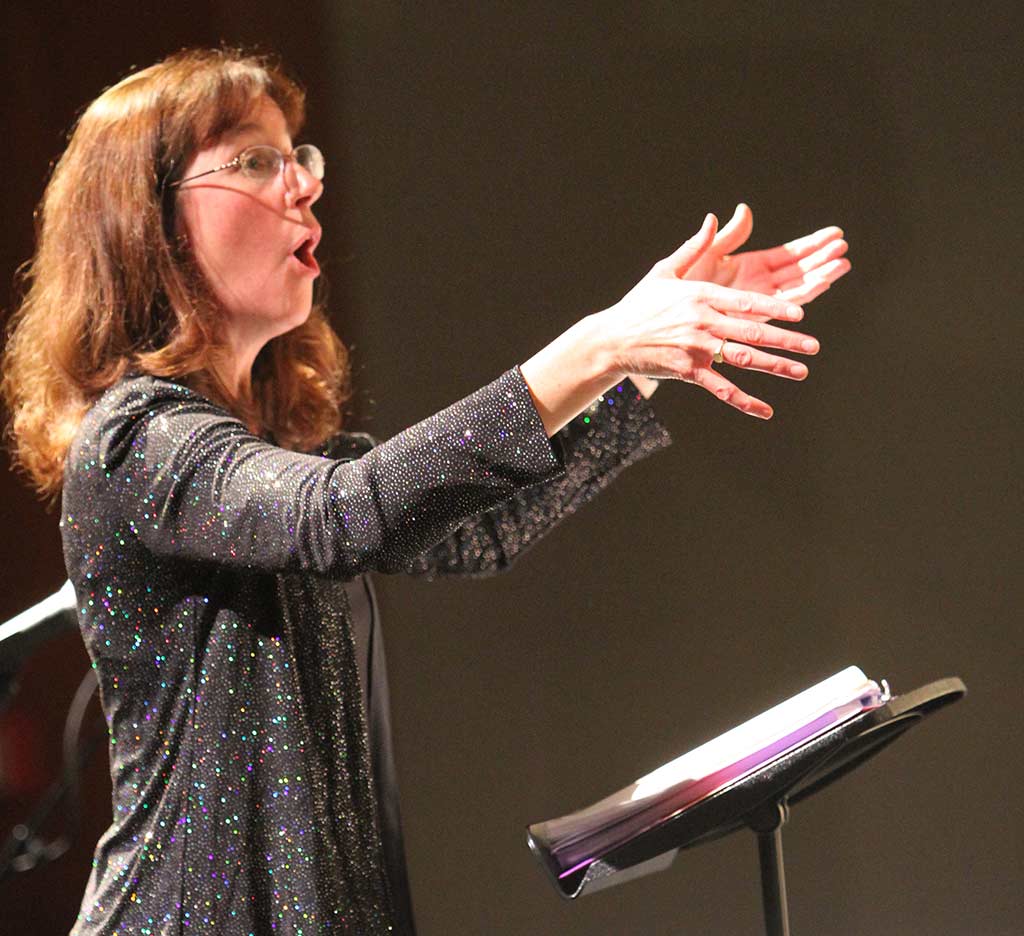 I can give you an example. When we cast a musical, we chose a lead female who was a girl who had been singing all during her four years in high school. She had a very pretty voice. She had been to some honor festivals. But she was a girl who stayed in the background. She "wowed us with her audition. She pulled something out of somewhere and I think she even surprised herself. It was very exciting.
When we went to the reading session, I told her to go up and read for the lead part. She looked at me like I was crazy. I think that that for me was really exciting. She didn't really see herself in the role or perhaps she was willing to take a back seat to her friend who was also going for the same lead role. But I kept pulling her up on stage and asking her to read. I thought that I heard enough that we could give her part and we could pull this character out of her.
It was so exciting and I get teary thinking about it because it made a positive influence on her life not only in the musical but also in other areas. As she began to apply for colleges she went forth with more confidence. I've seen this in other areas with other kids too. When you find something in them that they didn't realize was there, they start gaining more confidence in a lot of areas of their life. It is very exciting to be a part of that process.
What I like about music is that in my classes I have all the ages – grades nine through twelve and I have all these kids coming together whose paths wouldn't usually cross in their classrooms. There was one rehearsal and we were doing warm-ups. Sometimes we do warm-ups where the students have to clap hands and sing at the same time. Everybody has a partner and is interacting.
There is this one boy who is often lonely socially because he has cerebral palsy and is not always able to interact with his peers. During the warm-up, a girl turned to this boy and did the warm-up with him. I saw this wonderful interaction between the two of them. That one moment was so neat to see. She was reaching out to him through the music and he was responding. It was the music opportunity that was bringing them together where if they had not been in music, they might just pass by each other in the hallway and not have had that interaction.
4.  What was your worst day being a choral director?
I'm a flute player and singer. Somewhere in college I had to learn piano. I call myself a functional clunker. But sometimes I'm a dysfunctional clunker. I can play chords and melody. I can read lines and sing my part and play another. But there are some days when I have to play the piano and conduct a chorus class. These are days when I have to be behind the piano. So my worst day is when my music skills seem to crash. I'm hitting wrong chords. I tell the kids, "Keep singing no matter what I play."
When I feel I am holding the students back musically because I am just crashing and burning at the keyboard — that is my worst day. Maybe my ear is just not hearing things. They are singing and I know something is wrong but I don't hear the middle of the chord or I think it is the bottom of the chord. Things are just not connecting musically. I don't know about other musicians but I have days like that. I feel like my music skills just go away. If I feel like my musical skills are holding kids back, then I just feel devastated and think, "Oh. I should give up. I should quit. This is terrible." Everybody has a day like that when they think things are just not working.
5.  How did you survive your worst day?
Sometimes my weaknesses make me a better teacher. When I hear a student struggling with sight singing, I might tell them, "Well, we didn't pop out knowing how to sight sing. I don't have perfect pitch so let's work at this together." It helps because I have had to struggle at things and so I can help the kids do the same.
So I rebound. Sometimes I take a deep breath. Sometimes I look to the students' skills. Sometimes I am just honest with them and say, "Maybe you could play the bass line and I'll play the treble and we'll get through this together." Or sometimes I have to set it aside, take a breather and come back to it reflecting on it and thinking about how I might use technology to get through it.
If the piano part is really messing up and holding my kids back, maybe I need to sit down at the computer and record it into a program and start again. Or I can get an accompanist and let her do that and I realize this might be a piece I am never going to get and so I let her record what I need. There are creative ways to bolster my music skills. I have skills in some areas but not across the board. So you have to learn how to work around your strengths and your weaknesses. You have to keep going.
6.  What advice do you have for someone who would like to be a choral director?
My advice is to keep all of your options open because you never know where your path is going to lead. I didn't know I was going to be a music teacher in high school. Keep those options open. Don't burn the bridges. You never know where your path is going to lead.
It's not easy. You have to keep working at it. That's the hard thing about being a music ed. major. You do have to learn all the instruments. You might be a rural K though 12 music teacher and doing a little bit of everything. Or you might end up getting your doctorate in composition. All fields are diverse if you think about it. It is time consuming.
But I always tell kids to keep music in their lives. It is inspiring for me to hear about how many students are still singing after they graduate. They might sing in college in an a capella group or a university chorus. I just love to hear that because I know that they are continuing with music in some way. Even some of those students who don't know what they want to do I say, "You never know. You might be teaching privately. Keep the options open." That is the most important thing for students to remember.