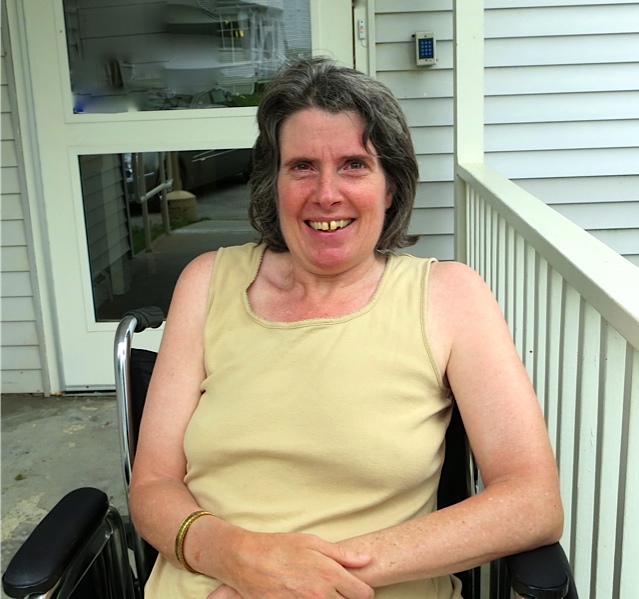 Person of the Week
Fona York
Heavy physical laborer
Driving a forklift, I had to be able to pick up the thirty-pound gas can to put it on to make the forklift run.  I can't even pick up a five-pound bag of sugar now!  I have MS.  There are people who have it a whole lot worse.  I don't know what I could do to make it easier for them.  I'll try. 
1.  What led you to the mission of being a heavy physical laborer?
That's always what I did.   That was much easier than sewing or cooking.  I went out with dad and took care of the wood. I stacked wood to get ready for winter.  Dad treated me good.
Then I worked in a blueberry factory when I was old enough.  When I was fifteen I got a workman's permit.  I didn't rake blueberries or anything.  That was too hard.  I started out picking on blueberries — I was on the tables the first day and I didn't like that because I got dizzy.  I'd pick out the bad fruit, blueberries, and spiders and whatever.  I didn't care for it. I was very quick to be put on the boxing crew and then got down on the packing crew.  I did that very well.  They put me right down there and that's pretty much where I stayed.  I liked being on the boxes more than being on the table.  I just did that for the season and then went back to high school.
I'm not sure what the going rate was, but we worked as many hours as we could because I was a part of a clean out crew as well.  We cleaned up before we started picking over at night and then we worked all night and cleaned up again in the morning.  I worked probably a good twelve or fourteen hours a night.  I worked seven days a week during the blueberry season.  It was in the summer – only a quick season.  I worked nights and slept all day.  Mom put drapes on the window so it was dark during the day.  I lived close to Franklin (Maine), so it didn't take very long to get from Sullivan to Franklin.
It wasn't good for my hands because we were a part of the clean up crew. They gave us gloves, but they didn't last long.  The bleach you have to use to clean tables and stuff was a bad thing.  I got this scar.  I got cut on the stainless steel and the shoot that comes out of the wall.  I was just cleaning up and it was sharp so I cut myself.  I was just fifteen.  I didn't get stitches.  I probably should have.  My friend just put an alligator bandage on it.
When I graduated from high school, I stayed late and got the large blueberries rather than the small ones for people — like the Japanese who wanted the big berries.  My friend rigged up something to sort them.  We had to break up the boxes and run them through a thing to sort them.  I'm not sure where they sent them.  That was out of my employment time.
I worked at the blueberry factory and then when the factory closed down for the season and stuff, and a friend of mine's mother's boyfriend was a foreman at Stinson's, so I went to work at Stinson's Cannery driving a forklift.  It was a sardine canning company.   We lifted pallets of canned sardines to go everywhere.  Stinson's was a famous name for sardines.  I helped up a lot of people who were packing the cans into boxes.  I had no problem helping them out by stacking their pallets and it made their average better.  There was no sense in just standing around and looking at them.  I helped them make their time better.  I used to be very strong.  Not any more.
Driving a forklift there you have to be able to pick up the thirty-pound gas can to put it on to make the forklift run.  You had to be able to pick it up and put it on the forklift.  I can't even pick up a five-pound bag of sugar now!  That baffles the mind occasionally!
2.  What does this mission mean to you?
I just couldn't find anything I would rather do than physical labor.  I had gone to the university and took tests and stuff.  I tried to find something that I would want to do, but there was nothing else that I would rather do than physical labor.  I was not good at sitting at a desk.
That's what I had to do.  That was fine.  It's just something that had to be done.  One of the fellas gave me my forklift license while I was at the canning factory.  When I went to work at Hancock Foods, they all looked at me being a woman and supposedly taken this job and doing what you've got to do — not understanding that I'd be able to do it.  They just poohed it and thought I would be just a lazy person, whatever.  But I had a license.  When the supervisor showed him my license and the other driver didn't have a license and I did, that did it!
I drove the forklift and loaded the boxes of blueberries.  We could stock the trailers right quick.  That was a good thing.  My friend Gary was tall and I was short.  I could get the small ones, the low ones, and he could get the ones on top.  It worked good!
3.  What was your best day as a heavy physical laborer?
Any day — getting up in the morning and being able to go to a job!  Seeing the people and being social, and you know, hoping they are having a good day and not a grumpy day.
4.  What was your worst day being a heavy physical laborer?
There were car problems or cold weather.  If I had flat tire.  One day I had a flat tire at Stinson's.  It went flat while I was in the job.  My car was in the parking lot.  By the time I got out of work, later in the afternoon, it was flat.  I just had to change the tire and get somebody to help me.
When I was working on the packing crew, a forklift, I don't know whether the brakes failed on the forklift or what, but I got pinned between the pallet and the rollers.  That was real soon in the season.  I can't even remember what happened – a malfunction or what.  It was about the third day after I first started in the blueberry factory.  I was out for a couple of days.  I was lucky it didn't break anything.  I just needed time for the swelling to go down.  It was just an accident.
5.  How did you survive your worst day?
You gotta to do what you gotta to do.  When you have a job to do you might as well do it the best you can.  I mean dad was repairing TV's and stuff and I tested tubes for him.  He used to give me three dollars a TV.  I tested as many as I could.  That was good!  This gave me a little spending money and whatever.  Whatever he needed done.
I stopped when I got MS.  That's one of those things I have to deal with.  There's not a whole lot I can do about it.  I'll tough it out and wait until the day He heals me.  He's never let me down before.  I'm just waiting for that day to come.  It might be at the very end, but I'll stick it out.  It's the only thing I can do.
It could always be worse.  There are people who have it a whole lot worse.  They're toughing it out too.  I don't know what I could do to make it easier for them.  I'll try.  My best friend used to tell me back in school, "Don't do anything to tarnish your halo."  I haven't always been the best person there is, so that's just the way life is.  I'm getting better at a lot of things and I'm trying.