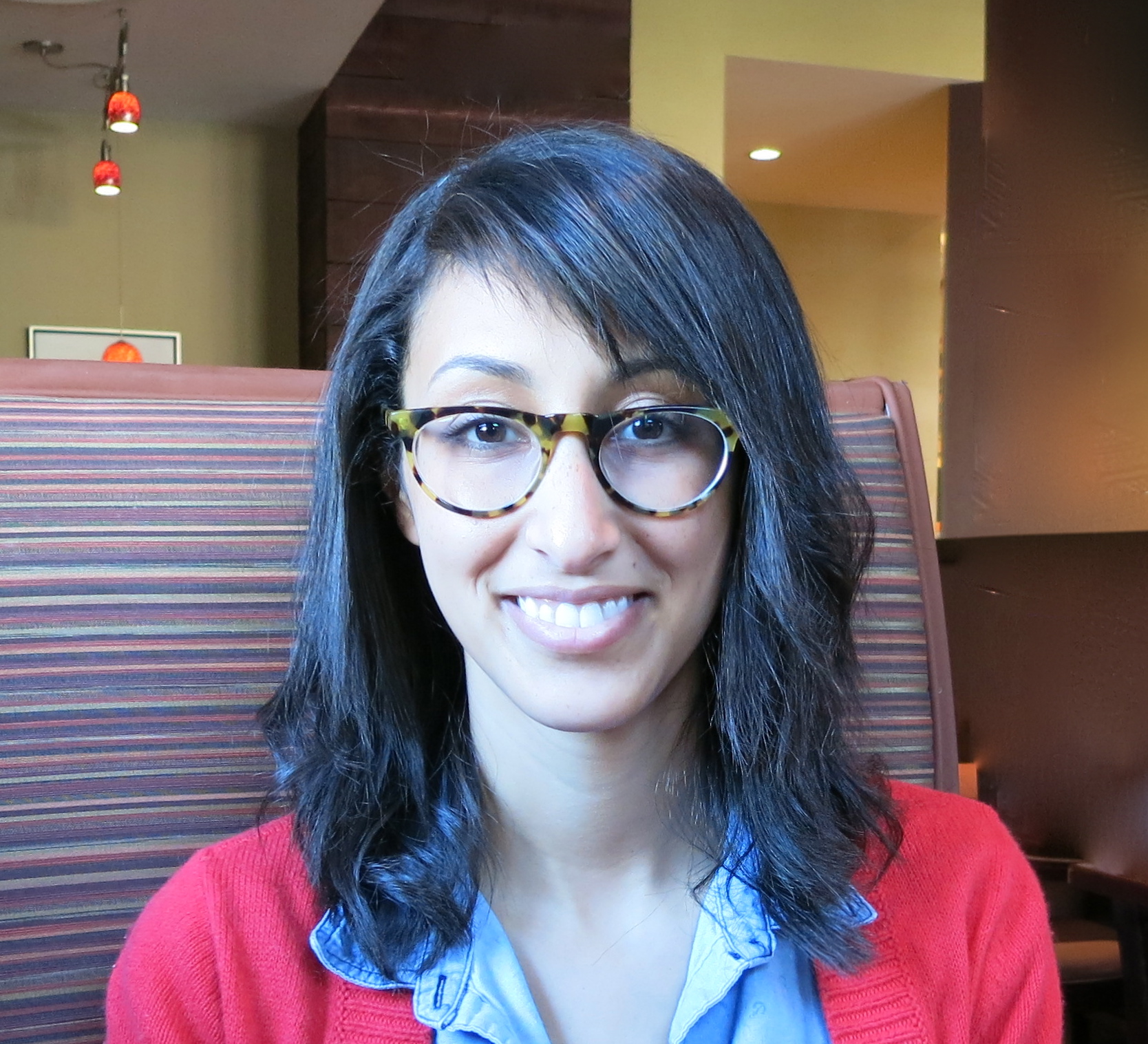 Person of the Week
Miriam Ahmad
Retail Management Sperry Topsider
What you have to do when you work retail is to accept that people are going to be different from you.  You realize you can work with them as they are.  Then you are happier, the customer is happier, and it is a win, win, win every way you look at it.
1.  What led you to the mission of being a store manager?
I went to college for fashion design.  By the time I graduated, I felt a little uninspired and wasn't sure I wanted to do design.  I had interned in production at Vera Wang and I wasn't sure I wanted to continue doing production either.
When I was young, I had worked at various retail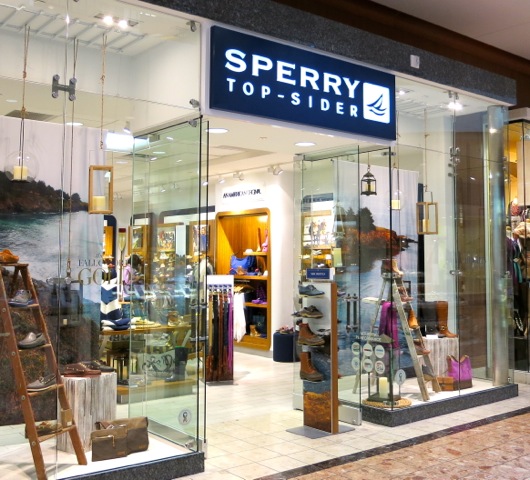 companies.  And so, after college, I thought I should try retail management.  I was approached by a retail company and worked for them for a number of years.  I liked the specialty environment.  I had worked in smaller companies and liked the customer engagement and the different feel of a smaller staff.
I was looking for a new retail experience and Sperry Topsider was one of the first places I interviewed.  I waited a couple of months, but I had a great feeling about the company.  I liked the company, their direction, and the way the stores were run.  I was hired to open the Sperry Topsider store in the St. Louis Galleria.
I love this store!  Recently a manager (I used to work with) came into my store and we were catching up.  She asked me, "Do you like it here?"  I said, "I love it!"  She asked, "Is it a lot easier?"  I said, "No."  I could see why she would think that – because it was a smaller store and a smaller staff.  But it is a totally different "beast" than clothing.
With clothing, there is sometimes an overwhelming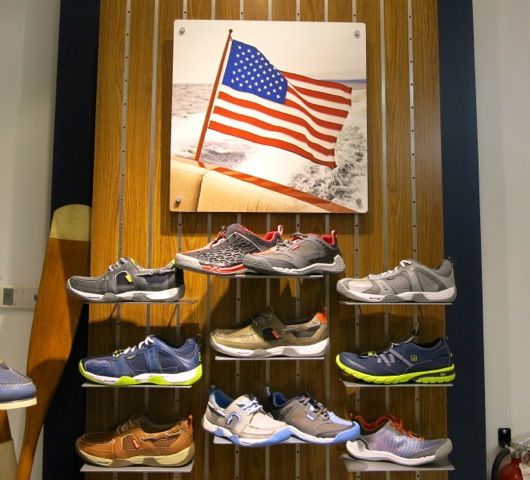 amount of clothing to keep neat and organized.  To sell an article of clothing, it takes a fitting room for the customer to see if the clothes fit.  However here the work requires more fine-tuning. To sell a pair of shoes is one on one.  The salesperson has to help the customer try on each pair.  For eight pairs of shoes to go out in an hour, there is a lot more individual work than for eight articles of clothing to be sold.
I have to fine-tune my behaviors to make sure we are all genuine, helpful, and knowledgeable about the product.  Working for a clothing company, I can't say I had to know everything about every piece of clothing.   But here at Sperry Topsider, the name of the game is:  Always knowing all of your products!  That's it and I love it!  Without that knowledge, you can't really do the work you need to do here.  You have to know everything in depth and give this good service to the customer.
2.  What does this mission mean to you?
Being a store manager has been a really good learning experience for me.  I have had the opportunity to learn how to run a store and do it in a lot more "in depth" kind of way.  It's like running a private boutique, but we are a well-supported national company – a win-win situation.  The job is about hiring the staff,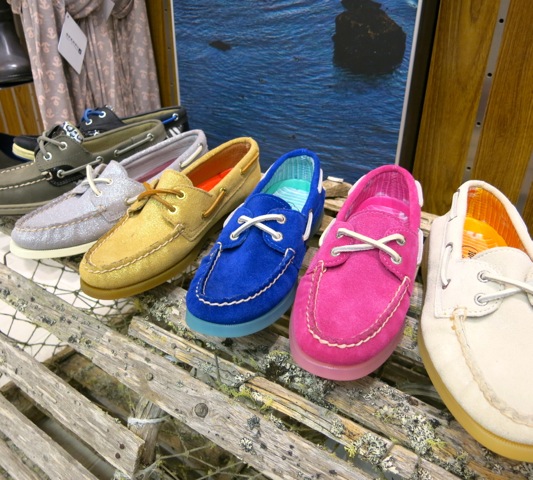 making sure the staff is trained 110%, and keeping on schedule.  I came from a place where there were four full time managers.  Here we only have an assistant manager and myself.  Since we have fewer people, we have to count on everyone being on board.
For me it has been a big learning experience about product flow, profit, loss, understanding how to run a business, finances, how to pay your staff, and how to make sure the store is running a profit.  From this experience, I ultimately realized I wanted to go into merchandizing and buying.  Instead of going back to school, I want to work, learn from experience, and figure out things as I go.  I harass my boss with questions all the time!  I want to learn and do a great job for Sperry and the people who work here at the store.
3.  What was your best day as a store manager?
There are so many good days that it is hard to pick only one.  I really enjoy this job.  People walk in and they say, "Oh good – a whole store of Sperry!"  I'm working for a company and a store where people get so excited about the product and I get to enjoy this energy.
Every day I get to meet people.  We joke around.  In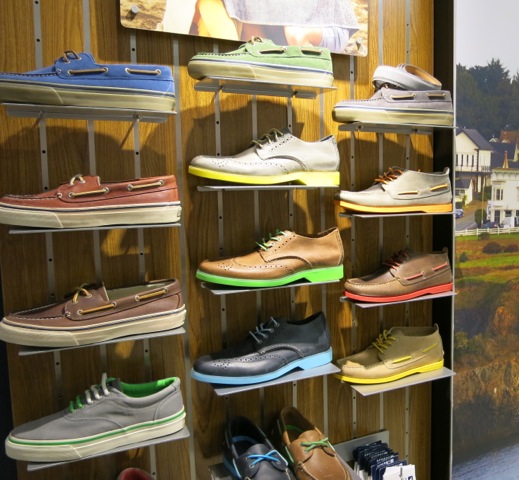 my store, there is always the sound of laughter – somewhere.  That is really fulfilling for me.  If there is one thing I wanted out of this job for my staff and everybody is for everyone to have the sound of laughter.
I do have a very best day.  Right when we opened, a father came in with his daughter.  He told me, "She has been waiting for you guys to open!  She was so excited to see the Sperry store."  I asked his daughter, "Do you want a tour?"  She said, "Yes!"  I was showing her around and she was so excited and happy.  I think the reason why this is one of my favorite days is because this child was just so excited about her first trip to her favorite store.
Her father told me she always talks about Sperry, Sperry, Sperry, Sperry!  Since then his whole family has come in frequently and I've been able to meet them all.  They are so pleasant and so excited to be in the store.
4.  What was your worst day as a store manager?
I went to Washington University and graduated with two degrees.  After graduation, a lot of people have said, "Oh you are working RETAIL???"  Even customers ask the same question.  It happens all the time.  They ask, "What brought you to St. Louis?"  I'll tell them, "Oh I graduated from Washington University."  They'll say, "REALLY???  Wash U???  Really???"  You hear the tone of their voice and you know they are implying that working retail is not a job worthy of a good education.  Then you will see them embarrassed and thinking, "Oops.  Did that just come out of my mouth?"  It's frustrating because I don't think working retail is easy at all.
Retail management is not easy and it doesn't come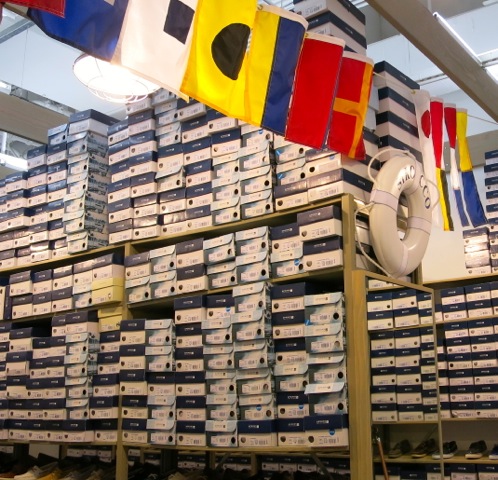 naturally to most people.  Management is not something you can learn in college.  You learn it from experience and by working retail.  I've learned so much, not just about running a business, but about the math behind merchandising, how to develop staff, create a team, and accomplish goals.
Retail itself is challenging because the name of the game is maintaining the store and beating your goals.  If you are the type of person who goes into retail thinking, "I'm never going to be good enough", then you won't be good enough and you won't like the job.  You have to be that person that asks, "What can I do better?  What can I do better every day?"
You have to take criticism and roll with it and think, "I'm not going to judge you, and I hope you won't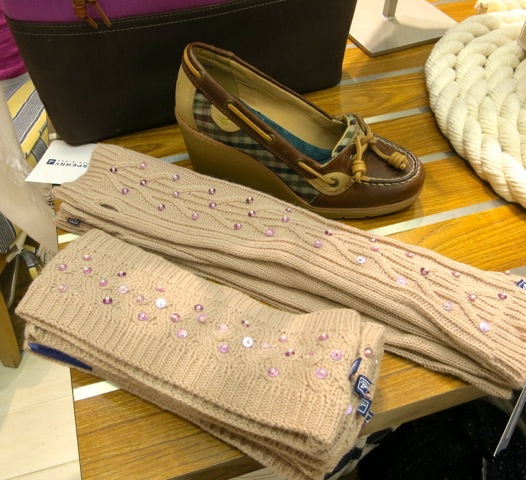 judge me".  That's very challenging to a lot people and perhaps even the people who look at me and say, "You went to Wash U, but you are only working in retail???"  I've learned so much and I don't know how anyone could learn management in college.  You really learn from work related experience.  No matter what industry I go into, the things I've learned here are going to be important.  Fortunately I work for such an amazing brand that is so much fun.  It's so one on one and I have a great customer base.
There is another is the worst day.  This is when someone steals from a retailer.  What people don't realize is that stealing hurts everyone.  For instance, when something is stolen, that loss goes into the employees' performance record and it is just like stealing out of the employee's pocket.  A bonus, an evaluation, or a raise – everything is being hurt and someone is being held accountable.  In retail, a high loss rate is factored into the cost of running and operating the store.  This can relate to cutting hours and impacting what people are paid.
The people who work in the store may not be wealthy and quite often do retail because they love it!  They help people every day and put the needs of their clients first.  That makes the idea of stealing even harder to understand – helping people and then having them "scam" you or take advantage of you.
Unfortunately the thief can be the nicest person coming in the store.  You just never know.  This creates an element of distrust.  You can't type cast people or expect them to be stealing.  I do always have to be on my guard and aware of my surroundings.  There is a hard balance between the two – trusting, but also being on guard and protecting the merchandise.
5.  How did you survive your worst day?
I have an amazing team.  I have a very supportive boss.  I'm very lucky to have a supportive partner.  He always reminds me what my vision is, what my direction is, and how hard I work.  He reminds me that there are always going to be people who say things or do things that are not right.  He lets me know that I'm the only one who can keep things from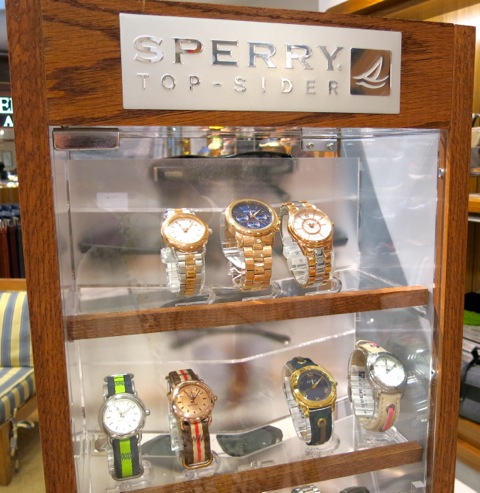 getting to me – the responsibility is on me not to get upset.  He knows exactly what to say.  I'm so lucky to have that in my life.  Between having such a supportive boss and a supportive partner, I am growing exponentially as a person.  I'm happier.
I also learn a lot from my customers.  I recently had a man come in.  He told me he was in his late seventies.  He was so happy, goofy, and was joking around with everyone in the store.  He was making everyone laugh.  He told us that his health and youthfulness came from laughing, smiling, being positive, and letting things roll off his shoulders every day.
What you have to do when you work retail is to accept that people are going to be different from you.  You realize you can work with them as they are.  Then you are happier, the customer is happier, and it is a win, win, win every way you look at it.  This attitude isn't easy, but it is the best.