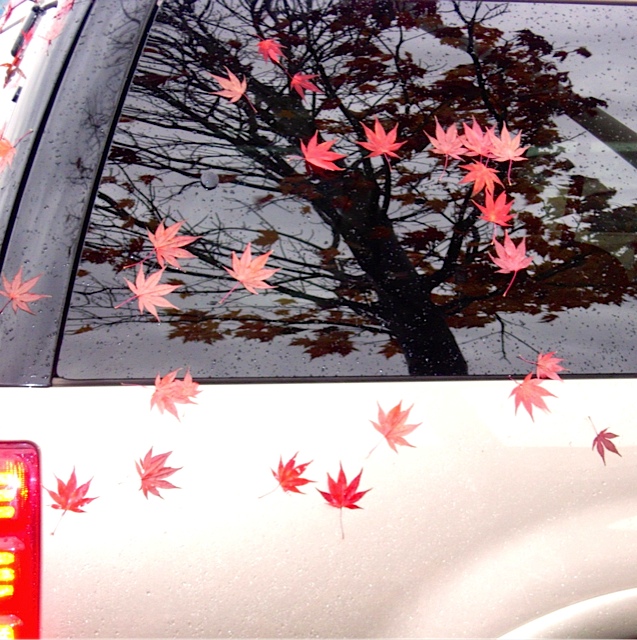 Lesson of the Week
Sorry: I am humbled when I do something wrong and express remorse
The leaves were clinging to the tree reflection in the car window. The leaves seemed to say, "I'm sorry for leaving you and so I will hold on as long as I can to your image." But alas, the first gust of wind blew them off the reflection.
Being sorry or showing remorse is somewhat like clinging to an image of what you thought you had, but is no longer possible. You realize you have made a mistake, but things will never be the same. What can make a difference is being sorry, being humbled, and doing something to show remorse when you have done something wrong.
Feeling sorry is not about feeling sorry for your self. Dale Carnegie, author of How to Win Friends and Influence People (1936), wrote, "Feeling sorry for yourself, and your present condition is not only a waste of energy but the worst habit you could possibility have." The correct habit is to be humble for doing something wrong, express remorse, and then do something to mitigate that wrong. This could be as easy as saying, "I'm sorry", to contributing millions of dollars towards cleaning up a mess such as BP's Deepwater Horizon oil spill in April of 2010.
There is a story about a bird in the hand. Indigenous people, preachers, teachers, and parents have told the story for generations. The story goes something like this:
A young man wanted to usurp the throne. He created a plan to prove his prowess. The rival's plan: to ask the old leader if the bird in the rival's hand was dead or alive. If the old leader said, "Dead", the rival would release the bird alive. If the old leader said, "Alive", the rival would smother the bird dead. In either case, the old leader could be proven wrong and weakened in power.
The day came for the rival to assert his power. Bird in hand, he asked, "Is the bird dead or alive?" The old leader thought for a moment and asked, "Is the bird dead or alive?" He paused for a moment. "That depends on you."
Being sorry and showing remorse is in your hands. They depend on you. There is no trickery, deception, power play, or take over involved. It is a simple sorry for having made a mistake.
Charlie Burbach, About.com Guide, About Friendships, has some very helpful hints on simple right and wrong ways to apologize. He suggests five elements for an apology: request, acknowledgment, sincerity, the words "I apologize", and optional humor, to name a few. He lists things never to say such as "I'm sorry if I did this" or "I'm sorry you feel that way". He suggests, "Without an apology, it can be difficult to move forward." Check his ideas out out, use them, and find your self and your mission becoming more effective as a result of being sorry.
There are benefits to being remorseful and sorry. One of them is being able to move past a mistake and continue on a mission. You will find that even if your remorse is not appreciated or accepted, you will feel a positive energy that puts the past behind and sets you back on the path to an honest and successful mission.
 Click on this link About.com Friendship.
Quote
"Remorse is virtue's root; its fair increase are fruits of innocence and blessedness.
- William C. Bryant, American poet and journalist
Activity
Activity  The T-Chart
Materials:  Ten medium Post-it-Notes per person and pen or pencil
Time:  Ten minutes to write and ten minutes per person to discuss.
Instruction:
1. Write the letter T down the center of the page.  Put the horizontal line across the page starting about an inch from the top and extending all the way across the page.  Let the vertical part of the T extend to the bottom of the page.
2. On the top left of the T write, Next, and on the top right of the T write Done.
3. On each Post-it-Note write one time/experience you've had that you regret not having said you are sorry.  Stick the finished Post-it-Notes to the left side of the T under the word Next.
4. Take each Post-it-Note and write on the back how you would like to say you are sorry for this item. Put the Post-it-Note back on the paper under the left side labeled, Next.
5. Take this list and post it somewhere you frequent, but that is private to you.  As the days progress, do what you have listed for each Post-it-Note.  As you finish each Post-it-Note, place it on the right side under the word, Done.
6. Before the end of this meeting, choose three of the Post-it-Notes on your Next side and discuss them with the group.  If you have more time, you may discuss more of the items.  Discuss:
a) What are the times/experiences you regret not having said you were sorry?
b) How have you planned saying you are sorry?  (If you have the time, you might ask: What would keep you from saying you are sorry?  What might the consequences be to saying you are sorry?  What if it is impossible for you to say you are sorry and how will you end the regret of never being able to say you are sorry?)
c) When are you going to say you are sorry for each item and place them on the Done side of the T-Chart?
d) What have you learned from this activity?
Affirmation
I am sorry so I can …… We'd like to hear your story about expressing remorse. Write your story below.